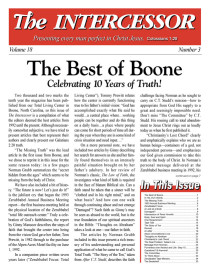 A Letter

Page Prewitt wrote this letter in response to a note she received from an estranged friend who, while grateful for Page's friendship in the past, still did not desire a resumption of the fellowship the two of them had enjoyed.
Dear Madeline,
Thank you very much for your loving note. What you have written has me both puzzled and pleased. I am puzzled at your saying that I think that you are in sin. I am under the impression that we are not in communication because of the sin you think I am in, not because any sin that I think you are in. I have no idea what you are doing today, so if you are in any sin I don't know about it. Also, no sin that I have ever thought you were in or that you might be in today would give me a reason to break fellowship with you. It is my conviction that God calls me to walk with those He puts in my life (you for example) no matter what. In so doing, when or if Satan invades either my life or the life of my friend, Christ in us is there to admonish and attempt to expose the liar (Satan). This is the way He frees us, His beloveds, from the bondage of sin that stops the precious life of Jesus flowing through our wonderful God created manifestations.
I am quite pleased to hear that the things I had the privilege of passing on to you have become helpful in your new place.More pleasing than that, though, is to once again experience God's faithfulness to me, this time by His confirmation that my sometime strident way with you was not some Satan thing of me trying to make you over to suit myself, but He in me doing what He needed to do to shape you into His image so you would be right for where you are today. I am very grateful that the pain, difficulty, and criticism I often experienced on account of my interaction with you did not thwart my love and concern for you and cause me to take the softer and easier way of accepting you like you were (Satan bossed at times). That would have been sin on my part because I would have had to go against my inner knowing, plus I would have been putting my comfort and reputation before your well being. No matter what, I have always wanted God's highest and best for you. That's what He means, isn't it,when He says,"Greater love hath no man than he lay down his life for His friend."
I would be pleased to hear from you again. If I am Christ in His Page form and you are Christ in His Madeline form, then why are we not walking in some kind of relationship? You say that you love me and that you know that I love you, which I do, so where's the beef??
Love as ever, Page
More Articles from The Intercessor, Vol 18 No 3