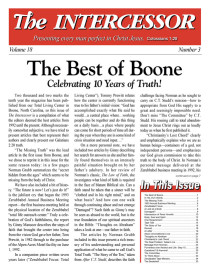 A Look at a Book

BOOK REVIEW:
The Law of Faith
by Norman P. Grubb
We are grouping this excellent book review with "Damaged?" because in both articles Ginny uses her own personal and painful experience to illustrate the principles of faith that have revolutionized her own life.
In the July-August, 1997 issue of The Intercessor, I reviewed a booklet written by my father entitled, A Lawyer Tells It Like It Is. In that article, I told you that my father has been separated from me and my family for the past four and one-half years because of his sin. I explained that he had been unfaithful to my mother, divorced her, and then "married" his legal assistant. Clearly his adultery during his marriage to my mother was sin; but it is because God calls his current situation of divorce and "remarriage" sin that I neither speak to nor fellowship with him. (In Mark 10:11, Jesus clearly states that "Whoever divorces his wife and marries another woman commits adultery against her.") In the article, I went on to explain that I feel extremely sad and heartbroken over my dad's chosen sin way of life and consequently the break in our relationship. I, as well as my mother and siblings, were devastated when my dad left on August 17, 1993.
His leaving (and divorce and remarriage) was the worst thing that ever happened to me. And it was the BEST thing that ever happened to me. In the past, I had needed God to live my life for me to get me out of sin and through situations I had control over. But this is the first time in my life that I needed God to get me through circumstances I could not control whatsoever. I knew He could do this only if I had faith.
What does it mean to "have faith"? Is it some thing you can have, hold, or look at? No. And faith in what or whom? What do you even have faith for in a situation that is bad but that you can not control?
God provided answers for me to these questions in a book entitled The Law of Faith written by Norman Grubb. At a time during the first year that my dad was gone, I began to believe that my dad would be stuck in sin forever and that I could do nothing about it but just sit back and watch it happen. And then my mother suggested that that I read The Law of Faith.
Reading this book and applying its principles changed everything for me. I began to see that because I am a vessel containing Jesus Christ, I could by faith believe that God was in control of the situation and He could bring my dad back to Himself. A very important passage to me in this book occurs in the chapter entitled "From Everyday to Advanced Faith." Here Norman is describing the faith of Peter when he walked on the water with Jesus. He explains that through this experience Peter learned "there are resources in God that counteract nature, and man can use them." Did this mean that I too could use resources in God to counteract what was happening to my family?
With this question on my heart I moved to the next chapter "The Swaying Battle of Faith." In this chapter, Norman explains that there are two sets of realities—things as they are in the visible and things as they are in the invisible—in Christ. I realized that up to this point I had mainly concentrated on how things were in the visible—my dad was gone, he had hurt us, he did not care about God, etc. I asked myself, "But what about this invisible Christ reality?"
In that reality, my dad is a Christian, a child of God, a container of Jesus Christ who loves and cares about us. By living mainly from the visible reality I was putting my faith there—accepting it as the real truth. But Norman explains that the Christ (Spirit) reality is where our faith should be transferred. He goes onto say that "faith is inner action," something we do, not just a belief, which he defined as "mere mental assent to a proposition." Also, faith is not some vague hope for the future. Up until reading this, I know that is what I had been living from—vague hope that my dad would some how, some day change his mind and come home.
It sounded great that faith is action, something we do, but what was I to do and how was I to do it? I could now identify the spirit reality but what did it mean to put my faith there? In the chapter entitled, "Speaking the Word of Faith," I began to understand. Here Norman explains that "Faith is something which must have plain spoken expression. Hope or desire is not enough. The prayer of request is not enough. Not even the belief in the heart. What is believed in the inner man must issue from the mouth" p.115 (emphasis added).
This is what Norman calls speaking a word of faith. It is an action— speaking. But speaking a word of faith is serious. By doing so, we are publicly declaring that God not only can and will do something, but that in spirit time, He has done the thing. How could I do this?
I found the answer in my favorite and what has become for me the most important chapter in The Law of Faith, "Strategy in Faith." In this chapter, Norman walked me through the steps one takes in speaking a word of faith. First, he explains that "no word of faith can be spoken— unless it first dawns on the mind that there is some better condition than the existing one, that God can intervene and change things." The first part was easy for me. I knew it would be better for my dad to be out of the sin he was in and to return to God. But could God really cause my dad to choose Him?
From all outward appearances, this looked very unlikely. My dad is in serious sin and seems not to care one bit what God thinks about it. As a matter of fact, he flaunts it in God's face by trying to pass his sin partner off as his "wife." (Wife is a biblical term which cannot be applied to a non-biblical relationship.) As you can see, I had (and still have on a feeling level) doubts. I was afraid to say God could change things because what if He didn't. I would look stupid, and feel let down. How could I say I believed something when I was afraid it wouldn't happen? Norman answers this by saying fear is not only normal, but it is also necessary. Fear, he explains, is "faith in reverse; and faith, once roused to believe the worst, can be reversed to believe the opposite." What a relief! My fears could actually work for me instead of against me!
Later in this chapter Norman sets forth two facts that he believes are outstanding in the great crises of faith in the Bible. The first he calls a "staff-meeting" with God. This is where we talk to God about the situation. Here we voice all of our fears and doubts as well as how the condition can be better. We spread the matter before God. We may reason as to why He should act for us. We may search into motives. It appears as though we are trying to convince God to get involved, but Norman explains that this is really how God gets His mind through to us! Pretty tricky fellow, huh?
This brings us to the second fact—sweeping victory! Assurance becomes ours because the "Spirit has prayed through us according to the Father's will. The circuit is complete: from the Father to our minds by the Spirit; from our minds back to the Father by the Spirit." Then we speak the word of faith and watch for the Lord to reveal how He has answered us!
After reading "Strategy in Faith," I said a word of faith about my father. I said by faith that God would bring my dad out of his sin and back to Himself so that my dad can continue with his God-given commission, which is to take the message of Jesus Christ living his life through us to the world. In the physical reality this has not happened and appears impossible. But I know in the Christ reality not only is it possible, but it has happened! Now I have the privilege of waiting to see the two realities meet.
I know my view of faith and my role in applying it will never be the same after learning the principles set forth in The Law of Faith. Since I first read it I have read it or parts of it many times—so many that my copy is falling apart. But it is with great pleasure that I tell you that Zerubbabel Press has now reprinted the book, so I can get myself a new one. I hope you will get one and read it for yourself. In the preface, Norman said that by writing The Law of Faith, "I feel that I am passing on to others the most precious and innermost secrets that God has taught me."
Norman, thank you for sharing.
More Articles from The Intercessor, Vol 18 No 3