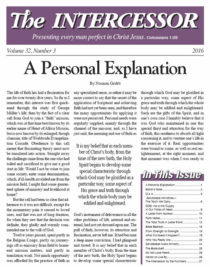 What If it Doesn't Happen?

Faith is consummated in our word of faith. For third-level living requires a catching on to the mind of God through our minds in a situation, replacing our negative thinking; then boiling it down to a clear, specific objective; then stating that objective in its direct, practical form by my word of faith; then believing that it is already in existence, because there is no time factor (past, present or future) in God's "fourth dimension." So we also, as He, call the things that be not as though they are.
Then, having done that by our word of faith, we never repeat it again in the form of a request; we don't ask, we thank. We continue repeating our "thank you" in our inner recognition of what is coming, for our faith has within it a "sense" of the thing anticipated. We already "see" in faith as well as speak that word of faith.
Never, of all things, do we ask, "Why hasn't it happened?" We surely give ourselves totally away, if, when the answer has not yet come (or even after it "cannot" come, for the time for the answer has passed with no answer) we say, "He hasn't done what I believed for. It hasn't happened. Faith doesn't work." By that we would imply that the answer depended on our faith, and this has failed; or we have believed amiss, or something. But it is His faith expressed by us, and we are saying He has done it. Not we, but He. Therefore, if it is a done thing by the word of faith, we never say it hasn't been done. Never! For our word of faith means that we have said it has happened in the spirit. It has happened, and if someone says it hasn't happened, we still say it has happened. God will fulfill His own word. It was He who told us to say to that mountain "Be gone!" and to believe that, when we pray, we have received. So it has happened. Hold on! Even if we do not see things until the other side of the grave! For it was said of the men of faith in Hebrews, "These all died in faith, not having received the promises but having seen them afar off, and were persuaded of them, and embraced them." But even if they did not receive the fullness, they did have a good slice of the cake en route! I believed God for a solution to a problem in our missionary work forty years ago. I expected the answer, but did not see it come, and was tempted to say, "No answer. I must have been mistaken." But just now the answer is appearing.
Of course the temptation is to question. "Was it my faith at fault?" "Was my motive right?" "Was I mistaken or presumptuous in speaking that word of faith?" Never accept those questionings which come from our souls. They come from the recurring temptation to move back into "separation"—as if it is not God speaking by us in our fixed union, but that we still have our separate, self-condemning selves. Condemnation accompanied by darkness comes from beneath. Conviction accompanied by light and peace comes from above. Go back to our spirit-centers where the word is "Be still, and know that I am God." If I totally trust Him with a single eye, I shall see that what appeared to me to be a mistake, or to have had some flesh motivation behind it, is not; God will give the perfect and fully satisfying fulfillment.
Such times, when apparently faith does not become substance, are given us to establish us more thoroughly in the fact that we have the mind of Christ and must not recognize the false possibility that we are back in our old, divided, self-motivated outlook.
As for "presumption," what that really means is that my word of faith had behind it a desire for my own satisfaction or self-display, rather than being solely for the glory of God or the benefit of others, or perhaps was meant to test God's faithfulness. Don't be frightened by such a barb. Don't accept that in our union relationship with Christ our motives are flesh-centered. Stand to your "launch out in faith," and believe that God meant it.
Sometimes, as with Paul, the exact desire, as first named, is refused: not with a No but with a far vaster Yes. Because if Paul had gotten the removal of his thorn in the flesh, we should all have forgotten about that as an incident of history. But we never forget the answer he received—a support to the whole church of Christ in all of the pressures of life–that "God's strength is made perfect in weakness" (2 Cor. 12:7-11). And so inwardly conscious of this did Paul become that he went on to say, "Therefore I take pleasure in infirmities, in reproaches, in necessities, in persecutions, in distresses for Christ's sake"; and then, no longer mentioning God in it, "…for when I am weak, then am I strong." That is union. That is Paul speaking and living as God. A far vaster answer for the centuries than a temporary healing. So here it is. Keep speaking the word of faith, as I do, all the time. Say again and again, "This has happened, that has happened, for I inwardly see it has happened." Watch for the happening, and enjoy the many times you see it happen.
By now it is surely clear that this is radically different from the normal underlying faith by which all who are born-again live. In that sense all Christians walk by faith and not by sight. But on the third level, "father" grade, of which we are now speaking, faith is the operating agent, the one and only means by which every situation of life is authoritatively handled. We are mountain-movers. Like those in Hebrews 11, we are stopping the mouths of lions; out of weakness we are made strong. We have an appetite for "tight corners," as C. T. Studd said, to "give us the luxury of seeing God deliver us out of them." We are now in permanent faith-action, as Jesus was on earth. This is the commissioned third-level life, using the word of faith as naturally and continually as we make normal human decisions. It is our common habit and practice.
We say this to underline that third-level living—with the rivers flowing outward, with the Spirit "mighty in us" towards all–means life is constant faith-action, way beyond the normal way of life in which, on occasions, prayer or faith is a useful resource. On this level, all life is faith-in- action. We are "fathers in action."
More Articles from The Intercessor, Vol 32 No 3