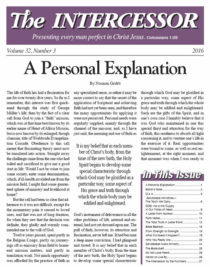 The Total Truth in Letter Form

Following is a letter my mother wrote to a friend of hers in August, 1988. I found this letter in the past year among some papers my mother had given to me and I have read it many times since finding it.
From November 2014 up until her death on June 16th of this year I spent a great deal of time with my mother and read it to her on more than one occasion. I knew she was in her last days on this earth and I wanted her to be reminded of the truth that she had communicated so clearly in this letter.
This letter is precious to me because it says so beautifully what I believe and what God wants us to know about Him and His Son, Jesus Christ. He is our Lord and Savior, but also dwells in all born again believers. He lives His life through us and as us.
–Becca Graham
Dear Sam,
With all the million things on my mind and on my agenda, somehow this letter to you is taking priori…really what is on my mind is you. Somehow God will not relieve me of this. What I have to say right now is that I long for you to see all this—not from a clinical viewpoint, so to speak–but from your heart. I know that this message we have from God in the Bible can't be confined to scholars to interpret…it is for us all…and the beginnings of the message went to such a heterogeneous crowd. I was reading the preface to Phillips Revised Translation and noted where he said something to the effect that the scholars had all but exegeted the life out of the truth.
Sam, I know that you believe that Christ lives in you. So did I…for years before I came to see things as I do today. What I finally asked was "What is He doing there…Why is He living in me?" It makes no sense to me now to believe that He is just there beside me helping me along etc. I know that He is there to live out His own life in me…and I no longer wrestle with the fact that it seems strange to add that when this living comes out, it surfaces as me. When you read this letter, or someone in my presence hears my voice, it is me you read, and it is me they hear…the hidden mystery though is that were I unzipped it would be revealed that the Operator within doing the works, speaking the words, etc., is Another…of course I am there willingly and consciously present. My self is not gone and neither do I have myself confused with the self of Christ. It is NOT my self that was replaced by Christ. But the spirit of disobedience—that is Satan—was replaced by the Spirit of Truth—that is Christ. In some mysterious way we operate as one…but I know me, and I know Him, and the two are one but always distinguished. It is not my self that died and even needs to…my self is the same as it was from birth…my self merely now has another Operator. My "old man" was not Satan…my "old man" was my self in some form of link-up with Satan…my "new man" is not Christ…my "new man" is me in union with my new Operator Christ. (And of course I understand the corporate teaching of the "new man" in Christ and the "old man" in Adam…just as I understand the hidden mystery of the Christ in the individual and the other hidden mystery of the Jew and the Gentile becoming one in Christ.)
I don't know that I have ever stood in front of a mirror and said to myself that I am Christ in the form of Pat Downs…but I have made that remark many times–to God, my self, to others. It is a BOLD thing to say–but until I dared to SAY it, it took no shape in my life. It is the discovery of who I really am, because Christ lives in me by His Spirit, that has completely changed my life. The only thing I have changed is the way I believe…the way I have come to believe about God and about myself. When I got my self in focus, life opened up. Maybe you will never have the courage to stop and say…"Yes, I Sam, am the re-expression of Jesus Christ in the form of Sam." But this I know, if you ever did, your life would never be the same to you again…or the same to others. I know that once I have tasted of this truth, it kills me to see other Christians struggling through life…it kills me right now to visit with my son and his wife who are truly born-again, zealous believers, but who admit to being miserable…who admit to not being able to work this life out to their satisfaction. But I in no way mean this life is a "bed of roses," just the opposite. It's just that like Paul, though perplexed, I am no longer in despair. To know what I know and to operate from what I know and to watch countless others come to discover this truth for themselves, is to watch and see lives absolutely change.
I have poured over Paul's letters and I have seen stuff I had overlooked before. Paul did not have a popular accepted message. He was maligned and called a member of a sect and labeled a "pest" and despised by "the Church" of his day. By that, I mean the synagogue, not the true Church…but the established Jewish form of organization which was even then still recognized as "of God." The synagogue would let him in, but wouldn't let him remain. The scribes remained as in Jesus' day and not wanting to enter in themselves, also took away the key of true knowledge from the people. I believe with all my heart if Paul suddenly reappeared to day, he would be unacceptable to the established church. Just as Jesus: when he did not fit the image of God people of His day had in mind, they crucified Him.
I wish you could come to one of our conferences…experience the reality…sten to the questions…watch what is really happening…small and insignificant in one sense….tremendous outworking of Spirit of God in another. I wish you could sit and listen to and come to know the man Norman Grubb; even read some of his later books…you stopped short in your reading…he has really expanded his knowing and teaching. His latest books are Who Am I?, Yes, I Am, "Romans Six to Eight," "As Simple As This." I know there are passages where his exegesis is imperfect, but who I know is the man. I know his heart and his bent for God and I believe with all my heart that God has given him a commission for our day and that he is fulfilling it amidst much opposition. While walking this morning I was listening to one of his tapes and the immensity of his vision and of his insight into the whole picture of God, for the church, about the self—it all but overwhelms. Norman is out-poured love in expression. Sam, I know I am a whole, integrated person. I do not think of myself as "compartmentalized." Please believe that. But in looking separately at "soul" and "spirit" for my edification I learned something invaluable about my self. About my humanity. I do believe that essentially I am spirit, just as God is Spirit. And that the "real me" which is essentially spirit comes to expression through my soul and body. But I am a whole and know it. But what I learned about self, by understanding the soul part of me, and the spirit part of me, and the body part of me has opened my eyes. But I know I am always an integrated whole person. It has put me in touch with my self…with my feelings…and for the first time in my life I have been delivered from "self-consciousness." Do you hear the beauty of that? There is no feeling I have that is not valid–it is a part of my humanity. I can feel any manner of things, and now experience no guilt feelings–until, so to speak, soul plugs in to spirit, soul can go nowhere. Until spirit acts on or from those feelings, there is no sin. I may feel angry, depressed, worried, lustful, etc. That is part of my being human…but I now know that I am not my feelings, or accountable for them. They just are!! I don't like feeling angry, worried, lustful etc., but I am at least honest now and admit to any feeling that arises because of my humanity. And I know that until I act from those feelings by my free choice to do so, that there is no sin. I guess Calvinists have a harder time with choice than I do. I believe that in me as an essential part of me because I am in His image…that in me is the capacity to make a choice…the choice I believe I have in me as a capacity is the choice to accept God and any truth I have from Him. I made this initial choice when I was born again. Since then, as a believer, all I do now is continue to faith in to this initial choice. And now understanding my self and Him I continue to choose Him and His truth. (And when I don't so choose, I go into unbelief and sin.) Then all sub-choices are made by Him in me, with me consciously and willingly going along with His choices. Deep inside of myself, I know that I have this freedom of choice…I know that it is not rigged. I believe that what distinguishes man from the other forms of creation is that man and man alone has this capacity…that it is the freedom that we have from God, the same freedom that is in Him…except that I know my freedom of choice is derived from Him.
I just know Sam, that I was free to either choose God initially, or to reject Him initially. And I know in the same way, that now as a believer I am under no coercion…but that I have freedom of choice to continue to faith in to Him. Sin is unbelief. So even before the act of sin is visible, the sin has been committed in my heart…and the "bottom line sin" in my view is committed when I see myself in independence of Him, and act as if I am an independent person. I have come to believe that when I so act, what has really happened is that I have temporarily given myself over to my old operator Satan, and he then accomplishes by me what he wants done. Once I enter into unbelief about who I am, my options for what can be done through and by and as me are up!! Satan then begins to operate his own desires (lusts KJV) through me. I go along willingly but as long as he deceives me in to thinking I am just a self-operating person, I falsely think it is "just me" when all along it is he!!
God cannot lie and Satan is a liar (John 8:44 NASV margin). He (Satan) speaks the lie and is the father of the lie…a liar is one who is out for himself at the expense of another. Satan is the expression of self-for-self. God, who cannot lie (i.e. be one out for himself at the expense of another), is out-poured love for others. Satan a self-loving self; God self-giving-self. My image of Satan has also changed. I see him now so much clearer in his devious deceptive ways–bottom line: Satan is just self-for-self and once my eyes were opened I found him in the nicest places! My husband does not believe there is a Satan…and he often says to me, "You believe that a spirit named Satan is Mr. Self-for-self." "I believe," he says, "that I am Mr. Self-for-self." And I always answer him by saying: "Dear husband, you have bought the enemy's lie. That is what he wants you to think. If he can just get you to believe that it is just you operating your own life when you are in unbelief, he has scored! He always goes by our name when operating us. Jesus always says 'Here I am…it is I.' Satan on the other hand, never reveals himself. He never even so much as whispers 'This is me: me Satan.' He always wears the disguise of 'just me'–'just Pat,' 'just Fred,' 'just Sam.'"
The reason, Sam, that I believe sin was not just a "something" sitting around but instead believe sin originated in God's negative agent Satan, is that I hold to my idea of freedom of choice given to every creature. Satan, when Lucifer, had in himself this same freedom of choice; he made the choice to become independent of God. His choice was not rigged. His adherence to stay as God's Lightbearer was not forced upon him. God loves freely and in return He wants His creatures to love Him freely. Satan as Lucifer made the choice to not love God, but to love himself, and the original sin was therein committed. And all sin of unbelief since then has the same root. I disagree with you about Norman not explaining the source and root of evil. I have to say this—until I met him and talked with him, I never really had any kind of handle on "good and evil" and their origins. Now for the first time I have some grasp on evil and its origin and its wherefores and whys etc.
I'm going to bring this to a halt. But not without saying I do pray, and believe everyone I fellowship with does. Maybe the form is now different. But when over and over through the day God brings you to my mind as He thinks through me, I know when I stop and think about you and talk about you to God in me, that this is prayer. Maybe I am driving down Camelback Rd and not on my knees at 4 a.m., but it is prayer. All my reflections with God coming from a heart torn for others as I think of them and of Him and of myself and my role…oh, Sam, this is prayer like I never knew before. But I pray also aloud with others and in groups led by Norman or someone else. (And I have lots of "conversations" with Christ as if He is in the next chair! He is IN me and OUT there!)
From my personal experience I can now say I have the answer to who I am and who you are. I accept my precious humanity which He formed to be a glory unto Himself, and I use it (more correctly, He uses it) to put into expression the treasure who lives in my earthen vessel. It is my delight to watch others latch on to this truth and emerge as expressions of the Expresser. He is being in me the way, the truth and the life. And what I have today in a real and practical way came from reading Norman's books and listening to him, and to others who have glimpsed this same truth. I have to say, it is a life I never got from all the commentaries I poured over…that I never caught while I was constantly attending the established church…that no winter institutes on theology ever brought to me. If there is anyone who can come in to my life and offer me something that surpasses what I have in Christ, I wish they would knock down my door and come offer it to me. But if not might they come to me and listen while I share the secret of the One who lives in me, through me, as me…and let them also become rivers of living water…water is that which satisfies our thirst…I thirsted to know how to live–I have an answer. I love to tell it out!!!
Don't bother with answering my letters…I am the one who has been told by God to stay in touch with you…and until He tells me to drop it, the letters will continue to flow!!!!!
Love in Him,
Pat
p.s. Oh, how I wish instead of dissecting Norman's books, you would just stop one time and ask: Have they got hold of a truth I know not–that I have not yet seen? Could what they say be God–the truth? Oh how I asked this–for a long time–how I questioned and wondered. And now the inner knowing that though this we share be called cultish, heretical, or whatever, it has become my life. Sam, could you just stop and say, God if it is true, would you speak to my heart that it is? What have you got to lose? Just your "life"–and God says when you lose your life you find it.
More Articles from The Intercessor, Vol 32 No 3