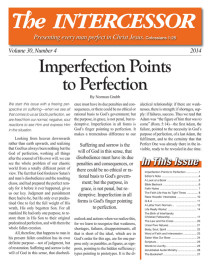 Editor's Note

"Don't judge a book by it's cover"; "Appearances can be deceiving"; "Things aren't always what they seem." Can we all agree that "it's not what's on the outside, but what's on the inside that counts"?  We have all heard these platitudes applied to humanity in general, but they are especially true in the spirit sense. What we know is that the outside (cover of the book) is a human's vessel, containing either the Spirit of Christ or the spirit of Satan. Sometimes the outside may not look so great, but Christ is in there living out His perfect life and will. Or, visa versa–the outside looks great, but Satan is at work inside (like an apple–shiny, red and beautiful, but full of worms)!
Often, Satan counts on us to be deceived by appearances. He wants us to be deceived into believing that we are what we appear to be–just us, independent of Christ living His life out through us.  In Part II of the series "Life Really Works!", the writer addresses how sin operates in the life of a believer and what Satan does/says to deceive us as Christians.  The question is also pointedly asked of the reader, "Do any of you who read this actually believe that you, on your own, can satisfy the Biblical standards?" The answer should be, "Certainly not!" So, how then can God possibly expect us to "be ye therefore perfect" (Mt. 5:48)? Read on for a very succinct, yet very total answer!
Furthermore, God directs us to warn one another of any unbelief so Satan cannot deceive us into sin. We are told to "exhort one another daily" lest any of us be "hardened through the deceitfulness of sin (Heb. 3:13)." Norman, in this segment of Bible Bedrock, tells us to take heed against the "dangers of unrecognized backsliding." Really loving your brother is to not let him fall away to Satan's subtle (or not so subtle) deceptions. Speak up for their sake, even if it's uncomfortable for you!
Norman often writes about "seeing through" to God in all things (see Who Am I?, chapter 3–Spirit is the Only Reality). In this issue of the Intercessor, we've included an excerpt of Norman's, titled "Imperfection Points to Perfection." In it, he tackles the questions of why God determines that we face suffering, failures, shortages, problems, and even physical ailments. To the human eye all these look like needs–but, to the eye of faith, they are, in reality, God's full supply. Remember, don't be deceived by appearances! Need is actually supply!  See this issue's featured Bible verse for re-enforcement on this point: "…for when I am weak, then I am strong" (2 Cor. 12:9-10).
This topic is touched on again in our "A Look at a Book" segment, reviewing Who Am I?, by Norman Grubb.  Richard Gilsenan shares how this book has personally spoken to him in his testimony of trying to live a godly life on his own strength. He cites "Spirit is the Only Reality" as a key chapter in the book, helping him to "see through" to God in all circumstances–not getting "muddled by the outer appearance of things." Furthermore, his description of chapter titles that make you "sit up and take notice," may whet your appetiite to want to find out more of what's in this book!
We should all be familiar with the scriptural warnings concerning riches (i.e. Mt. 9:24). So, perhaps it seems not possible to be both rich AND godly.  Can you possess lots of worldly things yet not be wordly? Well, that depends on who's running the person on the inside, right? By what spirit is the person being operated? By the Spirit of Giving (Christ/Self-for-Others), or of the spirit of taking (Satan/ Self-for-Self)? Psalm 37:21 says that the "wicked borrows and does not repay, but the righteous shows mercy and gives."  In the article "The Faith Life Has it's Tight Times," Norman tells personal stories of how those who were able, gave to him and others who were in need. He expresses his thankfulness for "those who have this world's goods and whose ministry in the Gospel is at least in part by the distribution of them."
Next, we have featured a very tender and encouraging "Letter From Norman" to his "niece"–Jennifer.  Jennifer has apparently made known that she sees her flesh as "horrible" and "nasty." Norman explains that although she can't see or feel it–Christ is there living, and Satan has only misused her flesh for his selfish purposes. Her flesh, in truth, is wonderfully made by God and made to be indwelt by Him! Norman is so endearing…it is hard to finish this letter and not wish he were your own "uncle"!
You will also come across some child-like illustrations in this issue. They are part of a series that were originally published in the Intercessor's youth publication, Z- News. These illustrations may look child-LIKE, but they are certainly not child-ISH! Advanced theology such as "Body, Soul, Spirit," faith, and intercession are simplified for any reader to grasp a basic understanding of.
Also, don't miss an interesting history and testimony of faith in Norman Grubb's account of "The Birth of Intervarsity Christian Fellowship." We've also included two other pieces:  "Rees Howells' Intercedes," a short testimonial of intercession through physical identification with others in need; and "Satan Was Our Boss," an excerpt from Page Prewitt's "Life: The What, The Who, The Why."
Finish up by clipping out your "Word's to Live By", and you're all set! And remember, don't be deceived…"You just ARE, and He does the keeping"!
More Articles from The Intercessor, Vol 30 No 4