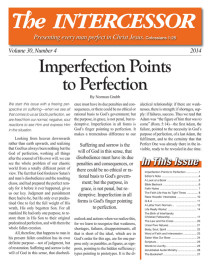 A Letter From Norman

Jennifer darling,
You will wonder if I've ceased to be your uncle!! But on this 2 ¼ month, 10,000 mile tour, we've had a wonderful time, perfect, but have just had to put off letters and let them pile up. Now I'm back to the pile, and am picking out some special ones. Darling, I greatly enjoyed you taking such time to share in detail what the Holy Spirit is doing in you.  
And now get this clear, my darling. You have not been horrible flesh, God made your beautiful human spirit in its soul-body casing to be what you are now, a walking Jesus. But you see an enemy captured our spirits and indwelt our soul bodies since the fall (Rom. 7:20!), and he has misused your flesh for his unclean self-centered purposes. That's why Jesus said our flesh-sins were his (Satan's) works–see John 8:44. So what you repent of is not a nasty Jennifer-flesh (which was beautifully  made by God in HIS image); but you repent that Satan has misused you and to that extent we all agreed with Satan and thus were involved as co-operators! But now Satan went clean out for ever in Christ's body-death (Rom. 6:10) and thus out of your precious Jennifer body too (2 Cor. 5:14!).
So now, darling, you don't even have to keep being who you are–a Jennifer form of Christ , as you were once a Jennifer form of Satan! You just ARE, and HE does the keeping. You just be your beautiful daily self, in your new job (glad of that), home etc, and that IS Jesus in His Jennifer form. We all live in the devil's territory in this world, so of course are all within the range of his "fiery darts" of temptation. OK, then, accept those as his right to shoot at you, but as quick as you can, don't "repent" (for they were not sins–Jesus was always tempted, but never sinned!), but as quick as you can, after accepting Satan's right to tempt you, you reverse your "seeings" from the pull of the temptation to who you are–Christ in your form; and He as you overflows the temptations! So up you get again. A sin is only sinly when you choose to do something; that is occasional, but then 1 John 1:9–up again praising the precious blood!
So my darling, the glory is Jesus permanently in you, as you, and you joined to Him as branch to Vine. Just always take that for granted, no matter what stormy soul-feelings or body reactions you may have.
So thank you for your sharing, sweetheart, and maybe you will also be able to share this over again with our one and only precious Mary. And I hope you will spare time to write me still more. And next time I don't expect to be so long in answering.
            All my love to you,
                Your uncle Norman
More Articles from The Intercessor, Vol 30 No 4