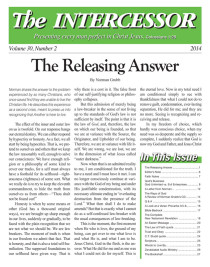 The Ways of God

A Review of Norman Grubb's CD
Norman begins this recording jesting that he's thankful for the "opportunity to persuade or deceive" those he is talking to. When you listen to Norman's teaching in this inspiring talk of "God's Ways," you will know that there is no "deception" going on, but rather God's impeccable declaration through Norman of the truth of His ways as pertains to His universe and our purpose in it.
Norman tells first of his life-calling to do his part in getting Christ to peoples of many countries. He recounts how God has spread the gospel through him in missionary crusades almost all of his life, including the time he spent in the Congo in Africa. He gives thanks now for the opportunity to spend time visiting in peoples' homes as he is doing on this disc, sharing the truth and understanding he has sought throughout his life about God's ways and what he believes the Scriptures teach us about those ways. Norman promises to share the answers he has found to the questions he feels are important–Who am I? What is life? How do I live it? Why do I live it?
Who are we? Norman gives a clear teaching that in reality we are spirit people, not matter people. He shows us how our real inner self is our spirit joined to God's Spirit. So we are real persons when we put our faith in our spirit union with God through our Savior and Lord, Jesus Christ. Norman points out scriptures that explain that all reality is God's Spirit expressed through matter form. This understanding, Norman, says, is God's way for us to live in spirit reality and how we can keep all of life in focus.
What is life? Norman shows how our life here on earth is an important interlude in eternity because it is when and where we learn how to be co-sons and co-heirs with Christ. God created a universe of people that needed saving and supplied the Savior it needed. He puts us in situations in life to see needs and then allows us to see His supply. God's design for each of us is to live as a spirit person and then be that person functioning as He.
How do we live it and Why do we live it? John 10 says our destiny is to manage God's universe. Norman teaches how God allowed the fall in the Garden (using His convenient agent, Satan), provided Christ's death as the sacrificial lamb, and determined the resurrection of Christ by the life-giving Holy Spirit–all in His perfect wisdom to bring us to the place of responsibility as co-heirs of His universe. He knew that if His family of sons were caught first in Satan's wrong way and disillusioned by it, then delivered from sin by Christ's redeeming life, he would have an unfoolable set of sons who would be fixed with Christ in self-giving love like He is. This is how God could create us to be safe sons, so that we could be the manifestation of His selfless love to all His creation. Norman explains that this manifestation requires that we trust that it is Christ living through us, that we are the branches that His vine-life flows through, and that we are the lamps manifesting the light of Christ to His world.
After laying out God's breathtaking plan for us, Norman goes over the foundations of the fall in the Garden of Eden. He shows how Satan deceived Adam and Eve into believing in his own lie of independence. Norman then goes through the stages of a born again believer from little children, to young men, to fathers. Over and over again throughout this tape, Norman emphasizes that ALL believers are vessels created to contain the Holy Spirit and to be God's spirit manifestation to all.
So, if you desire to learn from Norman more of the "ways of God," then listen to this tape. Like Priscilla and Aquila, who desired to know more of God's ways and then "explained the way of God more adequately" to Apollos, Norman shares with us more of his understanding of God's purpose for our lives and how we have the privilege to live as manifestations of His Spirit. We not only know that He is our Water, but also that we are Living Water for others. We not only know that He is our Bread, but also that we are the Bread of Life for others.