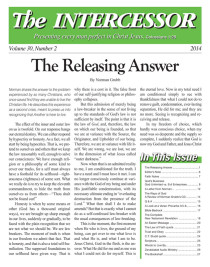 The Editor's Note

Temptation is a scary word for some. But, temptation alone is not a bad thing. To be tempted is to be human. The Bible says that Jesus Himself was tempted in all ways, and can therefore sympathize with us (Hebrews 4:15). So, what is temptation and how does it flesh out in our Spiritual lives? This issue of The Intercessor gives answers and wonderful insight to these questions and much more.
In the "Q & A," read a thought-provoking answer to the question " Why is it that even after we become Christians we find ourselves being pulled by temptation?" The answer is extremely helpful in identifying what temptation is, and what role it plays in our lives.
In "A Letter from Norman," Norman responds to another believer who is in the throes of soul-body attacks through her thoughts and feelings. Norman sets her on the right path to realize that God means her situation and it is an opportunity for faith. He challenges to "dare to rise up, though it may 'seem a battle,'" and to remember that "your minding is He as you"! This letter is also a wonderful reminder of the distinction between soul and Spirit. Make sure to have your Bible handy for scripture references.
Finally, do not overlook reading the quote from The Law of Faith on page 21. It leaves us with the triumphant reminder that we are joined in Spirit to the One who has victory over temptation!
Another theme that runs throughout this issue is that of personal testimony. Thank you to those who share with us their life stories of Spiritual struggles and victories, so that we all may benefit and glean insight for ourselves!
In this feature of "A Look at a Verse," we hear how Matthew Anderson applies Psalm 3:5-6 to his own life, and how God has his every situation handled.
And in the compelling testimony titled "Trust and Obey," Rebecca Jane Cooper clearly lays out her salvation and then her second crisis experience, with Satan pulling her back to the same old lies as before. She describes how self-righteous, judgmental, and ultimately jealous thoughts ran her life; and how one obedient moment where she decided to "trust and obey" freed her from Satan's grip and caused the "scales to fall" from her eyes.
Our featured article, "The Releasing Answer," by Norman Grubb, is also brought to life through his personal testimony. The first half enlightens us on the role of the law in our lives before and after salvation. In relation to keeping the law before and after, Norman gives a brilliant quote: "Before we did not, now we cannot"! He goes on to share his revelation in his efforts to try to be what he could not be in his life: better, more loving, more "Christ-like." His revelation applies to all: "Now I saw that we humans do not exist to become something, but to contain someone."
The next feature titled "The Complete New Testament Revelation" is a unique writing with a passionate emphasis on a critical point to the Total Truth message. You do not want to miss this! Norman Grubb had received a letter from a fellow believer claiming the "cutting edge" truth of Christ-In-You, while rejecting the truth of a Satan union before conversion. Norman vehemently rebuts this claim in his passionate response to why "there is no point stressing Christ in us unless we first make very plain who this 'us' is that needs His indwelling."
Next, in "God's Business," Scott Prewitt uses a clever business analogy to illustrate our relationship to God–we being "managers" (stewards) of God's business here on Earth, and He, our Boss and Supreme Auditor. Scott explains that the only real choice we have in life is to decide which boss we will work for…the owner of God Unlimited or for Satan's company, Evil Enterprises? The business analogy is then extrapolated out to show how we are meant to live our lives/run God's business. We will leave you to ponder what our "employee handbook," and who our "model employee" and "trainer" are revealed to be!
Other not-to-be-missed features include a CD review of Norman's "The Ways of God." This review gives us plenty of reasons why we would benefit from hearing this particularly inspiring talk about "God's Ways." This includes how "Norman promises to share the answers he has found to the questions he feels are important–Who am I? What is life? How do I live it? Why do I live it"?
This issue's "Bible Bedrock" elaborates on the "School of Faith" analogy from 1 John 2:12-14: "I write unto you, little children…young men…fathers." Each stage of human development corresponds in terms of our Spiritual development. What stage do you find yourself in?
Finish up with "Words to Live By…" on page 25. It gets to the crux of our daily living in a clear, concise, encouraging way. It addresses the negative tapes that can play in our heads–with Satan watching and waiting for us to believe and act on them. This segment is a perfect size to get out your scissors, cut out, and tape to your bathroom mirror or your car dashboard if you need to! It is a definite "go-to" in those times we need a reminder that Christ is at work, despite feelings and appearances.
From an inspiring "Easter Message" to snippets all throughout, this Intercessor is packed with powerful quotes and scripture to drive home the fact that despite what you feel, Christ is there to live out His perfect life through you! God Bless!