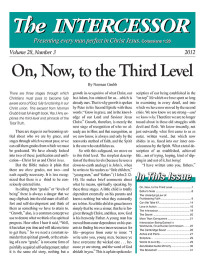 Editor's Note

No one in modern times has written with such clarity and depth on God's total, ultimate purpose for mankind than Norman Grubb, and we are honored in this issue to bring together articles taken not only from his most recent books, but also gems from his books long out of print. 
In our three-part examination of the totality of the Gospel, we began by exploring the first stage of man's redemption–the simple Gospel of John 3:16: "For God so loved the world…" in a depth seldom encountered. In the next issue we moved to the realization of the second stage–the exchanged life of Galatians 2:20: "I am crucified with Christ, yet not I but Christ liveth in me…." In this issue, we reach the pinnacle third stage–the intercessor/cosaviorhood described in Eph. 4:19 and Col. 1:28 "…of whom I travail in birth again until Christ be formed in you.…"; "…that I may present every man perfect in Christ Jesus." 
The lead article, "On, Now to the Third Level" presents an overview of the three stages of faith through which mature, fruit-bearing Christians must pass, described as "little children," "young men," and "fathers" in 1 John 2:12-14 and exemplified in the life and letters of Paul. Living on that third level, Norman writes, "We no longer regard our lives from the aspect of our own convenience, or pleasant/unpleasant situations or relationships, not even our physical well-being….It means we recognize that we never again have any other meaning to our lives except [Christ's] loving others by us." 
"Can We Take It?" demolishes the fallacy that man is now or ever has been capable of totally selfless love: "Self-giving love is not of mere man, but God in a man; God is love, love is selfless and God is totally detached from self-interest… yet God has predestined man to be just that–totally absorbed in the needs of others." Likewise "Love in Action" dwells on the nature of God's love only evidenced in us through the third work of the cross–the "death-rising life He lives in and with and by us in our priesthood ministry for the world." 
Excerpted from Norman's early book After C.T. Studd,"The Secret" is a battle cry to press on to fulfill God's personal commission through believing in our total sufficiency in union with Christ: "We are set in our day to be overcomers, not to sail calm seas, but to walk on storms, to replace need with supply, to transform aspiration into realization." 
"The Underlying Law of Fruitbearing Faith" is a deeply insightful look at how the Holy Spirit operates in the personality totally handed over to Him: "He changes our wills, melts down our opposition, sets them on a new bearing, to will the will of God and to love to will it, till it becomes a consuming passion with us, till we will literally die rather than disobey God." Especially enlightening is Norman's description of the progression from early experiences in the "school of faith" to the "life of faith" as God's intercessor. 
This issue features glimpses of men at the "fatherhood" stage: "The Intercessor" highlights the life-changing power of Moses' intercession on Mount Sinai: "One man's intercession had brought a nation back to God." Turning to more recent times, an excerpt from
The Cambridge Seven
provides a snapshot of Harold Schofield's bodily intercession for the Chinese and its fruition in the missionary calling of the "Cambridge Seven" (including C.T. Studd). "Aches & Pains," taken from C.T. Studd's
Fool and Fanatic
, is C.T.'s brief reflection about the price God told him would have to be paid for his life of intercession–concluding that "it is grand to have no ambition except to do my best to glorify God." 
Perhaps the most fitting cap to this issue is Norman's "Intercession Being Gained in Worldwide, Churchwide Commission." Written at the age of 95, Norman describes his "fifth and last commission" to take the Total Truth to the whole Church. In addition to providing an excellent summary of its biblical foundation, Norman emphasizes that this understanding is nothing new–it is unrecognized truth about who every redeemed person really is. He also shares the cost: "a very present dying that others may live," encouraging those who follow, and shares his joy at leaving behind the "first sproutings" of a worldwide harvest.
Taking the Total Truth to the whole Church is our commission today. 
More Articles from The Intercessor, Vol 28 No 3