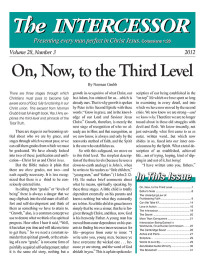 Aches and Pains

Long, long ago God told me the price that would have to be paid–I agreed and the price has been "being paid" for many years now. The price of this work has been pretty heavy, more than you could ever know. Again and again I have said, "Surely the price has now been fully paid?" But it has mounted up and up till now I really think there remains nothing more to pay, for I now stand as a lone sparrow on the housetop. Yet don't think I grumble, I don't. I'm rather proud that I should have been allowed to pay it in full. Years ago I came across this verse and could not forget it, but I never dreamed its full meaning. It was just this: 
It needs my heart be weaned from earth; 
It needs that it be driven 
From seeking every earthly love, 
To find one's love in Heaven. 
It was the clinching, I now know, of the verses of Scripture (Matt. 10:36; Luke 14:26) that God gave me to decide my life's course long years ago. The Scriptures and this verse coincide. Well it is grand to have no ambition except to do my best to glorify God. I have made very many mistakes and blunders, but I can truly say they have not been make through hate or malice, but through love. 
More Articles from The Intercessor, Vol 28 No 3