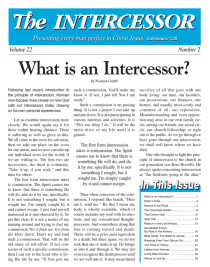 Zerubbabel Focus My Role in the Ministry…

Zerubbabel Focus My Role in the Ministry…
by Joanna Langley
Some of you might know me as the girl with the British accent who answers the phone when you call Zerubbabel Press to order books or to add a friend to The Intercessor mailing list. My name is Joanna Langley and I work for Zerubbabel Inc. as Administrative Manager. I would like to share with you how I came to work for Zerubbabel and what my job entails. I am hoping this article will become a regular feature whereby you can share in the exciting projects God is working on through Zerubbabel.
I'll begin with a little background about myself. I was born in Northampton, England in 1978. I have been attending Zerubbabel Summer camps in Boone, with my family, and visiting friends made at Camp since 1994. I always loved being here and was very sad to say goodbye and return to England. My spiritual family in Boone has been a huge part of my life and have been there for me through hard times and good. I would not be where I am today if it were not for my friends here. Of course we know it is Christ through them; but they have been obedient to living our Total Truth and as a result they have been available vessels for Christ to do his saving work, and I truly have been saved.
I spent the summer of 2004 in Boone. We began discussing the possibility of me working for Zerubbabel. With no full-time staff member, there was definitely a need. We applied for an H1B visa for me to work here for the next three years. By the end of the summer, my visa waiver was due to expire and so without knowing if my application was successful I had to say my goodbyes and leave town. I settled within myself, on the drive to the airport, that God was in absolute control and whatever the outcome His plans for me were perfect; bringing to mind a favorite verse of mine-Jeremiah 29:11. While waiting to board my plane, I decided to check my email one more time to see if I had been notified of the result of my application. To my delight, I had an email to say that my application was accepted pending an interview at the U.S. Embassy in London!
Once back in England, I took a temporary job while I waited for my interview date at the Embassy to roll around. It took a couple of months but I was glad to be able to spend time with my family before I left. I had to wait five hours at the Embassy for my interview, which lasted no more than five minutes! It was a long wait but well worth every second! The Officer asked me a few quick questions about the work I would be doing and then took my passport and told me it would be mailed back to me with my visa in the next few days! I was ecstatic! God's plan really was for me to move to America and work for Zerubbabel!
I moved to Boone, North Carolina in November 2004 on my 26th birthday! I started work the next day, and began learning about the current operations of the ministry. Previously, ministry tasks were divided between various members of the body utilizing each person's different skills and gifts. I started gradually taking over these tasks-for example filling book orders, handling correspondence, banking, processing mail, learning the operations and maintenance of existing computer systems, and getting involved with the publishing of The Intercessor. I at once set to streamlining various procedures and updating technology in the office. My previous qualifications and experience in business and technology are skills which have proven very useful.
Perhaps a less-significant task, but a rewarding and worthwhile change for me, was to re-vamp the Zerubbabel office. Situated in a basement, with no natural light, plain white walls and grey carpet, it left a lot to be desired! I got some advice on paint color from our resident artist whom some of you will know, Steven Prewitt. The walls got a nice splash of color and the floor got padding and a brand new carpet! With some plants, "natural" light bulbs and better office organization, the office was much improved and a far more pleasant place to work in.
At the same time as learning and updating the smaller, operational-type functions of the ministry, there were broader issues to consider too. Over the years, many goals and objectives have been set at Zerubbabel Business meetings; with no one working fulltime, progress has been slow. This is where I feel the greatest responsibility in my position here. These goals have been the result of God expressing his thoughts and desires through His vessels here and are all a means by which we can fulfill our commission to "present every man perfect in Christ" (Col. 1:28) and to share the mystery hidden through the ages: "Christ in you, the hope of glory" (Col. 1:27).
I began discussing the status of these projects with the various people involved. This was challenging at times as some projects involved various people who all had different involvement; so piecing it together was my first task. I then started taking on responsibility for these projects and continue to work on these today. While it is tempting to tell you about these projects now, I am going to wait until the next issue of The Intercessor, where I will get into the details of these projects and what progress has been made so far. You will notice, however, that the Zerubbabel Press Web site has been launched (see ad on page 14); but more about that next time!
For now I will finish by saying how grateful I am to be here and to be a part of what God is doing through Zerubbabel. I look forward to sharing more with you all in future issues.
More Articles from The Intercessor, Vol 22 No 2