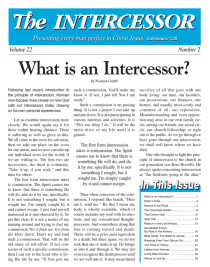 What is an Intercessor?

What is an Intercessor?
by Norman Grubb
Following last issue's introduction to the principle of intercession, Norman now focuses more closely on how God calls out intercessors today, drawing on his own personal experiences.
Let us examine intercession more closely. We would again say it for those within hearing distance: There is suffering as well as glory in this. We all come to the cross for salvation, then we take our place on the cross for our union, and we now can take up our individual cross for the world, if we are willing to. The first two are necessities, the third is voluntary. "Take it up, if you wish," and this time for others.
commission. The Spirit causes me to know that there is something He will do, and do it by me, specifically. It is not something I sought, but it sought me. I'm simply caught by it and cannot escape. I just find myself immersed in it and obsessed by it. So get this clear: It is not a matter of my running around and trying to find my commission. No, it finds me. It is from the Holy Spirit. Don't try and find such a commission. That will be the old snare of self-effort. If not conscious of such a specific commission, then I can say to the Lord who is living His life by me, "If You give me such a commission, You'll make me know it. If not, I just tell You I am ready."
Such a commission is no passing thing. It is not a prayer I can take up and put down. It is not participating in various interests and activities. It is "This one thing I do." It will be the main drive of my life until it is gained.
Then when conscious of the commission, I respond like Isaiah, "Here am I; send me." By that I mean my body is wholly available, which of course includes my soul with its emotions, and my concentrated thoughtprocesses. And somewhere along that line is coming travail and death. There will be a price paid equivalent to a death; but there again, we do not seek that out or make it up. He brings us into it and through it. We may not even recognize the death process until we are well into it. It may mean literal sacrifice of all that goes with our body living: our time, our faculties, our possessions, our finances, our homes, and usually most costly and common of all, our reputation. Misunderstanding and even opposition may arise in our own family circle, among our friends, our social circle, our church fellowship, or right out to the public. As we go through or have gone through our intercession, we shall well know where we have died.
One who brought to light the principle of intercession to the church in our generation was Rees Howells. He always spoke concerning intercession as "the firstfruits going to the altar," which referred in type to the meal offering of Leviticus 2. There the first handful of the flour is burned on the altar, and the rest feeds the priests. By that he meant that there would be this "death" in which the self-life, the body-soul life, has had its human setbacks, sacrifice, maybe failure in the eyes of the world or church, and out of that death came the life to others. It is the 2 Corinthians 4:7-12 principle, but this time in specific rather than general form-for this is where Paul is speaking about bearing in our body the dying of the Lord Jesus. He then writes, "So death worketh in us, but life in you."
The intercession is completed, first by being gained on the level of faith, as the intercessor becomes settled in his inner consciousness that the Lord has done it; and second, by his own continued involvement in it, by whatever action accompanies it, while the Spirit brings the thing to pass. And it continues until the intercessor knows that his part in it is fulfilled. Commission. Cost. Completion.
AN EXAMPLE: PERSONAL
Here are a few personal instances. When at Cambridge after World War I, I was unable to take part in my favorite games of "rugger" and field hockey because of a wounded leg. But I had one overwhelming urge-to get around to all the rooms of the men in my College, Trinity, and witness to them and ask them to join our thensmall group of the Cambridge InterCollegiate Christian Union, commonly called C.I.C.C.U. I did this, though often it cost me a lot to do it, for they were mainly men who had held good ranks in the army and were pretty sophisticated, being older than the average undergraduates. Then, with only two terms left to complete my degree, the call of God came clear to me to leave the University and join C. T. Studd and his small band, who had been alone in the heart of Africa all the war years. I did not do this easily, because it was against the advice of my friends, and according to Cambridge rules I could not return later and pick up where I dropped out. But I did do it, and it was "death" to me on that level.
But before I left, near the end of that term, the Spirit distinctly came on me to go and speak in no uncertain terms to all I knew personally who had not accepted Christ, or who at least showed no sign of spiritual life-men whom I never expected to see again in this life. I went and pulled no punches, and a number came out for Christ, about sixteen of them. This caused a stir like a touch of revival and the C.I.C.C.U. men asked me to come and tell them about it. As I did so, it came like a vision to me that every university and college in Britain and the world should have its evangelical and witnessing union, as we had. So I suggested to two of my friends that we take a hall in London and invite some from Oxford and London and other colleges, and hold an intervarsity conference. About sixty of us attended. Little did I then realize that this was the start of what has since grown to become the worldwide InterVarsity Fellowship, now in hundreds and probably thousands of colleges in all nations, developed under the dedicated leadership of Douglas Johnson and Oliver Barclay in Britain, Howard Guinness in Canada and Australia, and Stacey Woods in the U.S.A. and on through the world. There had been this definite "commission" that I had to give myself to witness in the university. There had also been an unexpected form of "death"-in not remaining to get my degree, though it entailed only a couple of terms. But the intercession was gained on this far larger scale, as the IVF has become this world-wide student fellowship.
Again, after Pauline and I returned to England in 1931 to carry on the home end, God's commission to our Worldwide Evangelization Crusade was to go to any unevangelized area of the world. It was our custom then for those at the home end to take a slightly larger share of what monthly money there was before it was apportioned to the fields, as it cost more to live in England than in Africa. But when we had practically nothing to send to the thirty-five missionaries (we were nearly penniless that first month), the Lord clearly said to Pauline and me, "Why not personally live by the injunction to 'take no thought for food and clothing… but seek first the kingdom of God and His righteousness,' and believe the promise that 'all these things will be added unto you'?"
We saw the point and accepted it from God, though to us at that time it was a big thing-having no earthly source of supply, not even from the mission- and we also thought at that time we should never get anyone else to join us in the work of the home end on those same conditions! But how way off we were, for our WEC coworkers (maybe over a hundred of them at all our home bases round the world) all these years have taken no mission funds for personal needs, but have lived by the promises of God.
In those first days we did sometimes touch bottom. When we were about a dozen of us, we lived for a week in our London home with no household supplies. At mealtimes we joined in the fellowship room, intending to thank the Lord for the bread of life! But the retired lady's maid of C. T. Studd's mother lived with us in our basement, where we also had our kitchen and dining room. Though she did not outwardly profess Christ she really loved our young men, whom she called "Hallelujah Boys"-and all we knew was that each day at mealtime the bell rang from downstairs. We trooped down to find bread, cheese and tea on the table. We always thanked the Lord that, having asked only for daily bread, we got cheese on top! We could only guess that Miss Mussett put it there. Also, for months we lived practically entirely on sacks of lentils sent us by a Christian farmer…but that was Daniel's food, and we flourished on it. Sometimes, though, we felt like the children of Israel who cried to God for quails and then got them until they "came out of their nostrils"! But those were early days and it has rarely happened since.
It seemed to us more an adventure of faith than a death to ourselves; yet it was a spark which set us alight in our divine commission. The commission was on us to see that all those unevangelized areas of the world which were brought to our attention were entered and occupied, God sending the stream of recruits to enter them. What exploits of faith there were in the entry of some of them! But this is not the place for those stories. Year by year we did that, opening a new field every year, until we are now on forty fields. And we have already mentioned how the gospel has spectacubeen going out to tens of thousands, and how living churches have been founded which are now continuing with their own witness in many lands of Africa…and in Indonesia, India, Thailand, Japan, South America, Europe, and elsewhere. Pauline and I had that specific commission; we knew we had it, and that it must be fulfilled. God told us to take this way of personal financial death, which has become our home-base principle ever since. The intercession has been fulfilled- our part in it-by the establishment of these many fields in many countries. We meanwhile gained our individual intercession by it becoming easy for us, ever since, to trust the Lord for personal finances and to take our share in the stand of faith for the increasingly large finances needed by the Crusade throughout the world- with no appeals made to man.
I would say that, right up to today, God gives us the privilege of being intercessors. As my years in our direct WEC activities ceased, the Lord gave me the plain calling-another definite commission-to get around the U.S.A. with the message of union and replacement in Christ which has been the mainstream of this book. I had to do it. I had to go round and repeat unendingly what God has made so real to me. There are always new facets of light, but the heart of the message is ever the same. The price of this intercession is to continue nonstop into my eighties, even though my old leg injury makes walking a difficulty- though in fact, you don't notice the dying when absorbed in the harvesting. And now, after going round for about ten years, the Lord Himself has called in co-intercessors, all unknown to me. For Pauline and me an intercession has been gained, and the harvest is being widely reaped.
For many years after his retirement as General Secretary of the Worldwide Evangelization Crusade, Norman Grubb traveled extensively sharing the truth of our union with Christ. He also carried on a huge personal correspondence with individuals throughout the world. He was the author of many books and pamphlets, a number of which are available through the Zerubbabel Book Ministry. Norman lived with his daughter, Priscilla, in Fort Washington, PA. Norman P. Grubb entered the Kingdom at 98 years of age.
More Articles from The Intercessor, Vol 22 No 2