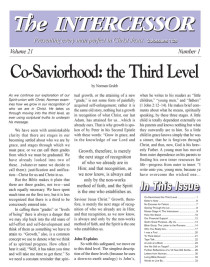 Tape Talk

TAPE REVIEW: Phillipians
by Norman Grubb
Joy is our permanent personal condition in Christ, states Norman Grubb to open his talk on Philippians. Surprising then that the focus of this tape is often on the cost and suffering involved in the self-for-others life. But this is contrasted with the exciting discovery of knowing Christ, as Lord in us—the total solution to every situation.
In this excellent recording on Philippians, Norman addresses what it means for us to be perfected in Christ. He covers the three levels experienced by Paul and by us in coming to know and be who we are in Christ. He then goes on to talk about counting the cost as we move into the life of intercession. Norman really gets down to the essence of what Philippians, and some of Paul's other letters, mean to us in living the union life. He speaks with passion and authority as one who is "pressing on toward the goal" right along with Paul.
At the beginning of the tape, Norman states that four of Paul's letters really present the Total Truth: Romans in a complete general overview, and then Galatians, Colossians and Ephesians, each expanding on the themes of the cross, resurrection life and ascension life respectively. In answering a question from the audience, Norman then moves into Philippians to chapter 3:12-14: "Forgetting what is behind and straining towards what is ahead, I press on towards the goal to win the prize for which God has called me heavenwards in Christ Jesus." Just as Christ learned obedience through the things He suffered and was made perfect (Hebrews 5:8-10), so He perfects us through bringing us into a place of suffering. In Paul's case, Norman describes three levels. First, Paul is boasting that he has more reason than anyone to put confidence in the flesh. After all, he is of the tribe of Benjamin and has kept the Jewish law in every way possible. Of course he then sees the "devilishness" (SELFishness) of this and counts all these things loss for Christ's sake (3:7- 9). Then in the third level, Paul moves from Christ for him into Christ by him and enters into a personal, painful experience of the cross. This is where Christ is no longer just Saviour but Lord, and he "runs the show." Norman then expands on Paul's statement of counting as "dung" (3:8) those things which he once enjoyed and valued. At this stage we must all go through a radical change of interests and values in which the things that we once liked become offensive and like manure to us, and we don't want to live just for them anymore. Norman uses the example of "hating" our father, mother, wife, children… etc. for Christ's sake (Luke 14:26). What we really hate is not the family member, but the self-love that is at the root of these attachments. We then come to the point where we will sacrifice anything for Jesus, as Norman puts it, when the chips are down. The irony is that we later get all of these things back for the benefit of others, but not for ourselves. For example, have a nice home or lots of money, but not for yourself—for others.
One of the other nuggets that Norman draws out is that Jesus was a servant before he was a man and that this is His permanent self-for-others form. Although Christ was equal with God, He then becomes the subject, as in 1 Corinthians 15:27-28, "the Son himself will be made subject to Him who put everything under Him, so that God may be all and in all."
Once we have suffered loss, our "prize" is to win (which means to "be like") Christ; to be found in Him and to know Him. We have a life of fresh discovery in knowing Him and learning that He operates through us. In every situation we move from the outer appearance back to who He is. Our first word of faith is affirming that in our union with Christ, everything that is true of Him is now true of us. Referring to second Corinthians, Norman then goes on to talk about what intercession means to us as we "bear about in the body, the dying of the Lord Jesus." Our glory is in the fact that this is an involved life and that we do pay a cost. Norman revels in the statement that He (Christ) is "mighty in me" and we must take this as fact, without asking how or where.
Norman wraps up by positioning Paul among the other New Testament writers: Peter emphasizes the new birth, Paul expands on union life and what true being is, and James and John stress knowing who we are and moving from double to single seeing. On this tape, Norman enthusiastically brings to life Paul's letter to the Philippians, with real insight that we can apply in our everyday lives. As ever, his message is clear, that we are perfected by Christ living His life through and as us. I am sure all who listen will be challenged by Norman's direct style. So if you haven't listened to this recording, order a copy today!
More Articles from The Intercessor, Vol 21 No 1