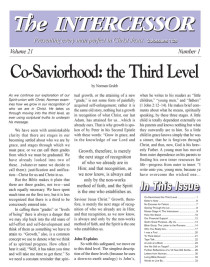 Further Reflections of a 12-Year-Old Scribe

We are reproducing Scott Prewitt's account, written when he was only 12, of the purchase of Zerubbabel's Boone, North Carolina property in 1982, as well as an update nine years later when he was 22. He has added these further thoughts twenty-three years after "Boone" became a reality—"the substance of things hoped for.
AGE 22
Although it was over nine years ago, I can remember the circumstances surrounding the search for a new conference center very clearly. I had been going to the old conference center in Hixton, Wisconsin since I was 8 years old—the last year being when I was 12.
Back then, I had little to no understanding of the Christ-in-andas- me reality. The kids at those conferences weren't really taught the message. We just hung out, fished, swam, and basically stayed out of the adults' way. So my memories of conferences way back when had nothing to do with "the secret hidden from the ages." I know the adults really enjoyed it, but I always thought it was strange how they loved to listen to this funny little British man with such a foreign accent [Norman Grubb] that I couldn't understand a word he was saying.
What I enjoyed about it most (besides the great fish we would catch in the lake behind the building) were the friends I made. Many of the folks I met and made friends with those summers are still my good friends today. I met the Mace family of Baltimore, Maryland there; and today, nine years later, Robyn, Kari and Julie are still my best friends, and Robyn and I now serve as coeditors of our youth magazine, Z News.
It was at the conference center that last year in 1982 that I found out this would be the last year we would be seeing the Hixton center. At the time, what I saw was not the loss of a place to meet and spread the word of Christ union. All I knew was that I would be losing the opportunity to meet with these new friends I had been getting to know for those five summers. It made me mad to think that this thing I loved so much was being taken away from me.
So, discussion that summer turned to the possibility of finding a new location to have a retreat center. And so it was done. The purchase of the property outside of Boone, North Carolina, was the first step of this monumental undertaking. I knew that day was very important, and that's when I wrote the journal entry that appeared in the September-October edition of the Intercessor (in my original 12-year-old scrawl).
Today, nine years later, I look back and thank God for that vision of building a new conference center. I never knew back then how the fire of the Christ-union reality would totally consume me. It wasn't until I was 15 that I first started to understand no independent self; but since then, my life has been totally given to Christ for Him to live His life through me. I have been completely immersed in the Zerubbabel ministry through attending conferences all across the USA, writing for the Intercessor, attending summer camp, keeping up with my "long distance" friends and now being a youth leader and Z News editor.
What I saw for a conference center nine years ago and what I see for it today are very different, but the common thread of wanting a place of our own where we can all get together at any time is still there. Now what I see as the most important work that will go on there is spreading the secret of Christ to the whole world.
So many jobs will have to be done. Holding conferences and just keeping the building in good shape will be important, but that's just the tip of the iceberg. The Intercessor and Z News will be published there; our Teacher-Sharer outreach and "traveling conferences" will originate there. I know the youth ministry will continue to grow there. And I'm sure that there will be new elements of the ministry that will be created once we move in.
The most important thing about the Boone center, though, is the help that will be available there for anyone who wants it. I can say from firsthand experience that what we know fixes lives. It is life! My dysfunctional family has healed together, and I have watched and been involved with many other families that have done the same. Healing comes at the hand of other Christ people who work with a family, a married couple, friends or even strangers who need help. The Zerubbabel Total Living Center in Boone will be a place where anyone at anytime can come to hear Christ's word and understand what it means to live a spontaneous life.
This is how I see the Center today. I would never have understood any of this nine years ago, but all things come around by God's time. It was a huge leap of faith for me to believe that God would make His supply of $2.3 million available by next April 15. Even today as I write this, it scares me to death. It just seems like so much money to me. But I must answer the temptation of Satan's unbelief, and faith into who I am and Who is the supplier. I continue to say and know that faith transforms the most unlikely thing into reality.
I can't wait to see everyone at the new Center in a couple of years!
 AGE 36
It has been nearly twenty-three years since I scrawled this first hand-written account of the acquisition of property for our Total Living Center. I still write today with the same nearly unreadable handwriting. Fortunately, today I can write this update on my laptop computer and email it to our magazine publisher. To a then twelveyear- old, twenty-three years seemed like a lifetime. Today, looking back, the past twenty-three years have gone by very fast, but so much has happened in my life and your life and in the world around us. Yet, the vision I shared about a new conference center has remained the same.
Our local fellowship of believers lives in and around Boone, North Carolina. Boone is tucked away in the northwestern mountains of North Carolina, close to both the Virginia and Tennessee borders. We enjoy four wonderful seasons here. The summers are bright and cool. We count on the afternoon temperatures to be fifteen degrees cooler than Charlotte and Greensboro and Raleigh. The fall colors here are magnificent, and many folks from all over travel the Blue Ridge Parkway to see the leaves put on their show. Our winters bring us cold and snow, and many of us here enjoy snow skiing. And the springs, though short, are fabulous with the warm days, chilly nights, and the beautiful blooming rhododendrons.
I thank God that He picked up me and other family and friends and put us here in Boone. He has blessed us with a beautiful place to call our home for thirteen years now. But more importantly, God has blessed me with an awesome opportunity to serve Him through the vision of a Total Living Center in Boone. We continue to hold conferences and camps here in Boone as well as outreach ministries with other union believers around the United States and the United Kingdom. My passion and calling in particular has been for young people.
I love working with the youth here in Boone as well as those I see at summer camps and other conferences. Fifteen years ago I pledged my commitment to be the youth leader for our ministry, and God still has me working there. We put on a great summer camp here in the Boone area every year. The youth that attend always look forward to this time of fun and exciting activities as well as great Bible teaching. I also am charged with the organization of Sunday school services for the children who are part of our local fellowship. We meet every Sunday morning for singing, praise, and worship. Then my team of adult youth leaders and I divide the youth group into age groups and teach them the Bible. The children know from an early age that Jesus Christ loves them and gave His life for them.
Most recently, God has given me a new opportunity to teach and preach the Gospel of Jesus Christ. My family and I own a restaurant in Boone, where we employ quite a few high school and college students. Boone is home to Appalachian State University, which has an undergraduate population of 12,000 students. With all of the contact we have with these young people in our business, several of us were burdened with the desire to minister to them beyond the four walls of our restaurant. So, we began a Bible Study group for these high school and college-aged young people. We meet on Sunday evenings in someone's home and fix a nice meal. I am always amazed at what an incentive a good home-cooked meal is to bring these young people to a Bible Study. We then sing praise and worship songs together and end with a Bible study series. Currently, we are working through the Gospel of John. I am so blessed and fortunate to be able to work for God's Kingdom with these many ministry outreaches!
Looking back over these years, I now reap two particular rewards. First, I have the privilege of being the youth leader for my nine nieces and nephews. They are exciting and active children, and God has blessed me by keeping all of them in my life, nearby and in a close family environment. Secondly, several of the youth that I was a leader to fifteen years ago are now part of our youth leader team. I feel great satisfaction looking at them and knowing that God had me play a role in their spiritual upbringing. Now, I get to see them become spiritual leaders themselves and know that they have the same opportunity that I have had.
Twenty-three years have passed since I wrote that first account of finding a new home for our ministry to share the 'mystery, hidden from the ages, of Christ in you, the hope of glory.' Though much has happened since then, my single fundamental desire to teach and be part of the ministry has remained a constant for me. Who knows what the next twenty-three years will bring? God certainly does, and I eagerly wait to see what I will be reporting to all of you then!
More Articles from The Intercessor, Vol 21 No 1