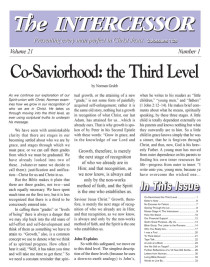 Editor's Note

Editor's Note
2005 marks the twentieth year of The Intercessor—twenty years of proclaiming the total truth of Galatians 2:20 as a living reality available to every Christian: I am crucified with Christ: nevertheless, I live; yet, not I, but Christ lives in me; and the life which I now live in the flesh I live by the faith of the Son of God, who loved me and gave Himself for me. To commemorate this milestone, in 2005 we will be re-publishing key articles taken from past issues—articles as clear and relevant today as they were when originally published. As this issue came together, we were struck once again by the depth and breadth of our Total Truth message—a message so urgently needed in the Church today. And, as one would expect, this issue is replete with Norman Grubb's teachings.
Reprinted from the very first issue of The Intercessor, "God's Great Purpose—By Us" briefly encapsulates God's calling—and our magazine's sole purpose—to liberate His precious humans from the lie of Satan that we were ever self-relying selves. Only then can we enter by faith into "the summit calling, the third 'father' level of being Royal Priests (I Pet. 2:9)." Continuing that theme, this issue's lead article, "Co- Saviorhood: the Third Level," taken from Norman's last full book, Yes, I Am, presents a detailed study of this third and highest stage—intercession— in which we operate as fathers, co-priests, and co-saviors.
"Are We Still on Target" was a message Norman delivered to the Worldwide Evangelization Crusade (WEC) conference in 1984 and published as a booklet (available through Zerubbabel Book and Tape Ministry). It is a clarion call to return to C.T. Studd's emphasis that Christ be fully manifested in the life of converts. In this excerpt, covering the first half of the booklet, Norman discusses the third "Pillar" of the WEC—holiness—boldly pointing to the "only real purpose of our high calling…to 'Present every man perfect in Christ Jesus' (Col 1:28)." Defining holiness as wholeness, Norman urges his fellow Weccers to return to the truth of our being one in Christ ("Christ, my life") rather than on maintaining a dual relationship. His teaching of the "whole" gospel is as clear and as needed today as ever.
Similarly, in "Letters from Norman," Norman pours out his passion to see the WEC return to the "extreme pillars" of the mission exemplified by the abandoned life of its founder, C.T. Studd. This letter is a very intimate glimpse into Norman's yearning to see others know the "glorious, released, Christfilled life" and the personal loss suffered by those who dared to live such a life, including many personal examples.
Prompted by a conversation with a Lutheran pastor, Norman unveils Martin Luther's recognition of the Total Truth, in his aptly titled article "Here We Stand," reprinted from an earlier issue of The Intercessor. In Martin Luther's book Bondage of the Will, Norman finds strong confirmation that Luther knew that "our human selves are energized and operated by His divine Self in permanent union; and in that union we are caused to walk in His ways." And Luther apparently highly valued this revelation: "This truth was in Luther's vital Bondage of the Will," writes Norman. "It was the only one of his books he said to preserve, although in his day he was not able to spread and establish its message…. Our calling today is to bring it, at any cost of boldness, to God's people."
This issue also explores the underpinnings of our radical faithlife. Brett Burrowes, in the third part of his study in "The Letter to the Romans," lays open the basis of our salvation. Especially clear is Brett's depiction of Jesus Christ as Intercessor—since that is His highest calling for us today—and what it cost Him to bring us to God. Kim Rogers' review of Norman's audiotape "Philippians," expands on the overview presented in Romans. Norman discusses the three stages of recognition we must go through as we "press toward the goal of our high calling in Christ," the cost involved in living the self-for-others life, and the "exciting discovery of knowing Christ, as Lord in us—the total solution to every situation."
In an update of earlier articles (the first written at the age of 12), Scott Prewitt gives his perspective on Zerubbabel's commission to bring Total Truth to believers in our generation so that we may present every man perfect in Christ Jesus (Col. 1:28).
Personal experiences bring home the truths explored in this issue. In her testimony "I Was a Fool," Kari Mace describes how honesty was her key out from sin's bondage to the clean, fulfilling, Christ-operated life. Meryl Langley's review of "Undiscovered Self" (from Law of Faith) is a testimony of her encounter with the truths discussed as well as a chapter review. Summarizing her personal experience as well as the focus of the chapter, Meryl writes, "I know that facing ourselves and the sins we have committed is painful, but when we are finally desperate enough and genuinely broken…[about] the effects our sin has had on others, we can look back and be glad for the trouble God took to make sure that we learned the truth of there being no such thing as an independent self."
Be sure you don't overlook Page Prewitt's "Seeing through the Lie." Clear and concise, this article reveals how Satan tries to deceive us in the course of our natural thoughts and reactions to believe a lie about ourselves— which is sin—and how to counter with the truth that sets me free. As always, Page speaks out of her personal experience.
Finally, Jackie Ginn's "Who You Really Are and Not Who You Thought You Were" illustrates with childlike simplicity the true operation of the human self. Available as a pamphlet (see book list in this issue), it is simple enough to use to share with a child but also contains Bible references that would make an excellent study for people of any age.
Welcome to the first issue of our twentieth anniversary year!
More Articles from The Intercessor, Vol 21 No 1