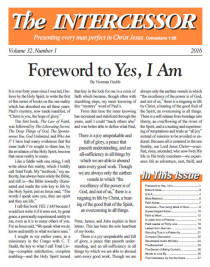 Foreword to Yes, I Am

It is over forty years since I was led, I believe by the Holy Spirit, to write the first of this series of books on the one reality which has absorbed me all these years: Paul's mystery, now made manifest, of "Christ in you, the hope of glory."
The first book, The Law of Faith, was followed by The Liberating Secret, The Deep Things of God, The Spontaneous You, God Unlimited, and Who Am I? I have had many evidences that the inner truth I've sought to share has, by the revelation of the Holy Spirit, become that same reality in many.
Like a fiddle with one string, I still write about this reality, which I boldly call Total Truth. My "textbook," my authority, has always been solely the Bible, and still is–the Bible inwardly illuminated and made the sole key to life by the Holy Spirit; just as Jesus said, "The words I speak unto you, they are spirit and they are life."
I call this book YES, I AM because I would not write it if it were not, by great grace, a personally experienced reality to me, even as it is to many others of you. For as Jesus said, "We speak what we do know and testify to what we have seen."
I sought in my earlier years, as a missionary in the Congo with C. T. Studd, the key to what I call Total Living–complete satisfaction, complete enabling–and the Holy Spirit turned that key in the lock for me in a crisis of
faith which became, though often with stumbling steps, my inner knowing of this "mystery" word of Paul's.
From that time the inner knowing has increased and stabilized through the years, until I could "teach others also" and was better able to define what Paul, Peter, James, and John explain in their letters. This has been the sole heartbeat of my books.
There is a joy unspeakable and full of glory, a peace that passeth understanding, and an all-sufficiency in all things by which we are able to abound unto every good work. Though we are always only the earthen vessels in which "the excellency of the power is of God, and not of us," there is a reigning in life by Christ, a bearing of the good fruit of the Spirit, an overcoming in all things. There is a self-release from bondage into liberty, an overflowing of the rivers of the Spirit, and a counting and experiencing of temptations and trials as "all joy" instead of miseries to be avoided or endured. Because all is centered in the one Reality, our Lord Jesus Christ–crucified, risen, ascended, who now lives His life in His body members–we experience life as adventure, zest, thrill, and gaiety at the heart of a desperate seriousness. Immersed in meeting the needs of others, travailing in birth until Christ is formed in them as in us, we are privileged to bear about in our bodies the dying of the Lord Jesus, so that "death works in us, but life in you."
If you have already read any of my other books, I would say to you that you will find here a repetition of the great foundational facts of our Total Truth, starting with God Himself. I could not build without a sure foundation. If you will go along with me, I am bold to say that God has now given me many new clarifications. These include some startling even to me, ranging from and including the fall of man, what man's real nature is, and our two-fold redemption: not only through the blood, but also through the body of our Christ. Then, at last, a clarity has come to me on those vital Romans 6 to 8 chapters which I have dug into a thousand times, which I can therefore now more clearly share with others. Finally, I go right on to new clarifications of ourselves as the free men in Christ we've been redeemed to be. So we now can say, in accord with the title of this book, Yes, I Am and we are learning to live positively in the perfect love that casts out fear instead of in the bondage of negative believing. We see where temptation becomes adventure. The endless problems and frustrations in life, including personality clashes, are seen to be the necessary negatives by which He, the Positive, can reveal Himself; and we enjoy the process with Him. We move right on to the simplicity and constant use of the "word of faith" in our prayer life, and to the highest of all, the life of intercession, in which we are given a privileged and effective place in meeting the world's needs.
If you have not read any of these books before, please be patient if the first chapters seem rather detached from our own pressing life situations. We shall surely get there, if you will follow through.
My greetings and love in Christ to all who read this. May the Lord refresh and illuminate us by His Word and Spirit.
More Articles from The Intercessor, Vol 32 No 1