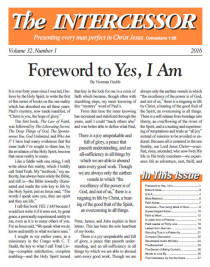 A Letter from a Prisoner

Finding Freedom Within

"Now the Lord is the Spirit, and where the Spirit of the Lord is, there is freedom." –2. Cor. 3:17
Dear brothers and sisters,
Blessed greetings in the name of Jesus Christ our savior and Lord. I have read the little booklet "Paul's Key to the Liberated Life: Romans Six to Eight" seven or eight times. It takes a long time to even see the message with an understanding or as Mr. Grubb called it "knowing." I am absolutely sure of this teaching and have applied it to my own life and am applying it every day. I've been a Christian a very long time and to have this teaching revealed to me by God's spirit using Mr Grubb's writings is undoubtedly the greatest thing ever revealed to me since salvation on Sept 2, 1975. I'll be 65 on my next birthday. I had a stroke on Feb 2, 2015 and was released from the hospital on May 6th 2015 after three plus months in the hospital.
This is my 39th Christmas in prison. I've been locked-up since Nov 20, 1977–'77 being my first Christmas in prison. Praise God for his mercy toward me! I had a severe stroke–yet you couldn't tell it if you see me now. I'm 99% recovered! Some don't even believe I had a stroke. I am a walking miracle.
People (other prisoners) come up to me and give me stuff all the time! I have no family (two brothers and one sister) who quit coming to see me Christmas 1983. Why? I don't know, but God knows and he determined it! I read the article "God Determines, not permits" by Rebecca Jane Cooper–"We are meant to experience that suffering. God is determining that situation to happen in our lives for a redemptive purpose" Pg. 11 The Intercessor, volume 31, No. 4, 2015. Also, thank you very much for The Intercessor on a regular basis. I've been receiving it for years. I don't know of anyone preaching, teaching, or publishing what you all teach. I'm very happy you are. I've let several Christians read the booklet on Romans six to Eight. I'm not getting immediate results, yet it took me time before God revealed the truth to me. Why? I don't know.
I am free! There is no "I" I see it plain as day! I know!!! Sad are the messages I hear on BBN, but they are saved, yet still slaves to sin. How can I say such a thing? Because I was one of them for years!
I'm really appreciative of "Romans Six to Eight"!
I was wondering if you could send me a book by Mr. Grubb. Any book on what he teaches would be great. I have no money, but if I did I'd order all of them.
Letters won't go out until after Christmas. I wish all of you a very Jesus filled New Year and an ever increasing Jesus filled life!
Love in Christ!
More Articles from The Intercessor, Vol 32 No 1