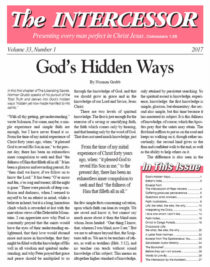 Editor's Note

The Bible is clear that wisdom and the knowledge of God are the most valuable things a person can acquire. Proverbs chapters 1-3 have powerful things to say about the importance of gaining them. The scriptures give a stern warning of what happens to those who do not seek wisdom, as well as the benefits gained by those who do. "She [wisdom] is more precious than rubies; nothing you desire can compare with her "(Prov. 3:15), and that "she is a tree of life to those who take hold of her (Prov. 3:18)." Are you looking for wisdom? Proverbs 2:6 tells us that wisdom is a gift from God. Gloriously, as James tells us, He is faithful to give it when we seek and ask. "If any of you lacks wisdom, you should ask God, who gives generously to all without finding fault and it will be given to you (James 1:5)." However, you cannot be prideful AND gain wisdom…you must first admit that you don't have it, then be willing to humble yourself to ask and receive. This issue of The Intercessor shares several clear examples of those who searched for wisdom and found their pearl. Generously, they share it with us in the following pages.
We start off with an article titled "God's Hidden Ways," an excerpt from Norman Grubb's The Deep Things of God. Our dear Norman begins by emphasizing the importance of knowledge, and the difference between a simple and an advanced level of spiritual understanding. His dissatisfaction with "surface" things propelled him to dig for the "deep things of God" (1 Cor. 2:6). This teaser will entice you to take a ride along with Norman to pursue "God's hidden ways."
Next, in "Questions and Answers," Norman receives a letter from someone who asked God for help and understanding and had her prayer answered in a big way. Though given life-altering revelations of Christ living in her, she reaches out to Norman for clarification on the subject of "self" and how her "I" fits in with Christ's indwelling spirit. You will then find a very compelling response to her very compelling question.
Continuing on in our quest for knowledge and understanding, you will find plenty of it provided in this part one of Page Prewitt's booklet "Life: The What, The Who, The Why." She shares with us the Biblical answers she found in her desperate search for how to successfully live the Christian life that God commands we live. Her best efforts "to be an imitator of Christ failed over and over again." But, as she explains, the Bible promised that God had a way of escape. He delivered on His promise and Page now passes her Biblically based findings on to us.
Need more understanding of what role our "self" plays? One of our main tenets of living a victorious Christian life is that we have no independent human self, free from the two deity spirits (Christ or Satan) with which to live from. But despite being joined to Christ in spirit, our human spirit is still there. After all, the scripture says "I am crucified with Christ" (Gal. 2:20). In "Intercession Being Gained in Worldwide, Churchwide Commission," Norman Grubb tackles the question of "what is this 'I' that was crucified, and what does that mean?"
Still several more articles are provided to further your knowledge. Worth noting is the artistic, yet ever-helpful resource "Faith Illustrations." This issue provides you with illustrated references for Genesis: Creation to the Fall of Man. It provides concise information and Bible references for each day of creation, plus the fall of Adam and Eve in the garden. Enjoy the content and creativity.
In "Interpreting the Crisis," an excerpt from Grubb's Once Caught, No Escape, Norman provides a unique perspective on the difference in viewing God as separate from His creation versus seeing God in all things. While many look up to the heavens to call on God (as if in some outer world), Norman challenges us to find answers by looking inward. We can expect a full deliverance through a change in our indwelling spirit/operator.
Our final pieces include articles that speak to the understanding and purpose of human suffering and adversity. In our Mission History segment, "Christ in Congo Forest," C.T. Studd captures the spirit of sacrifice–knowing to the full that whatever he had, whether given or withheld from him, was of God. In Studd's view, "if God sends much, he is rather down, thinking God is afraid to trust him to suffer in patience…if he has nothing, then he shouts hallelujah, for he knows he has come to the very entrance of the heavenly Kingdom…."
And both in our Bible Bedrock and "A Letter From Norman" segments we read how there is spiritual growth through the "adventure of adversity" as well as physical ailments. Both provide an opportunity for faith–to "replace our negative with His positive" and to transfer our believing from a "sick condition to our being in eternal life with Christ, where the words sickness and health don't belong."
So, may we all seek God's wisdom above all else, and may God provide us with revelations of knowledge and understanding. We believe you will find some here today. Thank you for reading and for your help in supporting Zerubbabel's ministry to spread the answer of "Christ -in-you-as-you."
More Articles from The Intercessor, Vol 33 No 1