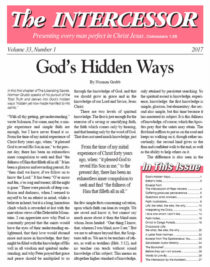 A Letter from Norman

Dear Molly,
Lovely, dear, to have your news of the Lord's workings in the family, and in the fellowship. What we do will always appear fanatical to those on other wave-lengths, but how right you are to go forward in the Spirit. Physical healing is not the point, nor is it given us in a total sense in the Scriptures, Paul makes that plain; and the body is only the temporary tabernacle; but the healings of our real Selves, spirit in union with The Spirit, which came out of your stand of faith over the dead body of the boy is the way God is truly manifesting in His Body in the world; and in all acts of intercession there are experienced deaths which are the hidden death-process in the "corns of wheat" from which the new life springs.
Yes, the Spirit expands us to the wholeness of the Body "that which every joint supplieth." God took you a new liberating pathway through the gifts, and now healing. Once again you leap ahead of me. I don't find the New Testament gives such a total physical position as you do. If so, we are all very much limpers in faith as all have some spot in the body where healing is not perfect, and Paul seemed to take that line. I prefer to transfer my believing from a sick condition to our being in eternal life in Christ, where the words sickness or health don't belong. What quickenings result in the mortal body are not my primary interest—He is magnified whether by life or death. But it is great and best for us all to pursue and witness to what God makes factual in our lives.
Norman
More Articles from The Intercessor, Vol 33 No 1