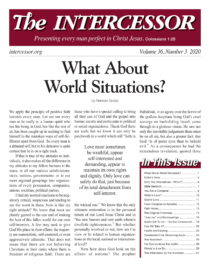 You Are A Container

When I was in the British army in World War I, God very plainly called me, though I'd planned another career, to join a little independent missionary group just starting in Africa.
I wasn't there very long before I deeply felt my inadequacy.
It wasn't that I was lukewarm for Jesus Christ; it wasn't that I had turned away from Him to some other interest. I was a servant of His, and my whole interest was set on introducing my brother Africans to Him.
The inadequacy I felt in myself first of all was the need of love. I deeply felt, when I got among them, that I just didn't have that love which bridges the gap. With that went the need of faith—and with that a need of power. All of these were linked together.
Response to the Christian message in Central Africa, like the United States, appears to be quite large. But I soon found there was much more profession than possession. I began saying to myself, Are we bringing the Africans anything really worthwhile? Are we just bringing a code of ethics? Or a liturgy, or historic faith? Have we got something genuinely transforming to transmit to others?
Then I made the question personal, "Have I?"
As I asked these questions, I discovered that when your ministry is disturbed, it tends also to disturb your personal life. I found myself, as my wife well knew, irritable at home in a way I hadn't previously been irritable—and I was critical of others, to cover my own failures.
As I doubted, asked questions, and searched the Bible for some kind of an answer to my inadequacies, I found some amazing answers. Some of them have shaken me considerably. They have changed my whole viewpoint—and my experience.
I can't call them revelations, because they are based on the revelation, witnessed to by the Spirit.
To begin with, my attitude was that God should improve me.
Well, I'm a servant of Jesus Christ, I thought. I've been redeemed by His grace, I belong to Him. I must ask God to make me a better servant of Jesus Christ.
I thought He should channel in some love into my heart, some faith, some power, some holiness—and improve me.
I had to learn sharply that self-improvement is both a sin and an impossibility. It came as a considerable shock.
But though my idea of how God should answer my problem was completely wrong, my sense of inadequacy was good. It sent me to the Bible. And my first discovery came as I read one famous verse in the book of First John: "God is love."
Suddenly the is stuck out. What dawned on me went something like this: It doesn't say God has love, but God is love. If somebody has a thing, it isn't he himself. It's something just attached to him, as if you've got a coat on or something in your pocket. You just have it, and you can share it. But the Bible doesn't say God has love, but rather God is love.
I Could Never Love!
Love, therefore, must not be a thing I can have. Love is exclusively a person—a Divine Person. God is love. Therefore, there is no other pure, self-giving love in the universe beyond Deity Himself. Love is exclusively a characteristic of one Person only—and that is not Norman Grubb.
That was a deflation for me. I had thought I could have love imparted to me, channeled into me, and I'd be more loving. But I suddenly found God saying, "You'll never have one iota of love. I am love, and that's the end of it."
Love is a Person; only one Person—and that's not I, and that's not you. God is love and, therefore, love is God loving.
That set a new trend of thought going. I began to relate this to my other need—of power. And I suddenly found a verse in the first chapter of 1 Corinthians where it says that Christ is the power of God. Not Christ has the power, but He is the power.
Once again, I had thought power was something which was given to me, and thus I'd be a powerful servant of Jesus Christ. I suddenly found that power, also, is a Person. And that Person is not I but is exclusively Christ, who is God; it doesn't matter whether you speak of Father, Son, or Holy Spirit, He is God.
Then I came to the one thing every Christian claims to have. Every believing Christian accepts the fact that he has eternal life. He takes it that he has a life which will go on forever in heaven. ("The gift of God is eternal life through Jesus Christ our Lord.")
But I suddenly found that eternal life is not something I can ever have—for Jesus did not say, "I have the life to give you"—but "I am the life."
Once again I had found that something I had thought I had—eternal life—is one Person only, and that's not I. Jesus Christ is that "eternal life."
But where did I fit into all this?
Finally I came to a statement which gathered all together and finished off my investigations by its absoluteness. The verse was Colossians 3:11, where is says of believers in Christ that "Christ is all, and in all."
Christ is all, not Christ has all
And if Christ is all, what's left for me? Not much by my mathematics!
I had thought I was somebody, and has something or could get something. I found God had taken the lot. Christ is all.
Then I got the link. Christ is all and in all.
Then I saw for the first time that the only reason for the existence of the entire creation is to contain the Creator! Not to be something, but to contain someone.
–Taken from "The Key To Everything," by Norman Grubb, published by CLC Publications, Copyright 1960 and available at www.clcpublications.com.
1 John 4:8: "He that loveth not knoweth not God; for God is love."
More Articles from The Intercessor, Vol 36 No 3