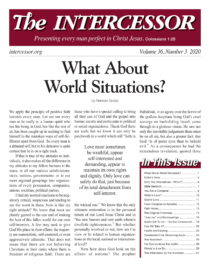 "Just Me" and Relationships

"This is the message he has given us to announce to you: God is light and there is no darkness in him at all. So we are lying if we say we have fellowship with God but go on living in spiritual darkness. We are not living in the truth. But if we live in the light like He is in the light, we have fellowship with each other and the blood of Jesus Christ cleanses us from all sin."
–1 John 1:5-8
One troubling issue that comes up among Christians is the prevalence of sinful ill-will and cruelty amid people whom the Bible says are one spirit in Christ. I'm talking about the mean words and actions that one Christian says and does against another without remorse. How can we say we are born of the same spirit—born-again children of the One whose name is "love"—and treat each other with disdain, indifference, or outright cruelty? What is the source of this evil in the body of Christ?
Satan has a heyday with Christian relationships because most Christians believe his lie that people are independently self-operated. The Bible calls this satanic lie unbelief and it is very clear on the fact that all unbelief is sin. This unbelief about ourselves and about each other gives Satan the freedom to perpetrate his wickedness in the body of Christ.
As born-again persons in union with Jesus Christ, we're always making one of two choices. Everything in life hangs on which choice we make because this choice controls all our lesser choices. We can choose to accept that we are vessels indwelt by Jesus Christ and by this choice let Him live His life through us. If, on the other hand, we choose to embrace Satan's lie that we are independent self-operated selves, Satan gains control of our members (soul-body) and thereby uses us to do his wicked deeds.
How Unbelief Affects Relationships
Here is an example of how unbelief caused problems between one particular friend and me. I would say or do something and he would seethe with scorn and resentment. (He would never confront me with what I had done to set him off. Instead he would either rage against me internally or about me to someone else.) The truth that he professed to believe finally caught him. He had to apply it to me and answer the question, "Is this stuff that's bothering me about Page, Christ or Satan?"
The problem was that he didn't want to call it Christ because it irritated him so badly, but he couldn't call it Satan because he could not find any Biblical sin in what I was doing. He tried to get himself over his severe upset with me by saying I was Christ in my form. This seldom took him over, however, because for the most part he was merely giving lip service to the truth (was not speaking from a place of faith). Of course without faith, problems only become greater because as the Bible says, "Everything not of faith is sin." This was always my friend's experience. As this happened, he'd give up and say, "Well, that's just Page—that's just the way she is."
This whole problem boils down to the sin of independent seeing. In other words, my friend was seeing me as a person who was self-operated and was not in union with Christ. And, as happens when we fall for the lie, all sorts of resentments are stirred up inside. So when he looked at me and thought, "Well, there she goes again," he experienced the turmoil that sin always causes on our insides. It may begin as a very small thing, but we know that the Bible says—"a little leaven leavens the whole lump."
So that's why it is imperative for us to learn to recognize the lie of "That's just the way I am" or "That's just the way she is." This lie causes 99% of the turmoil and discord that we experience in all our relationships and contacts with people (family members, friends, co-workers, etc.)
It finally dawned on me what was happening when my friend would suddenly, for no apparent reason, look at me and behave toward me in a very negative way. It was obvious that he had fallen for the temptation to see me as a just me and he would say to himself "there she goes again."
Applying the Truth
When this would happen I did not look at him and think, "Well, that's just him, he never has gotten along with me." I knew that his seeing was taken over and Satan was doing his seeing through my friend.
At these times it was my privilege and responsibility to speak to him about what he was doing. My goal was for him to see that his unbelief (sin) had him trapped, and in order to be set free, he must confess his sin and repent of it. This was not my idea; it is pure Biblical truth. The Bible makes it very clear that this is the only way to return to walking in God's light.
To summarize, God has given us, as His created
persons, the unblemished, unrigged capacity to make choices. But the only choice we can make—the only thing that we're free to choose—is to believe or not to believe what God has said about Himself and our relationship to Him: we as believers are joined to Him—one Spirit (1 Cor. 5:17), and He lives in us to live His life through us (Gal. 2:20). Satan uses the lie of our being independent of God and therefore self-operated selves to tempt us and get us to fall for this lie so he can once again boss us, but now from his outer place. (Remember Satan got kicked out when Christ entered our spirits when we became born again.) But the great news is that we are not under the power of Satan with no way out but to choose his lie as he tempts us downward, and we are free to choose to go God's faith way as He loves us and tempts us
upward.
"Be ye transformed by the renewing of your mind."
–Romans 12:2
More Articles from The Intercessor, Vol 36 No 3