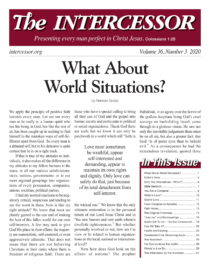 What About World Situations?

We apply the principle of positive faith towards every man. Let me see every man as he really is: a human spirit who has his being in God, but like the rest of us, has been caught up in seeking to find himself in the mistaken ways of self-fulfilment apart from God. So every man is a deluded self, but in his delusion is quite certain that he is on a right track.
If that is true of my attitudes to individuals, it also makes all the difference in my attitudes to my fellow humans in the mass, in all our various subdivisions: races, nations, governments: or in our more regional groupings into organizations of every persuasion, companies, unions, societies, political parties.
I find my normal reactions to be negatively critical, suspicious and tending to see the worst in them. Now is this my right attitude? We know that most are plainly geared to the one end of making the best of this fallen world for our own self-interests. A few may seek to give God His place in their affairs: the majority are materialistic, self-centered, or even aggressively atheistic. That does not mean that there are not believing Christians in their ranks where there is freedom of religious faith. There are those who have a special calling to bring all they can of God and the gospel into human society and participate in political or social organizations. Thank God there are such; but we know it can only be patchwork in a world which still "lieth in the wicked one." We know that the only ultimate restoration is in the personal return of our Lord Jesus Christ and in "the new heaven and new earth wherein dwelleth righteousness." But whether personally involved or not, how am I to view or be related to human organizations on the local, national or international level?
Now how does God look on the affairs of nations? The prophet Habakkuk, in an agony over the horror of the godless Assyrians being God's cruel scourge on backsliding Israel, came through to a glorious vision. He saw not only the inevitable judgement there must be on all sin, but also a greater fact: that God "is of purer eyes than to behold evil." As a consequence he had the tremendous revelation, quoted three times over in the New Testament, that "the just shall live by his faith," by seeing through to how God sees it all and what He is doing. But what does it mean that God is of purer eyes than to behold evil, and that the pure in heart see God, and to the pure all things are pure?
We know, by the message of the whole Bible and especially the Old Testament prophets, that there must be the wrath and judgement of God on evil. God could be God in no other way. The opposite to God must have its opposite effects of corruption, the curse and hell. "God is angry with the wicked every day," angry for their sakes, both for what they do to others and to themselves. So all history bears witness to God's judgement on all nations, for all are infected with the virus of evil. God does bless and prosper in measure where there is evidence of some of the "righteousness which exalteth a nation." He has preserved some order and freedom in the world by law-abiding, and sometimes to some extent God-fearing nations. He preserved some freedom in the world through the British Empire despite its gross exploitation of the weaker, which had now come under rightful judgement; and He is doing the same today through the United States, which does show some care and concern for freedom and for helping the less privileged. Yet Reinhold Niebuhr was right as a modern prophet who persisted in his message that all nations and governments are under judgement, and the ultimate hope is only in the return of Christ.
But if this is true, as we know it is, is there not another way in which we can view God's judgements? Paul said it in Romans 11:32, that God has shut all up in unbelief, which means that He meant us to swallow our bitter pill. But why? To judge, condemn, destroy? No, "that He might have mercy on all." Beautiful statement! So Habakkuk's "Thou art of purer eyes than to behold evil" can be interpreted as meaning that God sees through. He does not see evil just as evil with all its consequences. He sees His misguided human family learning vital lessons by their mishandling of themselves, and by these means (which is another way of saying participating in the wrath of God), being pressed into the search for the release to be only found in Christ. So God does not "see evil" as something ultimately destructive, but redemptive. He "sees" it only as the reverse side of those opposites we have talked about, which, when put back where it belongs, disappears, as poison is swallowed up by its antidote, sickness by health, etc. It isn't ultimately real. Only the positive has ultimate and eternal reality (though by their free choice, the Bible makes plain, men can remain eternally in the negative of hell).
So we do the same. We see menacing powers like communism, or brutally authoritarian governments, or dishonest and greedy business firms, or unjustified labor strikes (though there have been many justified ones), or attempts to outlaw religion, or the blatant contempt for moral standards and the new permissive society, we see all as God's purposed ways of bringing humanity to an end of itself. We praise God for each. While God is not responsible for man going his rebellious ways, He has it all in hand to issue in "the good pleasure of His goodness," so we praise Him. Glory to God! He that sitteth in the heavens laughs, so we laugh too! We can never do that if we see evil with the normal human outlook; but we can and do when instead of seeing the evil with the normal human outlook; but we can and do when instead of seeing the evil, we see God in His perfection, and there has never been anything but perfection to the single eye which sees only Him in everything.
For long some of us have said, "Don't be all stirred up about communism." It is God's appointment just as much as the Assyrians were the rod of HIs anger, or Nebuchadnezzar His servant. Praise Him, and watch. And haven't we seen under the banner of atheistic materialism the farce of a supposed brotherhood of man by brutal suppression of freedom? For while it has claimed to condemn our admitted bourgeois selfishness, it could only replace it by its own form of proletarian selfishness, imposed by force. Fallen self cannot change self. And what has it resulted in as a reaction? A tremendous upsurge of renewed faith, a great wave of spiritual revival, the most widespread in the history of the church. And the same through the drug and free-sex obsessions which have so captured youth. Never before in history has there been a youth-led uprising of Jesus people, so that the Name which was held in contempt or as a curse word is held high in honor by thousands of youth today.
So we are taking an uncompromising line which covers any possible world event, however deeply disturbing or frightening—wars, revolutions, political dictatorships, or internal upsets in the national economy, or what often weigh more heavily on us—forebodings for the future. In face of the worst of which we can conceive or is already happening, we turn our face away from its frightening appearance and we say, "That is not what is real to us." What we see is God only, always determining what appears like evil for new resurrections, and He already has the resurrection which will appear in due time, and we laugh that laugh of faith!
Thank God, we know that "in all our afflictions He is afflicted," and it is through Jesus that the world has learned compassion. Hospitals, homes for the aged, food for the starving, child care, the missionary ministry of healing and education in backward countries, are only a few of the ways by which the love which flowed from the Incarnation and Calvary has widened to a great river. These are also like lights in the dark places of human affairs: but we all await the only Great Light—the coming of the Lord, when at last the heart of God will be satisfied, and ours also, in swords being beaten into ploughshares, the wolf lying down with the lamb, and the earth filled with the knowledge of the Lord like the waters cover the sea.
And we do the same with those kind of news shocks we get daily as they touch us on the raw through the radio and newspapers, and which put a load on our spirits: the floods and earthquakes, the road accidents, the murders, muggings and robberies, the crowded jails, the steam of human tragedy. How can we praise God in these and for these?
But while our hearts are torn by tragedy and sufferings, and our hands will help where they can, we still see through and praise, even though we appear heartless in doing so; for we dare to see love's purpose to every incident, and with the eye of faith, God meaning for good what man has meant for evil; therefore we do not see the evil, and even increase it by our believing in it; we refuse to see it as evil. We take every opportunity not only to minister to suffering bodies, but to share with the bitter hearts, (which is the true suffering) the only true balm, the assurance of God's love and His perfect ways. And if we cannot share it, we can and do boldly praise God here and now for what seems nothing but horror, and so contribute our share in the Spirit by at least ourselves exchanging the garment of praise for the spirit of heaviness.
More Articles from The Intercessor, Vol 36 No 3