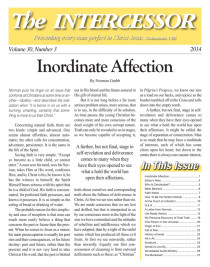 How to Be the Perfect Mother

It's Monday morning and we are late for preschool again. Ok, got lunch box packed, need spare trousers (pants), coat, boots. Let's get socks and shoes on–keep still while I'm getting you dressed! Oh no, now we need another nappy(diaper) change before we go. Ok, finally we're all dressed now, let's go. Now where are my keys?
You get the picture. This is my typical start to the morning, getting a baby and a pre-schooler ready to leave the house. A constant temptation for me is to believe the world view on what a perfect mother should look like and to try to live up to that ideal. That is, some kind of Mary Poppins figure who is always organised, always on time, with immaculately dressed children and every possible need taken care of.
What is God's view? The perfect person, whether the perfect mother, son, teacher or astronaut LOVES. Meaning that other-love which comes from the one and only Perfect Person, Jesus Christ.
Love is the main theme of Norman Grubb's chapter "Can We Take It" from God Unlimited. Throughout the Bible, we are again and again commanded to love. John 15:12 "This is My commandment, that you love one another, just as I have loved you. Greater love has no one than this, that one lay down his life for his friends."
Norman makes the following statement; "What then is a totally committed Christian? He has ceased to be his own–neither people, possessions, nor life is his. All he has is Jesus. And what kind of person is Jesus? Unconditional love. Life's occupation, life's absorption, is expressing the love of Jesus in our world. Nothing one iota less."
Quite a challenge! This statement certainly challenged me when I read this excerpt a few months ago. So, as a Christian and as a mother, how do I apply this in my life?
Norman makes the point that we humans alone cannot love God. "We cannot love God, no man ever has or ever will love God: only divine love can love Him: for perfect love in the totality of its self-giving is so fearful, so devastating to anything less than perfect love, so offensive to self-interested love, than man can never love God, though he may often imagine and say he does."
So what is the answer? Of course, love is a Person. The Person. God is love. "(N)ow we see the glorious end-purposes of God. They are that we humans are an eternal expression of the divine, by the fact that He who is love has joined Himself eternally to us and us to Him, in Christ. He is love within and through us."
It is one thing to know this as biblical truth but another thing to experience the 'Love-Person,' Christ, living in and through us. This is where we get down to the nitty gritty of daily living.
This is succinctly presented in Page Prewitt's article 'A Life Transformed' (The Intercessor Vol 29:1). The key to 'Christ-I' becoming a reality is to switch from independent believing about ourselves to seeing ourselves as Christ-I.
Page says, "My life did slowly begin to take shape as I began to dare to see myself as "Christ-I." This believing began to close the gap in my seeing of myself (independent seeing) and as this happened Satan was more and more ousted. I little by little, began to realize when and where I was seeing me as "just me" and I would switch to "Christ-I" seeing. This to me is confession. As the Bible says, confession is the way sin is cured or healed. And Sin being a person (Satan) and not me, the cure is him being shut out simply by my changing how I believe about myself. So as he was more and more out of the way, Christ was more and more living forth as me. So without one tiny bit of effort or work or changing on my part my life did change."
To me this is great news! So as a mother, although it is still an ongoing temptation for me to try to do a better job of being organized and on time and condemn myself when I fail to live up to what I think I should look like on the outside, the solution is to realize that Christ-I IS the perfect mother. As I believe that about myself more and more and in doing so stop my independent seeing, Christ is free to live out HIS life through me whatever that looks like. While I am inclined to look at myself and judge myself on how "I" look from the outside I can know that the INNER reality is Christ in me living and LOVING as He determines. He is perfect love going out to my children and every other person I meet. What that looks like is His business and I don't have to try and change or conform to some outer ideal. Christ-I IS the perfect mother…the Perfect Person.
More Articles from The Intercessor, Vol 30 No 3