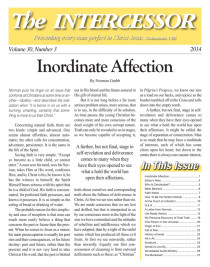 Editor's Note

Consider: "I press on to take hold of that for which Christ Jesus took hold of me"…words of Paul from Philippians 3:12. And, according to Norman Grubb, "the heart is held by what it holds" (The Law of Faith). You will find the word "hold" several times in this issue of The Intercessor. You can find it often in the Bible and in the writings of Norman. So, let us start by taking a moment to examine this interesting word. What does it mean to take hold of something? When I looked it up in the Thesaurus, there were at least a dozen meanings that the word "hold" can take. Ranging from "to continue without changing" (i.e. "hold your course") to "refusal to change" (i.e. "hold to" something). It can also mean "to contain" something (i.e. "the tank holds 20 gallons"). But the most common use of the word in the Bible and in Norman's writings is to mean "to grip, or to keep possession of." Isn't it interesting that not only can you take hold of something, but something (or someone) can take hold of you!
Another word you'll need to know is "inordinate." It means excessive and unreasonable. In the article titled "Inordinate Affection" taken from Norman Grubb's The Law of Faith, he explains a stage of revelation when a Christian sees "what a hold [there's that word again!] the world has upon their affections." While you read, ask yourself if there is someone or something in your life that has become an idol to you–an inordinate affection. If so, read on–there is an answer for you.
This Intercessor also includes personal testimonies of Christ taking "hold" of several individuals. In a short writing, "At the Touch of a Button," Marian Kinahan shares how grateful she is to have Norman's words at her fingertips–available right there on her Kindle. With such convenience his words are there "at the touch of a button" to encourage her to be "in the world, but not of the world"–with Christ as Marian reaching those around her.
Next, in "How To Be The Perfect Mother," Kim Langley tears down the stereotypical view of what a good mother is supposed to look like and replaces it with a Godly view. God requires the "perfect mother" (or anyone) to LOVE. As we know, the Bible says "God is love" (1 Jn. 4:16). We cannot love or have love, but only contain the One who IS love–the "Perfect Person, Jesus Christ." The reason Kim is able to share this Truth with us is because of people like Norman Grubb who have come before us and shared their revelations. Here in Norman's "My Personal Discovery of the Total Truth," he outlines for us his "first revelation of the Spirit…that I am just a container." He too had been under the false idea that he was an independent self who could be improved–that God could give him more love, faith, power, etc. Ultimately the Spirit revealed to him Colossians 3:11, which says "Christ is all, and in all." Therefore, "so I saw that I, as a human…was not to become, but to contain."
For even more insight into this topic, refer to our "Q & A" section, where we answer one reader's question: "Why didn't God give me more patience?" The two part article "Life Really Works" also shares a testimony of revelation through Colossians 3:11. As the writer states, "When I began to agree with the Scripture that God is all and in all, I began to see that God was all and all in me." Please sit down and read this with a Bible in-hand, as it is filled with references to scripture that guided the writer through their Spiritual discovery of Christ in them. It also includes a section titled "All of Us Are Containers" that is a wonderful go-to guide to all the scriptural illustrations of No Independent Self.
Continuing on with the Colossians 3:11 theme is an article titled "All in All." This article, however, is highly unlike the previous writings. It is a unique writing that highlights God as the All in All through the wonders of the stars in the Heavens! A lot of times, science and Christianity are presented as mutually exclusive. However, here, we are given the refreshing perspective of astronomy and Christianity hand-in-hand. God has used the arrangement of the stars to "display across the heavens that He is All and In All."
Other noteworthy pieces include a personal "Letter From Norman," in a response to a woman tormented by several manifestations of soul-attacks. It is a wonderful representation of the difference between body, soul, and spirit, and how Satan can attack us from outside our spirit.
Also, check out "Who Is Zerubbabel?" If you are like most, you have wondered at some point, "Why Zerubbabel Ministries?" This article answers that question by giving a concise history of Zerubbabel, who he was and what he did. Joanna Langley gives us this information and draws the parallels to give you the insight into why we have taken this name for our ministry.
Finally, don't turn past the wonderful hand-drawn illustrations included in this issue. They may look child-like, but they tackle important spiritual truths. They give a clear visual of fundamental doctrine and history. Use them to begin a conversation with someone who is new to our message, or to Christianity.
We hope this issue "holds" your attention! Thank you for reading! We appreciate you and hope you gain truth and encouragement from this issue.
More Articles from The Intercessor, Vol 30 No 3