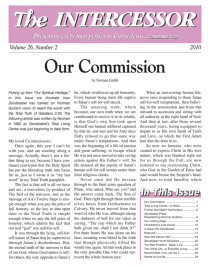 Total Living Center: A Vision

"A nucleus of people living in Boone who can do every day of the year exactly what we're doing here at our annual business and planning fellowship–like a committee which coordinates things like pamphlets, conferences, videotaping, etc.
We're not looking at a retreat center of this magnitude just to put on retreats and weekend conferences. We don't need a facility for that. But we do need a central place where working people can be together and do this thing on a daily basis.
A place where people can come for short periods of time all during the year when they are in some kind of crisis situation and need input from others to help them come to faith in their immediate situation. It could be someone in a marriage crisis, or a financial crisis."
Taken from a talk by Page Prewitt at the Zerubbabel business meeting in Jackson, MS in January 1989.

More Articles from The Intercessor, Vol 26 No 2