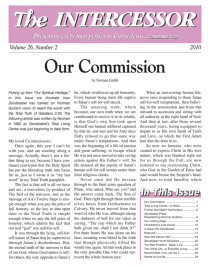 A Vision for Zerubbabel

We are reprinting this article from the first issue of The Intercessor, July-Aug 1985.
 
Since this is the first Zerubbabel report of our Zerubbabel Conference Center in our first newsletter, I need to bring you up to date on events in the past several months. First, many more are now standing with us in the completion of the Zerubbabel project–many more! The Boone, North Carolina facility is not the most important of the several ministries involved. We never think that way, nor do we talk in those terms. The facility and function for which it will be used is no more than a part, albeit an integral part, but a part nonetheless, as all parts are integral in our Colossians 1 calling.
The "purposes" clause of our Zerubbabel, Inc. Charter provide that: The corporation is organized to conduct a ministry (1) which trains Christians in the understanding of the "mystery, hidden from the ages, which is Christ in you, the hope of glory"; and in the understanding of the deeper truths of Galatians 2:20; and in the understanding of the fullness of the truth of Colossians 3:11; (2) which provides group and individual experiences and educational opportunities which will build living links among Christians everywhere; (3) which provides opportunities through the interaction between Christians for the enrichment of the understanding of the whole person–spirit, soul and body; (4) which primarily helps Christians to under-stand how the truth of the scripture applies to their daily life in every situation; (5) which provides staff members who understand and can speak to the spiritual truth of the victory of Romans 9, of the fatherhood level of First John and who operate with the understanding of Faith Life; and (6) which makes its facilities and services available to all on a comparable basis and which does not discriminate in any way on the basis of race, sex, or national origin.
That is then a statement, although a brief one, of the purpose and use to which we intend to put the Boone facility. We'll try to keep you informed as developments occur. See you in Boone!
 
More Articles from The Intercessor, Vol 26 No 2