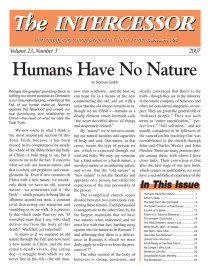 Old Man…New Man

I think one of the main confusions in Christian living and service is between the "old man" and "new man," of which Paul often speaks. I don't think it is intended confusion. Believers want to be the best for God, and to have correct foundations to their faith, but they also want to be honest; and sometimes they do not feel they can honestly state what the Bible tells them to state, such as, "Ye are dead, and your life is hid with Christ in God"; "if ye be dead with Christ": "likewise reckon yourselves to be dead indeed unto sin, but alive unto God through Jesus Christ our Lord": "your old man is crucified with Him, that the body of sin might be destroyed." The tendency of most of us has been to say, "Well, I reckon it, but it is not really so!" Or, "That is my state in Christ, but not my standing in the world"–a neat rationalization!
Not that anyone wants to rationalize; but how can I say that I have "put off the old man," and "put on the new man"? Aren't I a continual mixture of both, or at least don't I constantly gravitate between the two? James has no use for that, with his condemnation of the double mind, the double tongue, the double motive. But I am sure the problem with most of us is failure to understand clearly what is implied, and there-fore experienced by us, in this death and resurrection which we are told we participated in once for all. Where we have got confused is that we are so accustomed to regard ourselves as sinful or holy, in the sense that sin or holiness is
something ingrained in us; and it is that which causes us to speak of ourselves as having two natures, which we commonly refer to as flesh or Spirit. We regard it that, before we were reborn, sin was a kind of moral infection which permeated our personality; and now that we are reborn by grace, holiness has made entry and partially possesses us, but sin is still there also. We are surely conscious of it, we say, by the rapid uprisings in us of pride, temper etc.; and the constant stirrings of, or at least incitement to, the lustings of the flesh. Holiness is there also; we are new creatures in Christ, and the Spirit bears His fruit in us, but it is a mixture of both.
Our great mistake is the locating of either sin or holiness in ourselves. I was tripped up by this for years. I could never come right out with a testimony to an experience of "entire sanctification" or "the purified heart," nor could I preach it convincingly to others, because I always had this question mark. I had entered into a transaction of sanctification by faith; the Spirit had borne witness with my spirit that Galatians 2:20 was a fact in my life through grace–crucifixion with Christ, and He now living in me. But to use such expressions as being holy, or sanctified, or entirely cleansed from sin, or dead to sin, or the old man crucified, did not ring true to my experience, because of my daily consciousness of coming short of His perfections in some form or other, of sins which need repentance, confession and cleansing.
The trouble, as I say, lay in locating both sin and holiness in the wrong place. It was a great clarifying revelation when I saw that both sin and holiness are basically the attributes of two persons only, and neither of them myself. "Greater is He that is in you than he that is in the world." Now my attention was directed away from myself to these two persons, the god of this world and the God and Father of our Lord Jesus Christ. I have already stressed this basic truth; but it is so basic, and I think so rarely presented in real clarity, that repetition won't hurt. Put in simplest terms, sin is Satan, and holiness is Jesus. As I have already said, in actual fact there is only one Person in the universe, only one who has ever said "I AM," who calls Himself "the first and the last," who is said to be the "All in all," who is named "the Life," "Love," "Light," "Truth," "Power." We created people are only so created as persons that in a complete sense the living God may manifest Himself through living people, in a way He cannot do so completely in lesser forms of creation. So holiness, love, power, life are never mine, never a part of me, neither now nor in eternity. They always are, and always will be HE in me. My attention, therefore, when I see this, is directed away from myself becoming holy in some sense (and being very conscious that I am not), to Him, made unto me "wisdom, righteousness, sanctification."
But equally, when I have seen with absolute clarity that all I shall ever have of eternal life or heavenly character is HE in me; then it is easier for me to look back on myself in my former unregenerate state, and see just as clearly that the sin was not basically I, any more than the holiness is now. The sin was "he that is in the world," "the spirit that now worketh in the children of disobedience," the one of whom Paul wrote that he is in the unbeliever, blinding their minds. The one who is the false god, who embodies sin which is self-centredness, who is sin; just as the Holy Spirit is holiness. John exposes him to us in the third chapter of his epistle, when he says outright that a person who commits sin is "of the devil," for he was original sin, and Christ came to destroy his works, by replacing him in us; and we have already seen how, when Cain slew his brother, the hater and murderer was within Cain and used Cain as his agent of evil, just as the Holy Indweller, in the next chapter, is shewn using us to express His self-giving love.
Humanity, therefore, always has been and always will be inwardly united to an indwelling lord; it just depends to which. It is not that union with Christ is a kind of novel relationship which has to be got used to after a former life of independent self-living. No, all men are united to an indwelling person; and redemption through Christ means change of Indweller. Satan has been so clever that he has almost totally disguised himself from fallen humanity, so that not one in ten thousand recognizes that he is inwardly motivated by another spirit. We just think it is we ourselves running our own lives! Satan has even managed to get himself smeared and laughed at as a ridiculous creature with horns and tail, so that none recognize the truth of his awful subtlety–that sin is just every form of self-love, expressed through us by the author of it; and as a consequence every breath every unsaved human draws is sin, because it is motivated by self-love, no matter how lofty the deed or character may appear to be: for the only sinlessness possible to humans is Christ in us; He only is that unconditional selfless love which can love God with all the heart and our neighbor as ourself. When the twofold form of union is realized, the one replacing the other, then, as we say, it does not take some strange new effort of faith to recognize this wonderful gift of union with Christ; it is just exchanging faith in the former old union which Paul called being "the old man," to faith in the fact by grace and through identification with Christ in death and resurrection, of the new union, which Paul calls being "the new man."
Now we can begin to get clear between "old man" and "new man." They do not connote any basic change in our human selves. It was the same Jesus who was made sin, died to sin, and rose by the Spirit. It is the same self which reckons itself dead to sin, and yields itself to God as alive from the dead. The difference is not in the self, but in the one who controls and express-es himself through the self. That is why in the same chapter of Romans where we are pronounced dead and risen with Christ, Paul says four times over that we were servants to sin, but are now servants to righteousness. We were always servants in the old life as much as in the new; the only difference was a change of bosses!
That is what clarified my under-standing. My attention had been directed away from what I was and what I had become, to what the Other Person in me was and what He now is. It was no longer a question of whether I was sinful or holy; it was a question of whether he who is sin or He who is holiness is united to me. And now I saw how I could with all conviction speak of being dead to sin and alive to God: of the old man being crucified and the body of sin being annulled: of being dead, and my life hid with Christ in God: and how I could use such phrases as "entire sanctification," and "the pure heart." I saw that "the old man" had become "the new man" in Christ, and that therefore they could not co-exist; for the old man was myself joined to the spirit of error, and the new man myself joined to the Spirit of truth, through Christ. I could not be both at once. The death to sin had been a once-for-all fact when I became joined to Christ by faith, and is never repeated, for that was the moment when by receiving Christ, the efficacy of his death which separated him from the sin-spirit became operative in me, and the efficacy of His resurrection by the incoming of the Holy Spirit made the same incoming a reality in me. There is one crucifixion with Christ, and it is never repeated in the believer. Equally there is one resurrection with Him: and in that fact I could say boldly that the old man was out forever (Satan in me), and the new man in (Christ in me): and that is the meaning of "entire sanctification" (separated unto Him as His dwelling place), "the purified heart" (my love-faculty now the means by which He expresses His divine love through me).
More Articles from The Intercessor, Vol 23 No 3