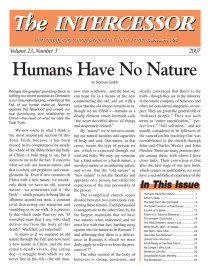 Have We Two Natures

It is commonly said that a child of God has two natures, and will carry them with him to the grave. This teaching is usually based particularly on the fact of those inner conflicts of Romans 7. But the word "nature" is not mentioned in the chapter, nor in the corresponding paragraph in Gal. 5: 16-26; nor does there seem any Scriptural authority for introducing it into this law –sin–self–situation.
Let us look at it this way. Man is always a unitary being. If he is not, we call him a schizophrenic. We see this first in our unregenerate condition. The word "nature" is used of us then. "We were by nature the children of wrath." Now here is most positively a one-nature person. We should never say, should we, that the natural man has two natures, one evil and one good! We should consider that grave heresy. It is by such false teaching that the modernist avoids the necessity of the atonement. "Just let the good nature grow and it will choke out the bad one," he says in essence. God's word gives us no shred of authority for such a false doctrine. But we do agree that the natural man can be much influenced by good from without, and by the conscience within, the accusing and excusing thoughts, the ability to know good from evil. That is to say, when we are unregenerate, we are evil at the centre. We have the evil heart of which we have just written, the heart that is "deceitful above all things and desperately wicked." In our natural blindness we used not to think that. We appeared to ourselves fairly respectable, and to others too. But when conviction came, we knew differently. All our righteousness became as filthy rags in our sight, because we saw ego-ism, even in its best clothes, as enmity to God. But during these unregenerate days, we were very often being influenced by good. We prayed. We worshipped. We obeyed at least some of the laws of God. We sometimes desired to be good. Good people and good ideals affected us and to some extent we adopted what we saw. But it was from outside. It was not a second nature: it was an intermittent upward pull. We might almost call it an upward temptation: a drawing to be good from the drawing Spirit who has been seeking us. According to God's word we have only had that one nature–"by nature the children of wrath."
And now that we are children of God through Christ, the Scripture just gives one name to our new condition: "partakers of the divine nature." If we are new creatures in Christ, with old things passed away and all become new: if our old man is crucified with Him, that the body in which sin dwelt might be annulled as its dwelling place: if God's seed remains in us, so that we cannot keep committing sin, because we are born of God; then we are new men in Christ, just as we were old men in Adam. Then we had only one old nature, though influenced by good. Now we have only one nature, though influenced by evil. There is only one self–my self. I was in a certain relationship which was called the old man; now that same self, cleansed and renewed in Christ, is in a new relationship called the new man.
The Romans 7 conflict is not a matter of dual nature. If so, it can very easily give us the erroneous idea of a kind of equal tug of war between the two, with any man's guess as to which will win. Indeed, many of God's people labour through life under the false impression that the best to hope for is a hit-and-miss struggle between these two natures with-in them. Paul says no such thing. He says that we are servants who have changed jobs and are under new management. We have left the old boss and his wages and his work, and joined the new one (Rom. 6:16-23). We are "dead to sin," "dead to the law," "set free from the law of sin and death"; we have become "servants of righteousness," "servants to God." But that does not mean that we are out of calling distance from our old boss! He can send plenty of messages to us to entice us back to the old employment, and he does. He even has allies in our own camp, in the flesh that lusts against the Spirit. But let us get this quite clear. That does not mean that "the motions of sins in the flesh" are our nature. They are a disease, a virus, from which we are not finally cured until we get our resurrection body. But a disease is not a nature, it is an invader. We have not yet a sickness-free body, nor a sin-free flesh: but that is not we, it is our covering.
Our nature is our very self, and that is unitary: once old, now by grace new. That is why it is important to retain the realization fo the purified heart by faith, and the indwelling Christ in the pure heart, because it is the real I, freed, cleansed, indwelt, dead to the old boss, alive to the New. All the assults of the enemy through the world or flesh are outside the real me, and are not I nor my nature; and they can, thank God, by constantly repulsed, as they attack the citadel of my heart, by the shield of faith which interposes the fact of my crucified and risen Lord, and myself in Him.
More Articles from The Intercessor, Vol 23 No 3