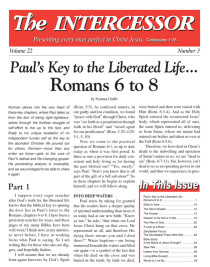 The Storm Breaks

The Storm Breaks
by Norman Grubb
I was sitting on the edge of C.T. Studd's native bed. We were in his bamboo house in the heart of the Ituri Forest. It was 3 a.m. He looked very white and drawn. His thin legs beneath the blankets were drawn up under his chin, with his wasted arms clasped round them. Without was the still African night, the palm trees looking lovely—silhouetted against the moonlit sky—and behind the dark rim of the primeval forest. We had been talking for hours.
Suddenly he said, "This looks like the end of everything. I don't see any way out". After a pause he added "Eighteen years ago God told me to found this mission. We have had all sor ts of difficulties, but He has brought me through them all. If God doesn't deliver me now, when I am near the end and faced with the biggest, well, He is…But He isn't, because He will!"
It was the darkest chapter in the mission's history. That hateful thing, internal dissension, had raised its head in our ranks and torn the work in half.We were without representation at home. Rumors had spread from mouth to mouth which shook the confidence of many.
Pauline, who is C. T. Studd's youngest daughter and my wife, had accompanied me on a visit to him in the Congo, knowing that we should not see him again on earth. While we were there, the storm broke. It would be neither helpful nor necessary to go further into the details of the controversy. It has long since been left behind. The love of Christ has swallowed up bitterness and rivalry, nor is it for us to assess the rights and wrongs. God has richly blessed our brethren who formed a new society, even as He has been pleased to bless us.
The point was the severity of the catastrophe. That midnight scene shows even the man of God, C.T. Studd, staggering for a moment under the blow, although rapidly returning to faith. The inward conflict which Pauline and I suffered was intense, as we faced our call to return to England and rebuild in the dense fog of suspicion, condemnation and controversy. It was the darkest valley of our lives also, and we lived there for six months.
Yet we were to learn, as an old saint once wrote, that "The way to heaven is through hell." The more the Lord plans to use an instrument, the fiercer the fire in which it is tempered. We had earnestly sought for ten years that we might be instruments meet for His use, and the answer had been a great deal of pruning with very little fruit. Now at last, right from "the belly of hell" we were to be lifted up into "a large place."
We were praying together four months after our return, when Pauline turned to me on her knees and said, "Father has gone home. I know it. We are to start anew with God." I knew it too. We were dumb with the shock for a time. But it was God's voice. We left that room different people. We had heard and accepted God's call. Shortly after, a cablegram was handed to us at the breakfast table. We glanced at each other before we opened it, for we guessed its contents: "Bwana (C. T. Studd) glorified July 16th."
Prepared thus by the Spirit, we knew what lay before us. We were to take up the sword C.T. Studd had laid down. Something else had also happened in the blackness of that night. Some of "the treasures of darkness," of which Isaiah speaks, had been laid open to us, and one supremely great secret of effective service had become vividly real to us, which lies at the root of most that follows in these pages. It was the answer to that simple but fundamental problem, how can I know God's will? If I know it, then obviously I can believe and act. But first I must know.
How can I put the light we saw in a word? Perhaps best by describing what we did. We made one change in the daily programme at headquarters, but that change made all the difference. It was customary to start the day's work with a half-hour of Scripture reading and prayer; then followed the real business, letters, interviews, and committees. Now the emphasis was to be changed. The reading and prayer was to be the real business of the day, and the rest fit in as best it might. In other words, our first occupation became, not to exercise our own minds, but to find His mind. What an overwhelming difference that made. Away went worries, plans, defeatist fears. In their place was just this: What does God say about it ? What God says is always original, always in the impossible, and great enough to be worthy of Him.
What He said was this: Our petty human thinking was occupied with the littleness, poverty, weakness of our condition. He said, "Look at Joshua and see what I did for him, and Moses and Abraham and Daniel. Do you think I have given you a great commission—to evangelize the world—and not great resources to do it with? Does not all the Bible tell you that I have come to make people strong out of their weakness if they will only believe? Now, will you believe?"
The answer was obvious. Just one thing remained. For what specifically should we ask and believe? What was our immediate equivalent of Moses' need of manna, or Joshua's need of a way across Jordan? That was not hard to find. Men and money, of course. For we were a Crusade to evangelize unoccupied areas, and that needs just those two supplies.
So we came to our first transaction of faith, based on guidance, a truly memorable moment in our history, for what we did then we were to repeat in an endless succession of instances for an endless variety of needs. We came somehow to the conclusion, I can't tell exactly how, that for us the impossible which would glorify God and extend His Gospel would be the supply of ten new workers and all the money for them in a year, by the first anniversary of C. T. Studd's death, July 16, 1932.
Having done that, we exactly obeyed the word of Christ "When ye pray, believe that ye receive." We deliberately thanked the Lord for what we had then received. From that day on we never asked again for the ten, but daily reminded Him and ourselves in His presence that they were ours, and thanked him. Our daily prayer meetings were turned into enjoyment meetings, possessing and enjoying our possessions in the invisible, before we had them in the visible. One other lesson also that was gradually learned, of deep importance in faith, was that the Source is our concern, not the channel: in other words, that we are to keep occupied with what we have already received from Him in the unseen, and not be diverted into looking around for the way in which He may send it in the seen.
Now for the story of how the ten came. Some readers may think, "Well, ten is not many, nor the £1,500 necessary for their outgoing." No, they are not: but remember we were infants learning to crawl! To us it had all the thrills of new adventure and discovery. As we used this one and only method of obtaining things from God according to His word, by the invisible hand of faith reaching into His equally invisible resources, we felt all the joys of pioneering in a new country.
The first two came in quite easily and soon sailed. It was then that we saw another condition of the pathway of faith, which is not exactly the faith itself, but is the works which prove the faith to be real and establish us in it. It is the equivalent of the confession with the lips commanded by the Scripture as a necessity for salvation, side by side with the belief in the heart (Rom. 10: 9).We saw that one who really believes is ready to make public acknowledgment that the things he has received by faith are his, although he has not yet obtained them in fact. We saw it particularly with Joshua at Jordan. He came out from the presence of God and told his officers to prepare victuals, for in three days they would cross the river. A declaration of a certainty, yet only a certainty to faith. In the same way God told us to write to Jack Harrison, C.T.'s successor on the field, and tell him to expect ten new workers within the year, although owing to the circumstances the missionaries on the field had no thought of immediate increase. I had a brief controversy with the Devil about it, as he told me what a fool I should look predicting what would not come to pass, and that as the new secretary in London I should be doing the best thing possible to shake their confidence. Yet of course it had to be done. The unmistakable word of the Lord had come, and the letter was sent.
The next three, women, were ready to go by March, but there was no money. So we gathered together one morning, faced the fact that nothing hindered them going except finance, and made a definite transaction with the Lord that then and there we received it from Him by faith. The three soon had a fine opportunity of making the open declaration of faith. Two of them were going away for the Easter weekend, so they left their addresses with the third, telling her to wire them if the money were provided during the weekend.
On the Saturday we had two guests. They themselves lived by faith, and so we took it for granted that they had no spare stores of money. As a matter of fact for years they had a sum in the bank which they had dedicated to the Lord, but He had never told them what to do with it! That night before going to bed, in a word of prayer, someone quite naturally mentioned the three. You can imagine the surprise we had next morning when they came down to tell us about this sum and that in that word of prayer God had spoken to both of them separately that the money was for this purpose! It turned out to be sufficient for two passages. At this point the faith of the third who had remained with us shone out in really remarkable fashion. We made the news known at dinner time and said that we must send the telegrams. She then said, "Why not wait half an hour? God may yet send the money for the third passage"—in spite of the fact that, being Sunday, no post or visitors would be expected. Just at the time she said this, unknown to us, the treasurer had cause to go over to his office, which was closed, and he there found a letter. When opened, it had within it a cheque for £100! The telegrams were sent.
These three sailed in May, followed by two in June, a total of seven. The eighth arrived from Canada. Six weeks remained and no applications, and no money. Five weeks, none. Four weeks, no application, but a gift of £100. Three weeks, still none. Two weeks, No. 9 applied.
Now there were but days left. Thirteen days, twelve, eleven, ten. On the evening of the tenth No. 10 applied. It was at a conference. He had spent three days in fasting and prayer to be sure of God's call, and the next day the Lord set a wonderful seal on his application. A guest at this conference, who knew nothing about No. 10's offer, was praying before breakfast. The Lord distinctly led him to take a blank cheque from his cheque book and put it in his pocket, but did not reveal the reason. At breakfast he heard a mention of the application and at once knew that the cheque was for this purpose. Shortly after £120 was in the Secretary's hands.
Two days later two of us were in Ireland. We went into the matter together and found that £200 was still needed to complete the sum. So we agreed in secret to ask the Lord for this. A couple of days after, as we came out of a meeting, our hostess handed one of us a telegram, and, although she had not an idea about our secret prayer, said, of all things in the world, 'Perhaps there is £200 in it.' It was from London and read, "Two hundred pounds for the Ten."
Within six days of the anniversary God had sent the ten and all the funds. It never had been our intention to get this number actually to the field by that date, for we felt there must be no hurry about the necessary testing of their suitability. All that we had asked and received from the Lord by faith had been graciously and completely provided. All the ten sailed to the Congo by the autumn, five men and five women. Our joy was great, yet greater and of more importance was the realization that we had been allowed to prove by personal experiment that this was the way outlined by God's word for the fulfillment of His purposes through human agency.
–After C.T. Studd
More Articles from The Intercessor, Vol 22 No 3