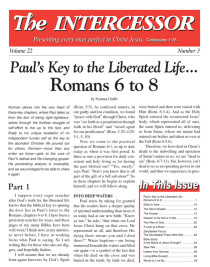 Letters from Norman…

Letters from Norman…
April 12 1982
My dear
I am not mentioning your name, except on the first copy of this to you, as I want to make use of our valuable correspondence to share with others both in WEC (Worldwide Evangelization Crusade), without having to involve you personally.
What you have stirred me to consider yet further, as I often have done, if I can lay my hands on why Weccers, and others, find it difficult to see what we are seeking specially to share in what has been given the name of our "Union Life" message, which to some may seem only to say much that is already our experience in the Spirit, or to others to go dangerously beyond into some extremes or even heresy.
I would first say that in relation to us who are Weccers, I believe there is no company of God's colabourers who start with our foundations more thoroughly established in the fullness of the gospel we preach in our personal lives in a living experience of such basic facts as Gal. 2:20 and Acts 1:8, using what terms we like as entire sanctification, enduement with power, baptism of the Spirit, perfect love; at least it was so in my earlier days in WEC, though I am concerned as to whether the same solid basis in the Spirit is nowadays required of all newcomers, and hope it may be re-established if there is a weakness; so that our one total "obsession" is to transmit the same to our national brethren as in Gal.4:19.
But I suggest that in our walk with God and ministry, we are more in the habit of regarding it as a relationship between two to be maintained than as an established one (as in 1 Cor. 6:17): and this puts our emphasis on our abiding, keeping cleansed from sin, using all means to prevent apparent gaps between us. In the recent publications of letters in our "Weccer" on what to do about "dry times," not one of the fifteen or so replies said "I don't have them"!
But here is where what we are seeking to share stands out as different. We put the emphasis on our "being kept"—not on our keeping! We think that the whole tone of the New Testament is on the positive. "Now are we the sons of God;" "hath blessed us with all spiritual blessings," etc. And we boldly affirm that the basis to this is a fixed union as fact, as assuredly as Our Elder Brother was fixed as in John 14:10. The Vine has chosen us as His branches (John 15:16), and our abiding is "remaining" (Greek meaning of "abide") by recognizing the union! And a hundred other NT references heading up in 1 John 4.17. And here is where we get into some trouble by therefore seeing ourselves as putting the emphasis on The Head expressing Himself thru His body members, the Vine thru His branches, and therefore we as Christ in our human forms, or human forms of Christ; and indeed some have thought we were saying we are Christ!!!
But why make extra of that? Isn't that what we all accept in our own terms? But we find the positive difference is that it centres our consciousness on Christ in us, really as us, Living His life (our life Col.3:4) by us, in the replacement sense of "I live, yet not I, but Christ lives in me," He the thinking, willing, acting person in our form. He in us is more to us than we! I well remember the day the Spirit made that a fact to me about 58 years ago in Congo!!
But perhaps again many of us will say, "Yes, that's good news, but not new news to me"! It is that the consequence of realizing Christ has   totally accepted me brings me to a new acceptance of myself. And I think that is where there is a specialness in our message. It dawned on me, If I'm good enough for Christ, I'm good enough for myself! I accept myself. I therefore love myself, and I'll be myself. I'll not be cautiously fearful of my humanity. If He has taken on the keeping of me, He'll do the keeping! He chose me! He made me, Satan stole me, Jesus has regained me! In my coming book called YES I AM, which I would like to get to any of you who would like a copy, I seek to explain in detail how our precious God-made humanity was stolen and misused by the spirit of error, though with our consent, and is now back in its True Owner's hands by His death and resurrection, and His ascension which opened the way for Him to return to live His own life by us by His Spirit. But the present result I mean is to accept my tripartite self (of 1 Thess 5.23) and be myself in total free action in all its beautiful members, fearing nothing (1 John 4.17) and with that accompanying boldness, yet knowing with my laugh of faith that it is really He, not I. Free!
And having a new concept of temptation as asset, not liability. If He was tempted in all points, we surely shall be. But He knew, as do we, temptation is our privilege as we remain in Satan's realm to rescue further brands, and therefore open to all his arrows of temptation. But they are not sin but just temporary diversions thru the human self which we accept, not resist, as his right to shoot at us, and then replace by recognition of Him expressing Himself by us—good faith practice precisely as James said in 1:1-4. So we don't live negatively temptation-minded, and still less sin-minded (though always with the recourse to 1 John 1:9 if occasionally we follow a temptation thru). And in this is also included the great Hebrews word on soul and spirit in 4:9-12, and we don't mistake feelings of "separation" or lack or dryness etc for any shadow on the Permanent Union. (That's why we say we never have dry periods!)
So now with us ourselves in the forefront in inner and outer action (the third phase of Gal.2:20), we find it has two major effects on outer relationships. First to our brethren. If I know myself in fact by grace Christ expressing Himself by me, so it is equally true of my brother. I have to see my brother as he truly and always is. Therefore my sin (or temptation to it) is to major on the 'motes' in him, which means my 'beam' is my negative flesh-seeing of him. I am sure this is the only key to many rifts in fellowship. See only Christ in a person—that removes my beam. We all have motes, clay feet, but I must persistently see him as Christ, and God will fit the rest into place. I've been taking a long long time learning and practicing this.
Probably we all assent to that; but this further one is one of our principal keys to effective living— and I don't think many of us Weccers really see, accept or operate by it, and it is again a point on which we get into trouble. It is seeing Satan from the beginning as God's agent, and all evil conditions as "meant" by God. There are plenty of Scriptures on that—dozens, and again I deal with them in this coming book. Gen.50:20: Acts 2:23 & 4:27, 28. Jesus denied the reality of two powers. Only one, He said, though it includes Satan in action—John 19:10,11. Of course I can't go into detail in this letter, but it radically changes one's outlook and responses in every situation. Eph. 1:11. Life is full of negative pressures on us, small & large, and we all know our negative reactions. But if we can always say "God meant that," at once we have inner release and are on top, not underneath, ("reigning in life"). Aren't the majority of our "breakdowns" because of negative seeing? When you know the principle of seeing God only in everything, you can not only   turn your own lock but many others. And that is a central truth in what we seek to share. It surely changed my seeing!
And with that, then, our boldness of faith action, as in Mark 11:23-26. WE now act as He—11:22. We use this "word of faith." We in WEC do know something of this—Say, Say, Say, 11:23. This also is strong among us, and isn't it a part of our unique WEC ministry to underline and boldly advocate it. We act as He!
Finally we must embrace what the Spirit has taught us through Rees Howells of the basic principle of Intercession in its full meaning (far beyond "intercessory prayer"). I will say little of this here, as we in WEC are not ignorant of it. Doris Ruscoe of the Bible College is bringing out a further book on "Rees Howells explains intercession." WE recognize this as the final fulfillment of our "apostleship," and seek to lead all from little children, to young men, to fathers.
If you have had patience enough to run your eye through all this, you may say that we are covering much the same spiritual ground, but where then is the cutting edge which is giving new clarifying revelation to many and an increasing number are changed from frustration to liberation as various ones of us go from place to place?
I think the answer, in so many who have grown up in the evangelical faith, is the almost universal situation—that the only life they knew has been as born again believers, to hope for a gradual spiritual growth by the practiced habits of prayer, Scripture reading, church going and activities, and always with responses to assaults in the flesh which carry guilt and condemnation, even with recourse to 1 John 1:9: and the general heavyweight of exhortation on fresh commitments, more devoted dedication and so on. And even the best taught regarding that Paul's, "Reckon yourselves to be dead indeed unto sin and alive unto God" as positional rather than attainable.
But the fixed certain reality of a total end to a self operated by indwelling sin (the spirit of error), and as totally that same self inwardly joined to the Spirit of truth, through the blood and body death and resurrection of the Saviour, and with no rival indweller, bringing with it the total inner consciousness by the Spirit's witness (1 John 5:10) of the fearless freedom to be themselves, first of all seems too hopelessly "out of this world," or even too terrifyingly dangerous after years of soaking in the life of 'Live fearfully, carefully': and thus it meets with shock, caution, even opposition (Isn't that license??); and usually only after a period, the very hungry, who can't remain in the old bondages, are brought to see the amazement of this total faith, not works, reality, they transfer all their shivering self-doubts into this given glorious Bible-attested fact of such words as Gal.2:20; and they firmly say it of themselves, and usually such "dangerous" interpretations—that they are now themselves human forms of Christ, branches expressing the Vine, or Christ in their human forms; and usually it takes that bold sold-out word to be the "confessing with their mouths." And then the rest, such as we have outlined, follows in their lives, and they say, "There's nothing else! This is all there is!"
And I have now to say that among us who have gone to the farthest limits of our union relationship with Christ, as we in WEC, and have continued in them and in ministering our "heavenly" truth to others, yet I know for certain that we can be so settled in what has been our established reality, that we do not easily see there are as to Paul's topline Ephesians, further "Eyes of understanding to be enlightened," and it often may be, as with me, in moving more totally into my Eternal Positive—Christ All in all, within me, without me, and loosening me   from graveclothes of seeing negatively about myself, and then my brethren, and then that whole world which He came to save; and giving me a newfound freedom both to be myself, and to act authoritatively, as He, in positions of guidance and forward-moving faith; and in that great wholeness of outlook which can constantly reverse first reactions and replace the seeing as evil for seeing as, if only Rom.9:17 forms of His action. And I must say that we are able to join with Him who sits in the heavens and laughs, rather than shakes His head over enemy oppositions.
So thank you indeed, dear ones, if you have gone along with me in this long screed, and we see ourselves as we truly are—fellow soldiers fighting the one battle—"the good fight of faith," and loosened even to tell each other that we love each other beyond the normal ending of "yours in the Crusade,"
Lovingly, Rubi – Norman
P.S. I am adding to this letter because I keep inquiring (in my spirit!) about what form the Spirit will come through for this generation as He did ruthlessly, and we might add, typically crudely, in the last one with the DCD, which forced an issue between those who so totally "saw" the Spirit with C.T. Studd and those with him, out at any price, to go forward with our world commission on our Four Pillar standards, and those who do love and serve the Lord but prefer less "extremes" in faith, sacrifice, and holiness. And what occurs to me is that it centers today on the distance to which we will go in publicly labeling ourselves as a Holy Spirit Crusade with that Acts 1:8 Spirit-baptism, by which we all know we ARE SPIRIT-ENDUED, SPIRIT-BAPTISED, no matter what particular phraseology we use. But we boldly declare that is the purpose of our calling—not, in other words, church-planting, but Holy Spirit planting, and the rest then follows.
To take such a stand does undoubtedly label us as far-outers and probably implied "Pentes." This would probably also make some division among us, and especially search us out on our church-support level, where I believe there is some lapse; for in C.T.'s day, of course, he all but said he didn't care a hoot about what church supported us, for we are on GOD-ONLY support; and I believe this would search out among us those, who, under whatever subterfuge, do in fact rely on church support; and might well produce defections among us. But I believe our boldness in standing square for our New Testament obvious Holy Spirit declared foundations from Pentecost onwards puts us back right square on our sources.
How I wish all our Weccers could read Chapter 3 of Rees Howells life, which I wrote. I think it is the greatest presentation of the Holy Spirit taking His unrivalled possession of a body for Him to use that I know in print, without "theological terms."
More Articles from The Intercessor, Vol 22 No 3