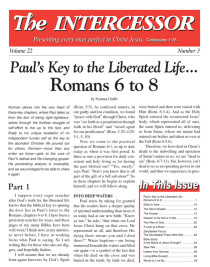 A Look at a Book

A Look at a Book
by Chris Anderson
BOOK REVIEW: Who Am I : Chapters 20 and 21
by Norman Grubb
A book review on two chapters? Oh, yes—definitely. Easy when it is two chapters written by Norman Grubb. Why? Because each of Norman's chapters may as well be a book. When Norman writes in one part of these chapters, "Let us go into this in more detail, just because it is so revolutionary and universal in its application," be prepared for a barrage of information throughout, grounded in scripture, revelatory in nature, hitting its mark like so many arrows, leaving you with a desire to delve further–but not after a deep breath and an understanding that this is not "coffee table" reading.
In these two chapters, Norman answers deep questions about God's purpose in hardships, trials, tests that appear to us as wrong, inexplicable, out of control, unnecessary. Again hold on to your hats as Norman clearly moves us from outer appearances to the spirit truth of the matter.
In "The Key to Everything," Norman first establishes what we really are–"not matter people but spirit people." He moves on to point out that "it is plain that He (Jesus) did not see Earth events as we see them…. He did not look at them but through them—to what? To 'Him (God) who is already always there at the hidden heart of the apparent condition of need'."
Norman makes his point with the well-known Bible story of when Jesus and the disciples were on the lake and a big storm arose, filling the boat with water. Didn't they—don't we still—see at storms and fear them? But Jesus saw through the storm to the Father of all weather and all calm, who is at the heart of the storm because everything is a form of Him, and spoke that word of faith, "Peace, be still."
So how do we see through and not at? Norman says, "…in Christ, by union with Him in His death and resurrection, and by His Spirit joined to our spirits, we are no longer matter-people, but Spirit people. "Ye are not in the flesh, but in the spirit, if so be that the Spirit of God dwell in you." Hmm. A different outlook as we recognize the falseness of our natural outlook and practice the habit of changing it. Now we approach everything from a new dimension, or rather being that new dimension.
In summing up this chapter, Norman uses the phrase "external distorted shadow forms." I found that very interesting. After I read through it several times, I realized that it is not the shadow that is real; it is whatever casts the shadow that is real. Norman describes this thoroughly: "But now, supposing the real truth is that this outward situation is only an outward appearance–really only a shadow. Suppose the real fact is that, as there is only God in the universe, this situation is God in disguise. It is He in some outer clothing of need, tragedy, problem. They are the distortions of God's perfect world, but they are only distortions." God's perfection is the only reality and, as He did by Jesus, by the authority of the faith of His believing sons, He manifests Himself today in His perfection through the outer appearances of imperfection.
In the next chapter, "God Determines, Not Permits," Norman touches on a truth that became very important to me personally. God doesn't sit by and "permit" various adverse or tragic situations, He actually determines them. Here, in my opinion, is where a good portion of the Christian world gets hung up, asking such questions as, "How does a God of love allow or permit such horrible things to happen?" Here is Norman's answer: "God is the one who deliberately put us in this problem situation and thus awakens us to get into faith action."
Norman gives plain evidence of this using several Bible incidents, the first of which brought tears to my eyes as I read it. As Jesus spoke of his approaching death, He said, "The prince of this world is coming to assault me—but He hath nothing in me." In spite of all that was happening to Jesus, Satan could not touch Him in His real inner self, His inner believings—he could only attack Jesus' outer body. Again, when the mob came to arrest Jesus, He said, "This cup my Father has given me, shall I not drink it?" Not the Devil, but His Father was responsible for His suffering. "Perfect," says Norman. "Whatever befalls us, whatever apparent horrors are happening in the world, God sent them—determined, not just permitted them." Again Norman boldly goes on to say (are you ready for this?) that we see in the account of the Fall of man that suffering was to be humanity's greatest blessing! The only way the Father could have a matured, perfected family of sons could be by His own Son, their creator, becoming perfected as leader-savior and elder brother was by suffering. When I read this, I was touched deeply because I knew the outcome of the suffering God determined (not merely permitted) in my life.
In 1993, my son, Matthew, became very ill with a relatively unknown disease. We were told his chance of survival was less than 50%. I was not a believer at the time, but I am now—largely due to the drastic process God took me through during that extremely painful experience. One thing that became very evident was that when I wanted so badly to be in control, I was completely out of control. But that period of time changed my life forever, and I am very grateful for it. I know now that God did determine that experience for me. It was His love coming to me through that painful time that woke me up to Him and who He is.
For me, these two chapters provide a springboard to faith when I am confronted with daily trials and adversity. How would I know fully His supply, His love, His complete righteousness, if not for His coming to me first disguised in apparent problems—in His "distorted shadow forms"? My son, now 16, my wife and daughter and I live every day grateful for God and His faithful servant, Norman Grubb, who has taught us how to live in Christ. 
More Articles from The Intercessor, Vol 22 No 3