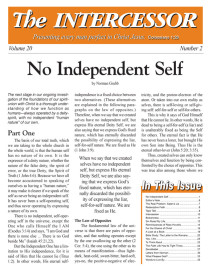 The Real Problem: Satan's Lie

In this excerpt from her booklet Alphabet Soup, Page Prewitt discusses how the lie of "independent self" allows Satan to misuse the Christian in everyday life and the liberation found in believing and applying the truth about who we really are.
If you have been seeing yourself as an "independent" person and have acted from that belief, realize that you have gone for Satan's lie about the believer. You have gone for Satan's lie about yourself. God only sees union with Himself; Satan sees and sponsors this divided outlook. This is the sin of unbelief… unbelief about who God says you really are.
God has said that He that is joined to the Lord is one spirit with Him (I Cor. 6:17). He has also said that He is the vine and believers are the branches. He is their owner, and believers are His bondslaves. He is the deity placed in the temple. We, the believers, are the temple to manifest and display Him. He is the husband, furnishing the seed to the productive wife. Believers are the wife, wedded to this One. He is the treasure, and we, the believers, are the vessels that contain Him.
The branch, the vessel, the temple, the wife—all are dependent. The branch is dependent upon the vine, the vessel upon the contents, the temple upon the deity, and the wife upon the husband.
The analogy of the owner and the slave shows that the master is the one who owns the slave, and as in Romans 6:17, the slave is never his own owner or his own operator.
So, if you are a believer, to "see" yourself as an "alone-I" who has the ability to operate himself—even that seeing is sin. The Scripture says when we find sin present with us to confess it. So the remedy is just to confess it. Call it sin and confess it. By confession I don't mean "sackcloth and ashes." Confession is no more than agreeing with God. It's as God says, "Look what you have been doing. You have let the enemy get you confused and mixed up. See it. Confess it." It's as simple as that. T he worst sin you will ever find out you have committed is the sin of wrong believing about yourself. And in doing that, you have allowed Satan to misuse you. That is what is wrong with every non-redeemed person, and with every born-again person who commits sins, minor or major— small ones that just "mess up" your life or blatant Biblical sins. Serious sins like theft, murder and adultery always stem from wrong seeing about ourselves as believers.
The result of living like this is not a life of sin-consciousness, but a life of true liberation. Bondage lies in wrong believing…to not see yourself as who you really are, one with Him. Wrong believing about yourself will immobilize you.
Wrong believing about yourself can cause conflict in a marriage, in the work place, with your children and in other situations. Satan, in your "independent self" believing, manages to get his hooks into your "members." The Bible talks of believers in these terms: "sin in my members" (Rom. 7:23). "Members" means your soul and body (your "flesh") and not your spirit. Satan gets his hook in there, and he is the confusion. He is the cause of the confusion. I'm not talking about the feeling of confusion I discussed earlier, but the confusion that results from the conflicts caused by wrong believing.
A Practical Example
Let me give you an example of how something seemingly small and insignificant in your life can be completely immobilizing to you. This past summer when my husband and I were in North Carolina, his car needed washing. Being in a very small resort center, there was no automatic wash place like I am used to back home. The place I took the car to was one of those where you plug the money in and then squirt off your own car. The coin slot was one of those flat things you lay quarters in and then slide in, where some mechanism picks up the change and deposits it, and then you have access to the hoses and water.
I put in the required three quarters and the machine only took two of them; the other was left in the slot. Of course it would not operate without the full amount, and I did not have another quarter. The way the machine is made, there is a small hole beneath the quarter. So I decided to reach in and just pop my quarter out. Well, I got my quarter, but my finger got stuck. It was the same kind of situation as when you're having trouble getting a ring off.
I said to myself, "This will come out in just a second." But then I realized my finger was not coming out. It was stuck! You know sometimes you can get a stick caught underneath your automobile, and if you pull hard, you can just jerk it out? So I thought, "Just jerk it out. It doesn't matter if it hurts a little." Then I rethought: "That is your human finger! You can't just jerk it out!"
I could not go anywhere to get help. Nothing but the tip of my finger was caught and yet I could go nowhere. I was immobilized. All kinds of redeeming thoughts went through my mind: "If only I had some soap; there's a restaurant nearby— I can scream and maybe they'll hear; maybe someone else will come in for a car wash."
Finally, I said very meaningfully, "God, you have got to get my finger out." I gave a soft jerk, and out it came. Later that week I realized what a great illustration this was of how one little sin thing in my life can completely immobilize me.
So in Conclusion
If you are a believer, the Spirit in you is going on all the time—knowing, loving and willing. What you are thinking and feeling is also going on simultaneously in your soul. Make the distinction between these two. And never deny your feelings; that will make you psychologically sick. But realize that you are not your soul. You, at your center, are spirit—one with the Lord and Creator of the universe.
Yes, there are times when I look around—at others amid perplexing situations, or even within myself— and all I see for a moment is "alphabet soup." But, this does not occur often. When it does, I retrace my steps to see where unbelief entered.
Sometimes this takes only a moment or two. Once in my experience, it took several months, and I spent those days in what I now call my "black hole" of unbelief.
But on that occasion and on less serious ones now, I check myself by claiming that I am Christ in my form, that I am an expression of the Living Savior. I acknowledge to myself that today I live, not as the illusory "independent Page," but as "Christ-Page." I step out of unbelief into faith.
And, as by His grace, through faith, I was originally saved, I continue to walk out this Christian life in the same way. I will not be like those "foolish Galatians," who resisted the truth of what Paul wrote to them. Instead, I acknowledge that I have been crucified with Christ; nevertheless I life, yet not I (Page-alone) but Christ lives in me (Christ-Page), and the life I now live in the flesh, I live by the faith of the Son of God, who loved me and gave Himself for me.
So my life is no longer a confused bowl of "alphabet soup"! Just the opposite—my life has meaning, purpose and joy.
More Articles from The Intercessor, Vol 20 No 2