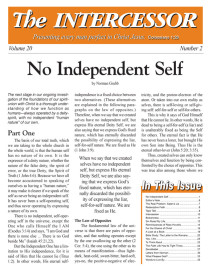 Tape Talk

TAPE REVIEW:
1 John
by Norman Grubb
Within the first minute of listening to this set of tapes I was laughing out loud. As someone who has not listened to Norman a great deal, I have to admit I was pleasantly surprised by Norman's humor that comes through wonderfully in his speaking.
Before Norman begins this study of 1 John, he takes some time to talk about how as born again Christians, we are in union with God in Christ. This preface to the study of 1 John is invaluable in itself.
With this truth firmly in place, Norman then goes on to explore how John teaches us to function in our lives on the basis of this union. One of the mega themes is centered on the fact that God is love (1 John 4:16). We learn that love is a Person and that Person is completely for others—"to hell with me, I'm for you." As we are now in union with Him, this is Who we are. Previously we looked at life for what we could get out of it, or how we reacted. Now that Christ is our real life is no longer possible. "Those who have been born into God's family, do not sin, because God's life is in them. So they can't keep on sinning because they have been born of God." We do not long to gratify ourselves, because it is He living in us, and His true joy is otherlove.
Satan, who is self-love, went out of us at salvation; we died to sin. We cannot again be dominated by sin. We may temporarily express it, but the basis of our being is other-love. We have been delivered from being controlled by the spirit of self-centeredness, praise God!
John says this is how we know we are saved (1 John 3:10). When we don't love our brother, we will stumble. And loving our brother means wanting the best for him, giving our life for that person (John 10:15). This is a sobering test. Can we honestly say we live a life poured out for others where we are concerned only with wanting the best for others and not giving a thought to ourselves? Norman continues to guide us through the last chapters of this great book, examining how exactly we can operate at this standard, the answer being—by faith. Faith that it is not we but He: He is the one loving others by us. But Norman stresses that this is no forced thing; he in fact says that if we are Christ-operated we cannot help but be anything but love poured out for others. Christ just is spontaneously loving others through us at all times, even when we are not consciously thinking of it. Norman instructs us to just be free, be yourself, "don't bother about it."
So we learn from John what God is—Love, concerned only for others. We learn that we are in a union relationship with God through His Son Jesus Christ, and that because Christ now lives in us, we are now Love, poured out for others. We walk as He walked; we are righteous as He is righteous; "as He is so we are in this world." And Norman's foundation for this letter, our union relationship with God, and illustrations and explanations of John's teachings, are extremely illuminating and a joy to listen to. I do hope others will benefit from the groundbreaking truths Norman uncovers in John's first letter, as there are many gems to be uncovered. I am sure each person who listens to these tapes will be both convicted and encouraged in their own personal way.
More Articles from The Intercessor, Vol 20 No 2