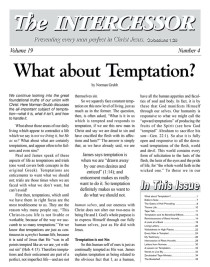 Living Letters

This letter tackles the question of what it means to "see God only," what it doesn't mean, and the necessity of fully dealing with sin through confession and repentance.
Dear Sherry,
Since talking with you on the phone several days ago, I have been thinking: "Why is it that so many folk go with what I would call the 'all God' approach to living life?" They get the idea from Norman, I know, but they run with it as if it were the ONLY thing he said, when in fact he said many counter-balancing things that put this truth in its right place. For the fact is, if "seeing God in everything" is NOT kept in its rightful place, it becomes the very tool of the devil and works against us and those we care for.
Lately I was reading in Norman's Law of Faith and came across a place where he makes this point. It is in the chapter "False Faith." I wish you would read the whole chapter. I'll quote a few sentences, though. He starts out the chapter saying, "Like anything else, such truths concerning finding God's will can be abused."
A few paragraphs later he writes concerning misused faith: "They are an example of the pitfalls which yawn before those who do not open their minds to every aspect of the truth revealed in God's Word. They select with delight that phase of truth that specially appeals to them and run upon it as hidden treasure. They explore and develop it until they seem to see it alone on every page of Scripture, to the exclusion of anything which seems to give an opposite point of view; and what could have been a healthy re-emphasis to the Church of Christ of some truth which has been neglected is transmuted instead into deadly error."
Still later he says: "…the explanation is given that man is in ignorance of his true self…. It is ignorance not wickedness. It is just a misuse of good, not an enmity against a personal God. It is merely negation, nothing; not the power of darkness derived from a kingdom and king of darkness…." (Norman is saying here, of course, that it IS wickedness and IS enmity against a personal God.)
Norman ends the chapter by saying: "But all this, although it has some very helpful lessons to teach us of the reality of our oneness with God (only through Christ) and the privilege and powers of this relationship, has so completely ignored the other side of truth that the whole teaching has become a seductive error; its source, as a consequence, is found to be in the subtilty and wisdom of the serpent instead of in the grace and power of God. 'The high and holy One who inhabiteth eternity' practically disappears. The disobedience of man, the existence of the devil, man's responsibility before God, God's wrath and judgment, the reality of hell as well as heaven [etc.]; all these cease to be truths through the neglect and denial of the one great basic truth of the transcendance of God…Satan himself [is thus] transformed into an angel of light."
Norman is certainly saying here is that sin is REAL, it DOES need to be dealt with, and one doesn't get clear or forgiven WITHOUT dealing with it.
Whenever I think about the truth of God using evil for His good ends, I think of Genesis 50:20, where Joseph says to his brothers, "as for you, you meant evil against me, but God meant it for good . . . ." Yes, he beautifully forgave his brothers the wrong they did against him; but what he didn't do is this. When the brothers first came to him seeking grain, he DIDN'T say to them, "I am Joseph, all is forgiven, I will give you the best of the land, go back and tell our father Jacob that he and all his family can come and live here." He didn't do that, because he knew that the only way his brothers could be truly forgiven was for them to acknowledge and confess their sin. And to do that they had to go through all the trials that he (really the Holy Spirit in him) engineered: his speaking harshly to them, accusing them of being spies; his imprisoning Simeon until they returned on a second trip with their youngest brother Benjamin (the only remaining son of Jacob's beloved Rachel and apple of his eye); the cup found in Benjamin's baggage as they were leaving; the demand to keep Benjamin imprisoned in Egypt, which would have killed Jacob; and finally Judah's admission of their SIN and request he might take Benjamin's place.
It is the same with us, Sherry. Sin cannot be by-passed. I needed to confess my sin of divorcing my wife and remarrying in order to be forgiven. I need to see my sin and confess it in having left Zerubbabel high and dry, not caring for them or how they did or their feelings. I have hurt them deeply. Then and then only is there forgiveness. The prodigal had to RETURN. The people John the Baptist spoke to had to REPENT. The Old Testament prophets thundered to bring about national confession of sin.
Norman knew this. His booklets Continuous Revival and This is That are all about the Holy Spirit convicting people of sin and their then (not before) being forgiven and cleansed. Rees Howells, Intercessor tells how Mr. Howells went from mission station to mission station in Africa seeing people "go under" from conviction of sin and THEN come gloriously free.
This "all God" stance as it is practiced is wrong. It robs a person (myself, those I touch) from coming clean, and if one is robbed from coming clean, he is robbed from GETTING clean.
Toward the end of our conversation you said what mattered was love. I agree. But is it love to soft-soap sin? Norman did not do that. He was wonderful for freeing us from false condemnation, but he did not try to bypass sin. That well-known verse I John 1:9 says, "If we confess our sins, He is faithful and just to forgive us our sins and to cleanse us from all unrighteousness." Confession first, then cleansing. And does this "all God" approach really produce love? It didn't seem like love to me when you thundered at me, "Lanny, all you want to be is right!!" I had a hard time gathering up the courage to call you. It would have been much easier for me not to. I had to realize (1) I owed it to you IN love to call, and (2) I could do it because I was not "just me," but He living as me. And, thankfully because of Him, I know I do love you, Sherry, and would weep tears of joy to see you come clear of this "all God" lie. I believe it would change your life, and could make all the difference for your son. It is painful to me how I have neglected my family, from way back, not just since my sin of remarrying (in fact, adultery, according to the Bible). Did you know that my daughter doesn't even believe in God now? I can't sit back and do nothing any longer. Christ in me and as me doesn't equal "do nothing."
With love, Lanny
P.S. Don't think I told you: Wed. evening I went to church prayer meeting at the pastor's house and had opportunity I had hoped for to tell the pastor, his wife, and three elders about Connie and me. The pastor wasn't too pleased, but afterward one of the elders (not an official "elder") told me he agreed with all I had said and was doing, that the pastor's stance on remarriage was wrong, and that if AA members were ever let loose in the church, they would turn the place upside down! This fellow's name is Tim.
The following letter is a sister's attempt to reach her brother with the truth of who he is in Christ by sharing her personal testimony.
Dear Bill,
I am just sitting here this Wednesday morning in my favorite spot, a comfy couch at the coffee shop…thinking of you. I think about you often and have a strong desire for us to have a relationship. I'd like to start by telling you several things I have come to see about my life over the past few years, since I moved from New York.
I loved seeing you when I came up your way in March. I didn't want to let go of you that first time I saw you. I miss you and love you very much. But, the most heart-wrenching part of my situation here is having an answer to my life that I know is the answer to yours too—a personal relationship with your Savior. I can't make you want it and I can't make you see how entrusting your life to Christ is the best and most important decision you can make while you are on this planet. But, that doesn't mean I'm not going to desperately try to in this letter.
I have been so blessed to have people in my life here that were willing to tell me where my life was going down the tubes. This gave me an opportunity to evaluate my life, what I wanted, and where I was headed, and do something about it. My decision to compare myself to God's standards in the Bible, care that I was not measuring up, and take initiative to change (all with the guidance of my Spiritual family) has spared me from a life of miserable self-obsession.
I had been a slave to always trying to please myself and fill a void that I felt inside…only the void would never go away. I looked to boyfriends and would do anything not to lose them. Along with this, was an obsession with my weight, where I would sometimes weigh myself up to three times a day! I thought if I had a guy that it would make me better and happy, but I never really was. I thought if I was thin that I would be better and happy, but I was never thin enough. How miserable! That life was all about me, and never about anyone else. But, the lesson I have learned…the void/hole I have is a God-sized hole, and the only thing that can fill it and bring true peace is Jesus Christ. For too long (even when I knew better), I tried to cram squares and triangles into a space that is the shape of a cross. Since I entrusted my life to Christ, He has filled my life in so many incredible ways.
Since I made this decision, I feel free and clean and at peace. Such a contrast to my life before, which felt dirty and was filled with lies and never giving a thought as to anything I could do to better someone else's life—only my own. And like I said, I have so much going on. I am in my first semester of graduate school—getting my masters in Business Administration. I have also been awarded a graduate assistantship, where I split 20 hours/week working for professors in both the economics and finance departments. It is providing me with loads of knowledge and experience, and hopefully with some in-roads, as I would someday love to teach in the undergraduate program here at ASU.
Other than that (which is way enough!), I have been enjoying life with my roommate, Cindy, our two cats. Cindy is a very special person in my life and we have been building a strong relationship of sisterly love through a Christ-centered care. I have grown so much, personally, from the level of accountability that she and I share.
I have been cheering on your man #18 in the Interstate car—and becoming ever less fond of Jeff Gordon! I absolutely loved going to my first race and can't wait to go to another— maybe next time, it will be with you.
Bill, do you still play your guitar? I hear certain songs on the radio that remind me of you, and how you played so beautifully for me at my high school graduation party. It was the last time I heard you play—that makes me sad.
I want the best for you and I care enough that I couldn't not say all this to you.
Anyway, you may have doubts, questions, concerns about what all I have said, and I am completely open to have dialog about any of it. I just want you to know that I am here. I am sending along a package—a gift for you that can maybe begin to make up for birthdays or Christmases we have missed over the years. I think you'll like it!
I hope to see you again soon, maybe at Christmas time. First, I'd just like to hear back from you. Please don't hesitate to call me, if writing is not your thing.
I love you.
Your Sister, Allison
"For this reason, since the day we heard about you, we have not stopped praying for you and asking God to fill you with the knowledge of His will through all Spiritual understanding. And we pray this in order that you may live a life worthy of the Lord and may please Him in every way: bearing fruit in every good work, growing in the knowledge of God, being strengthened with all power according to His glorious might so that you may have great endurance and patience, and joyfully giving thanks to the Father, who has qualified you to share in the inheritance of the saints in the Kingdom of Light. For He has rescued us from the dominion of darkness and brought us into the Kingdom of the Son He loves, in whom we have redemption and forgiveness of sins."
–Colossians 1:9
More Articles from The Intercessor, Vol 19 No 4