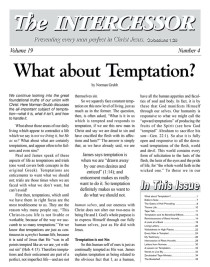 Editor's Note

In this issue of The Intercessor we focus on temptation—what it is, how to handle it, and how we can "count it all joy," as James says. We look at Norman Grubb's explanation in three articles, excerpted from three of his books, because he wrote with a different emphasis in each. In the lead article, "What About Temptation," from Yes I Am, Norman stresses how our outlook on temptation changes when we view it as an opportunity for faith. "It used to be something to be fearful of, and feel guilty about; now we see temptation as an asset, not a liability! Why, and in what sense? Because light must have darkness to shine out of." "Every Man is Tempted" is taken from an older work, The Liberating Secret. Here Norman differentiates between temptation and sin, and clarifies when the line has been crossed. And "Temptation and its Beneficial Effects" from The Law of Faith analyzes the Savior's forty days in the wilderness and the eternal victory He won over the Devil's enticements.
In her review of Norman's 6- tape series, "The Meaning of Life," Janie Prewitt observes that the series is "an expansive and detailed guide through the truths and principles" found in Norman's books. She underscores what a treasure we have in both his written and taped words, which bring life-changing truth to the reader/hearer. "The Meaning of Life" is a new addition to the list of tapes in the back of The Intercessor.
Another way Norman Grubb communicated these truths was by letter, and we include another written to Page Prewitt. It is a masterpiece, a condensed presentation of the truth of our "exchanged life," what "dead to self" does and does not mean, and the faith proclaims that we ARE the light of the world. Read it again and again.
There are two more letters in this issue, one from a young woman desperate to reach her brother with the truth of who he is, and another from a man tackling the issue of seeing "God only." Although the Bible makes it clear that we are to see God at the center of our circumstances—all situations really being He in disguise—this truth can be misused in an attempt to overlook sin. This excellent letter provides much needed clarity on an error that has stumbled many.
Elliot Coatney confronts another kind of error in "Wickedness in High Places"—the belief system known as "naturalism," which assumes a natural explanation for all questions of human history, and which excludes the supernatural and spiritual. "Naturalism is just another way man has devised to deny God as who He is—creator, judge, and redeemer." Elliot lays out the dangers of this system of thought and emphasizes that we are indeed engaged in a battle.
Rees Howells was no stranger to spiritual warfare, as Doris Ruscoe illustrates in "Reminiscences of Rees Howells," excerpted from The Intercession of Rees Howells. Miss Ruscoe gives a moving and detailed account of Rees' intercession during World War II and the faith stands taken by the staff of the Bible College of Wales. Rees' goal was the defeat of Nazism so that the gospel could reach every living soul. Christina Duncan begins her review of The Intercession of Rees Howells, with the statement: "This book is a great book," and ends it with a personal word of what the book meant to her.
C.T. Studd was trying to rally Britain to fulfill The Great Commission during another war— World War I. Although some of this piece may seem a bit dated, the parallels to the current world situation are stunning. America finds herself taking a stand, without the support of her customary allies and at some cost to her reputation, for the liberation of a people and the spread of freedom. C.T. Studd crusaded unceasingly for the ultimate and eternal liberation— our freedom in Christ. A goal we are called to emulate.
More Articles from The Intercessor, Vol 19 No 4