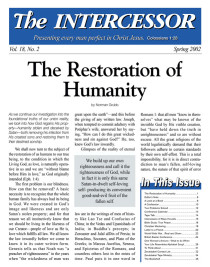 Tape Talk

TAPE REVIEW:
A Pinhole of Light
by Page Prewitt
You will chuckle along with Page in nervous empathy at the beginning of this tape as she self-consciously and apologetically proclaims she's at a loss as to how to begin this talk. Then God unleashes one of the most powerful and pointed testimonies I personally have heard. It is personal and revealing and interlaced with truths, quotes and wisdom she gained through her persistent and desperate search for God's answer to the Christian life.
Page starts with her early teen years when her earnest searching after God began. She tells how she didn't know what "born again" meant and she belonged to a denomination that taught a doctrine of works. She believed that only those who grew up to be good enough got to go to heaven. She heard the word ''saved'' a time or two and sensed that it was a very important word and felt fearful that she did not know what it meant. During these years she endured the agony of moving every two years with her family from town to town, state to state and school to school as her dad's promotions within his job necessitated. With each move, she would weep bitterly at her loss of friends, home and stability, finally crying out in anguish, "Why can't I be like everybody else?" God answered her: "You are not like everybody else and your life isn't going to be like everybody else's." Page caught that and from then on, there was a fix in her that had not been there before.
Page tells of a turning point in her life while living in Coral Gables, Florida where she met a friend who was a Christian and introduced her to the Youth for Christ program at their high school. It was on a bus ride from Miami to a retreat in Indiana that Page's attention was arrested. The Youth for Christ director presented the gospel to every bus driver that got on the bus throughout that long trip and his clincher statement would be, "Now, if you were to die tonight, would you go to heaven or hell?" Page tells of her revelation at this retreat—she began to believe in what Ephesians 2:8, 9 says, "By grace are you saved through faith and not of works lest any man should boast." At this point her life changed as she was spiritually awakened. She spent her senior year of high school fellowshipping with this large, evangelical, active group of witnessing Christians.
At the end of that summer her family moved once again to Charlotte, NC and she attended college in Georgia. From there she went to the University of North Carolina in Chapel Hill, got married and eventually moved to Jackson, Mississippi and had four children. She tells how the rest of her young adult life she spent desperately and futilely searching for the zeal she had known in her Christian fellowship in Florida. Was there reality there or was that just some isolated thing not to be found on God's earth again? She desperately wanted to find other Christians like herself who talked about Jesus Christ and being saved and who were concerned about whether people were going to heaven or not.
In listening to Page, you will have understood that by this point in her life she took Christianity and God very seriously. She will tell you that the more serious she got about it, the harder it (living the Christian life) got and the more she hated herself. Why did she hate herself? Because she wasn't what she thought she was supposed to be in any area. Friends would try to console her in her self-reproach but her response was, "Look here—you're human and you've got different standards than God has. I may meet your standards, but I know I don't meet his." The harder she tried the behinder she got. She knew it, and her family and friends knew it. Page entered into a deep, black depression in which she lost all hope. She says the only thing that kept her going was knowing that her four small children needed her to care for them. She tells how she exhausted all resources in her continued search for the key to living life the way she thought God required.
In time, God in His mercy brought the answer to Page in her desperation in the form of Norman Grubb. This answer first came as just a PINHOLE OF LIGHT through the blackness that Page's life had become to her. Page tells how her pleading prayers for someone who could view her life as it was—with the cat and the dog and the four children and the husband and the marital problems—and could tell her what she could do were answered in this man who lived the way she knew God meant for Christians to live. Norman's answer to life was stunning to her—it was the antithesis of everything she had ever learned in her church or read in Christian books. She began to dare to believe what Norman taught her the Scriptures said about her —and her life changed forever. She began to hear the truth that He said in Galatians 2:20: "I am crucified with Christ and I no longer live, but Christ lives in me. The life I live in the body, I live by the faith of the Son of God, who loved me and gave Himself for me." I will let you listen to the tapes to find out what two life-changing statements Norman made to Page and how she then began to dare to believe them. As she dared to believe God at His word, life became what she had been searching for because Christ is the life!
Page tells how she gained full understanding of what she now teaches as Body, Soul and Spirit. She thoroughly explains the truth of how Christ is on the throne of our Spirit and how body and soul fit into that truth. She expels the limiting thinking some have that God operates in our lives according to and waiting on something we first do—surrender just right, muster just enough faith, etc. This "self effort" makes us the operators of God, which is absurd. Page discusses the key to taking, receiving, and believing the fact that Christ takes over and lives our lives. She relates personal struggles she lived through and then—Praise God!— became victorious over through this truth. She covers the critical subject of sin—its root, how it is dealt with through Jesus' death, and how it relates to the life of a Christian who has been delivered from the bondage of sin. A key point Page emphasizes is how Satan tempts us to bite into sin and how to be triumphant over Satan and his deceptions in any situation!
In closing, I would like to say that when doing a tape review, it is important to touch on the highlights of a tape so that readers will desire to listen to the tape. This 3-tape set is so full of critical teaching and truth that I find it nearly impossible to "touch" on everything. I have attempted to give you an outline of what you will find in these tapes and yet I have told so little of all that it covers. So please get this set and listen to it. You will be amazed at the convicting, enlightening, exhorting, and directing powers God accomplishes through it.
Janie lives in Boone, North Carolina with her husband, Steven, and their daughters, Stephanie (6) and Anna (4). 

More Articles from The Intercessor, Vol 18 No 2