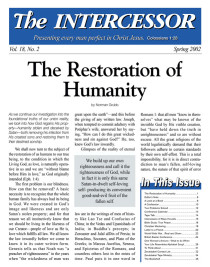 Editor's Note

In this issue we continue to examine the basic tenets of our Galatians 2:20 truth. In "The Restoration of Humanity" Norman Grubb begins with a discussion of the outer Mosaic Law, which exposed man's self-righteousness and pinpointed his guilt before a holy God. Only after this exposure was man prepared for the final restoration to his Creator, the coming of Christ— the last Adam. Norman's presentation of this "total salvation" through Christ's blood and crucified body is clear and compelling. A more condensed version of the same dual deliverance is found in "Two Problems Solved," where Norman puts "the key to everything" in a nutshell.
The second and final part of Page Prewitt's "Alphabet Soup" tackles the crucial difference between soul and spirit. Discerning that difference led Page to an understanding (or revelation) of the lie of independence. Don't miss Page's marvelous illustration of our feelings as impulse receivers—you won't forget it. We again include Norman's superb foreword, as he stresses the importance of Page's clarity to anyone who is serious about living the Christian life. A companion piece is Janie Prewitt's tape review of Page's "Pinhole of Light"—a powerful and personal testimony to Page's own search for answers and her journey toward discovering the meaning of her union with Christ.
Two more Prewitts—Page's sons Scott and Steven—contribute excellent articles aimed at our young adult readers, but invaluable for everyone. Steven shares an intensely personal letter to a Christian friend from college confessing his heartache over his past sin and rebellion and his deep concern for young people making the same Satanic choices that he made. His friend's response and Steven's letter to a young woman both encouraging and warning her to stay on the straight and narrow course complete this outstanding series of letters. We strongly encourage any young adult struggling through the mine fields of temptation to read this article. In the same vein, we include a series of emails between Scott and a younger friend whom Scott has mentored. Another friend is Elliot Coatney, who is in turn passing on his own testimony to another in "Letter to a Friend."
Passion was no stranger to Norman's mentors, C.T. Studd and Rees Howells, both of whom spent their lives trying to rouse a complacent world to "fight the good fight of faith." "Worldwide War—Real or Sham," and "Ezekiel" demonstrate what God can accomplish through a vessel totally sold out to Him, willing to sacrifice even his life. Brett Burrowes takes up the theme of warfare and conflict, proving that "True Peace" can only come when Christ Himself is our peace, whether on an international or personal level.
Finally, we are pleased and proud to tell our readers that Norman Grubb's God Unlimited has been republished by Zerubbabel Press and is now available from the book ministry. Tommy Prewitt reviews this excellent work which has been out of print for some time. We are so very grateful that we have had the opportunity to participate in passing on Norman's profound understanding of the deep things of God.
More Articles from The Intercessor, Vol 18 No 2