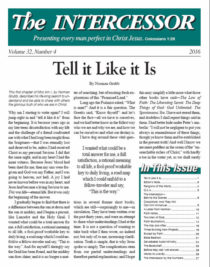 The Editor's Note

As Christmas approaches, it is only appropriate to reflect on the magnitude of the gift God gave us through His Son, Jesus Christ. A major thread that we weave throughout The Intercessor is that God has the answer supplied before we even see the need. Just so. God had a plan and answer for our redemption before the beginning of time. We get to celebrate that His answer was made manifest amongst us on earth on Christmas day. And though it is a time when we celebrate His birth, it is also necessary to acknowledge the total answer that was delivered to us. We know the full plan that was carried out: Christ's blood that was shed, His body death (freeing us from Satan's bonds), and His resurrection–which means He is alive and His spirit is free to fill our vessels and live His life out through us! As those who are our regular readers know, The Intercessor magazine is wholly devoted (and privileged) to present that total answer issue after issue.
Speaking of the Total answer…in our lead article, "Tell it Like it Is," Norman Grubb explains the reason he felt compelled to write Who Am I?. Norman acknowledges that his salvation as a young man (as life changing as it was), was only the "beginning of the answer" for him. After years of searching, he found what he called the "grail," and he generously shares with us this Total answer–a "fool-proof workable key to daily living."
Next, we've included another insightful excerpt from Who Am I?, titled "Religions of the World." It's a perfect reminder that the devil has traps of self-centeredness in all religions–even Christianity. It is not through our "religion" that our hope is found, but only through "God's only Son, come in human flesh, by His death and resurrection" that we are saved.
Moving along, you are sure to find this issue's "Q & A" segment extremely helpful. Sometimes a scripture verse that is commanding us to do or to not do something can be interpreted in an "independent" way–like there is a "just" us to fulfill the command. This "Q & A" addresses what it looks like to "resist the devil" (James 4:7) and to "be strong in the Lord" (Eph. 6), in the light of knowing that we are vessels joined in spirit to Christ.
As previously mentioned, The Intercessor has been devoted to delivering the Total Truth of Christ-in-you-as- you issue-after-issue, year-after-year. The next turn of the calendar will mark the 24th year! Over 100 issues after our inception, we thought you, the reader, might appreciate a behind the scenes of what has gone into publishing The Intercessor through our history. So, enjoy reading "The Intercessor 'behind the scenes'" for a glance at the highlights.
Next, indulge in some downtime with our Christmas themed Cross Word puzzle, "And They Will Call Him Immanuel." Familiarize yourself with these scripture verses "that speak of God's redeeming love and mercy in the precious gift of His Son Christ Jesus."
Moving on you'll find "Two Men of God," which gives a glimpse into the intercessory lives of two of Norman Grubb's most influential role-models, C.T. Studd and Rees Howells. It is interesting to parallel the intercessory stands they took concerning issues on the world stage of their time with stands and words of faith that can and should be taken on behalf of our current world events. The examples they have shown us are pertinent to the gravity of our world affairs today. Let's follow their example.
You are sure to love our next article, "Except by Faith." In it, Norman gets back to the absolute basics of faith–daring to believe without evidence. He addresses the questions "how does God speak" and "how do we believe?" He then lovingly and eloquently shares with us what brought him to personally believe and count on Christ living in him.
Our Mission History segment for this issue is titled "The War and After." In it, we see C.T. Studd's worldwide vision of evangelization becoming a reality with the story of Fenton Hall, called to take the Gospel to the Amazon. Hall was a young Englishman who gave up all he had, resigning his commission in the Royal Air Force, to bring the Gospel to one of the most remote, dangerous places on earth. Look for the fascinating full account of Fenton Hall in Z-Press's upcoming release–a soon-to-be-named book on the missionaries of his time.
Then we have the delightful "Faith Illustrations." Those who are familiar with the Gospel of the New Testament know that each book offers unique parts and perspectives on the birth of Christ. Timely for the season, this issue's "Faith Illustrations" offers a comprehensive compilation of scripture taken from each Gospel book, and includes precious illustrations of the Christmas story. Use it to begin a tradition of reading to your friends and family gathered to celebrate Christ's birth at Christmas time.
This issue's "Faith Notes" is definitely noteworthy (no pun intended), so don't pass over it. It is chock full of meaningful quotes. We highly recommend finding a prime place for it on your refrigerator (or anywhere else you may frequent).
"Bible Bedrock" brings us full circle from where we started, highlighting that before we call, God has answered. Featuring the scripture "When I am weak, then I am strong" (2 Cor. 12:10), we are reminded that needs and problems are summons to faith…opportunities for us to acknowledge that He–the Answer–is the supply and is already answering before we call.
Just so God had an answer for our sin state from the beginning of time, through the loving sacrifice of His only Son. We wish for all of you, a blessed Christmas, giving thanks for the birth of Christ our Savior. Merry Christmas!
More Articles from The Intercessor, Vol 32 No 4