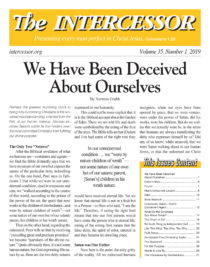 Questions & Answers

Question:
In the magazine, I read that God determined—not just permitted—the circumstances that come into my life. I know that many of the things that have happened to me have turned out good. Does that mean whatever befalls me—including my sins, my mistakes, my choices, etc.—have been orchestrated by God?
Answer:
Romans 8:28 says that, "All things work together for good to them that love God, to them who are the called according to His purpose" (KJV). In the larger context of Romans 8:18-39, Paul is referring to the sufferings of the present time which do not have the power to separate us from God. So, Paul is not referring to our sinful actions which somehow God works together for our good, but rather to painful circumstances (see vs. 18-22; 35-39).
In addition, verse 28 says, All things work together for good to them that love God." Loving God means obeying His commandments (John 14:21). Sin, however, involves a conscious choice to disobey God and does not express love for God. We can never justify sin on any basis; basically, sin is spitting in God's face, saying, "I will go my own way. Paul even said, Shall we continue in sin, that grace may abound? God forbid. How shall we, that are dead to sin, live any longer in it?" (Rom. 6:1-2).
So we should not say we are grateful for our sinful past. Sin does not drive us to God and does not press us to a spirit knowledge of ourselves. Sin drives us away from God (Isa. 59:2). Rather, we should say we are grateful for God's law and our experience of frustration and powerlessness to stop sinning (Rom. 7), for that is what pressed us to find an answer, not the sin itself.
Question:
In many writings of Mr. Grubb and in The Intercessor it is stated that before we are saved we are united to the spirit of Satan, and when we are saved the spirit of Satan is cast out and we are joined to the Holy Spirit.
My problem is that we know that Satan is not ubiquitous (present everywhere). In that sense, how can Satan be joined to every unsaved person?
Answer:
Satan is spirit (Eph. 2:2 "…the spirit that now works in the children of disobedience); however, Satan is not ubiquitous/omnipresent. He is not everywhere—he is not in rocks, trees, or in believers, etc. But God gave Satan dominion over the world for a time and made him His convenient agent in His designs of salvation for the human race. Satan is called the "god of this age" (2 Cor. 4:4) and the "prince of the power of the air" (Eph. 2:2). What power/quality does air possess? Air is all around and has access to everyone on earth at once. What may be further helpful in understanding this is a scripture that Norman Grubb cites as being impactful to him in his revelation: 1 John 4:4, "Greater is He that is in me than he that is in the world." Who is this "he" that is in the world, if not the Satanic spirit? Who is named in the next part of that verse…"the spirit of error."
More Articles from The Intercessor, Vol 35, No 1