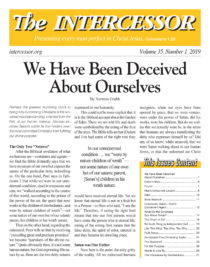 Found

"To be a person is to know who I am and to function as who I am"–Norman P. Grubb (Freedom in the Spirit, Pt. 1)
When I heard this statement from a Norman Grubb video, it struck a chord with me. It reminded me of my spiritual journey these last 30 years—from not knowing myself to knowing who I am. I never met Norman Grubb or personally heard him speak. But his teachings have been a vital part of my life.
Before I was born again I felt lost—not because I knew I was a sinner—but because I did not fit in with those around me.
I was the oldest in a large Irish Catholic family. My parents, were strict disciplinarians, particularly my father. I towed the line, helped a lot on the farm, and looked after my younger siblings. I did not dare risk the consequences of "getting in trouble."
Even after leaving home for boarding school, I found it difficult to make friends; I did not want to join in anything that was against the rules. I went to third level college but was too immature to know what I wanted and even how to study. After failing the first year, I went to a smaller college to study business but just wanted to be free and independent—and didn't complete my studies. When I expressed an interest in banking, my father brought me to meet the local bank manager. I applied to get into banking and was accepted.
My job was stable and had learning opportunities. It was like another family. I also found a place among work colleagues, and when I joined local sports clubs, I found a "place in life." But this feeling of belonging didn't last long. These relationships were merely superficial. I still wasn't fitting in with those around me. Unlike my siblings, I did not rebel against the early discipline of my parents and so never joined the drinking social life or club scenes. I was diligent to attend mass every week and every morning I could during Lent. But I heard nothing there that held any answers.
Praise God, this "lost" feeling meant I was open for answers. Then a Christian friend shared the Gospel with me and introduced me to her Christian friends. This was the first time I met people and didn't feel like I had to act a part. It was as near to being comfortable with others as I had ever been. A few months later, when I personally accepted Christ, I knew something had changed—God had a purpose for me, and I was in the perfect place He had for me.
In the video, Norman went on to say "If you can't say you are wholly satisfied, that you can handle all of life, something is not quite in focus yet."
And so it was for me, after a few years I knew there was still something not quite right. I was hiding what I really felt (inadequate) and pretending all was well—but it wasn't. I thought I was the only one that felt like this. But guess what? It may sound very basic now, but I realized I wasn't any different from others. Everyone has similar fears and feelings.
I had felt convicted that I was not like other Christians who seemed happy with everything, speaking in tongues etc. I did not 'feel' this Love for Jesus, and I did not feel happy all the time.
God was faithful to bring into my life Christians who had gone through the same uncertainty in their Christian life. But they had found answers in what Norman Grubb had to share: that what I was feeling about myself was not who I am; there wasn't a "just me" who was inadequate because when I was born-again, Christ and I were joined in my spirit centre (1 Cor. 6:17). Christ/I am perfectly adequate in spite of my feelings.
Oh, the freedom once I caught hold of God's wealth! To read Scriptures now and to see what I didn't see before: "I am the vine and you are the branches" (John 15:5)—the Christian life is His life lived out through us. "God is love" (1 John 4:8). He doesn't give us love to share out, but He is the love in us—and through us for others (Gal. 2:20). I didn't need to "feel" love! Jesus Christ lives out his love-nature through me—"To live is Christ" (Phil. 1:21)!
Not everyone gets to hear this when they are first born again. I didn't! I was told by a fellow Christian that I must not have received all God's gifts when I was born again, to explain why something was missing—LIE! I learned we receive the fullness of the Spirit when we are born again. What I hadn't known then was that I was not a "just me" running my own life—no one is. We are vessels—Satan operated before I was saved, replaced by Jesus Christ when I was saved. I was run by the "false god" (John 8:44) for so many years before I was born again. Satan's lies were well worn paths in my brain.
So I began day by day, week by week to replace Satan's "old tapes" with God's word. There is not and never was a "just me" walking alongside Jesus. No! "He that is joined to the Lord is one spirit" (1 Cor 6:17).
Part of this journey was the conviction of a self-righteousness that I had lived from. I may have been spared a blatant outward sin life, but my self-righteousness and judging others wasn't any better than others outward rebellion; both are equally sin. I confessed to God my "hidden" sins, asking for His forgiveness and asked the forgiveness of those I had judged.
Until we see and admit the depth of our sin, we cannot "out" Satan/Mr. Sin and function as the clear, clean vessel of God we were created to be. Now I could have true fellowship with God and with my brothers and sisters in Christ: "If we walk in the light as He is in the light, we have fellowship with one another and the blood of Christ cleanses us of all sin." (I John 1:7).
By faith, I dared to believe that what Jesus Christ said of me was true—I am joined to Him, one spirit (I Cor.6:17), and in Him I am whole and complete (Col.2:10). I no longer lived from my feelings of inadequacy—but called them what they are: "just feelings," not fact. I dared to step out in faith in every area of my life: completing a university degree (something I couldn't do years ago), daring to step up and take opportunities that advanced my banking career, and breaking new ground in my art and in my sport (in a right way).
Looking back, I know that God provided me with all I needed–an earthly father who gave me what I physically needed and was God's perfect provision for me. Now HE is my father and mother through my brothers and sisters in Christ who shared not only this truth but their lives/His love—they loved me, admonished me in love when I needed it and built me up in so many innumerable ways. In my spirit-union with Jesus Christ I have found my place—no longer "lost" but complete in Christ. I know who I am.
I encourage you who are reading this to view "Freedom of the Spirit, Part 1" available on YouTube. I'm sure much of what he says will resonate with you as it did with me. You will also find more of Norman Grubb's teachings available in written, audio, and video formats online at intercessor.org.
More Articles from The Intercessor, Vol 35, No 1