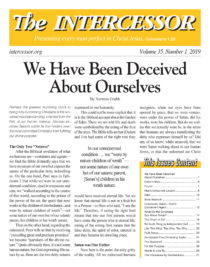 Bible Bedrock

"For he hath made him to be sin for us, who knew no sin; that we might be made the righteousness of God in him." – 2 Corinthians 5:21 (King James Version)
Our first response to the greatness of grace shown in our Lord Jesus Christ was simply to recognize our outer sinfulness, to believe that our guilt and curse had been removed by His shed blood, and to rejoice that God would remember our sins against us no more, as guaranteed by His resurrection.
But what we did not know then (and were not within reach of understanding) was that this was no real salvation if it delivered us merely from the outer penalty of our sins but left us as "vessels of wrath"—still containers of the inner sin-person, that old serpent the devil, still reproducing his evil fruit by us. Complete salvation must rid us of producer as well as product, cause as well as effect, sin as well as sins.
This total salvation—the totality of Christ's cross—redemption—is the deeper discovery which Paul himself didn't see in its full implication until he lived three years in Arabia. This is what he speaks of in his Galatian letter as the gospel which "I neither received of man, nor was I taught it, but [I received it] by the revelation of Jesus Christ." That revelation was centered around not the blood but the physical body of Jesus on the cross. And what is the importance of that? It is because a living body is the dwelling place of the spirit, and therefore when a body dies, the spirit is no longer in it.
Therefore Paul (when writing to the Corinthians for whom he was an intercessor, and thus having insight into the full meaning of the Savior's intercession for the world) opened up its total significance as no other did. "We are convinced," he in effect wrote in 2 Corinthians 5:14-21, "that when the Savior died on our behalf it was a body death, and this means that if He died for all, then we all died." And what did His body represent before God? Paul tells us in verse 21 that "God made Him who knew no sin to be sin for us." Please note: sin is not sins. By His shed blood He "bore away our sins," but in His crucified body He "was made sin." This is fantastically deeper than "bearing our sins," wonderful though that was. "Made sin" is almost unthinkable; for sin is Satan's label, just as we might say love is God's. Satan is, as it were, Mr. Sin, the spirit of error.
Where does the spirit of error live? In human bodies, ever since Adam and Eve partook of that forbidden fruit. So when Jesus in His body hung on the cross, "made sin," that body represented all the bodies of humanity, which are all containers of sin. Yes, He in His body on the cross was made the representative for all the bodies of the human race having Satan, sin's originator, living within.
There that body died and was buried. When a body dies, the burial is to make it plain that no spirit remains in it. And so it is that Paul can so authoritatively state in Romans 6: "…in that He died, He died unto sin once"—not, in this context, died for our sins, but died unto sin. (That is why the blood is not mentioned by Paul after Romans chapter 5. From there onward the subject is His body death.) Christ's burial was to signify in plainest terms that no spirit remained in it.
So now Paul just as boldly states that we believers, being buried with Him, are "dead to sin"—a truth way beyond being only cleansed from sins. We are no longer containers of sin (the same thought as being containers of Satan), and we are to state this truth and affirm it as completely as we state and affirm that we are justified from our sins. "The body of sin" is "done away with" (Rom. 6:6), meaning that our bodies are no longer sin's dwelling place. And we are to reckon this as fact (Rom. 6:11).
More Articles from The Intercessor, Vol 35, No 1