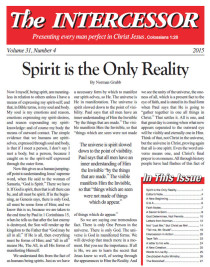 Q & A

Q: I know the Bible says, "In all things give thanks," but how can I reconcile the love, goodness and care of God with the pain and suffering I'm going through? What is God's purpose in permitting suffering?
A: according to Scripture, suffering is necessary. Without it there cannot be glory or perfection. It comes to me in a form I don't like–trials or temptations in spirit, soul or body–which presses me to find a remedy inside myself.
The negative pressing on me is meant to start the faith process in me, by which I leap to an unseen Savior which is the real me. But there is continual suffering, continual dying. Only out of death comes life; that life of Jesus "made manifest in our body" (2 Cor. 4:10). And all of life is built on that death. We accept the suffering of perplexity and reverse the outside inside to find the answer. We always get pulled; it's good practice. Inside you move back to who you are: Christ as you. You always were—you just forgot.
Q: What does the Bible mean when it says that we are to share the sufferings of Christ? Why is this necessary?
A: Jesus became as us, being perfected through sufferings as He learned obedience. And now, as our risen and eternal High Priest, He can operate the know-how into us: "This is how you do it. You go as I did." You may not like a thing and say, "I don't like that." But then you say, "God, You're in this thing," and speak a word of faith. Even before the thing is done, you will have the resolution inside yourself. Then out in some form will come the substance. That's turning suffering into glory, which starts with Jesus inside us.
Paul had that terrific 2 Corinthians list of beatings, imprisonments, starvings and fears–miles of them. He called them light affliction! It turned to light inside him because it was God's suffering. And then there was his suffering for others, which was his intercession: I "rejoice in my sufferings for you"; I "fill up that which is behind of the afflictions of Christ in my flesh for His body's sake [We're the body, of course] which is the church." (Col. 1:24). Paul called Nero's imprisonment God's imprisonment, "I therefore, a prisoner of the Lord…" (Eph. 4:1). That's strong stuff. He wasn't in the prison of Nero; he was in God's Nero's prison. Out of prison, of course, came the prison epistles and the glory of Ephesians, Philippians and Colossians. But by calling himself the Lord's prisoner, he resolved his suffering inwardly.
So it wasn't a Roman jail, it was God's prison. That's a wonderful phrase, "Prisoner of the Lord," isn't it? And Peter calls our sufferings the sufferings of Christ, which is also a good phrase. "Rejoice, inasmuch as ye are partakers of Christ's sufferings" (1 Pet. 4:13). Christ's sufferings! So our sufferings are really Christ's sufferings–people beating Him about. And we are reminded to rejoice!
More Articles from The Intercessor, Vol 31 No 4