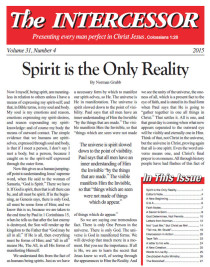 Editor's Note

No pain, no gain. We've all heard this saying (usually in the context of physical exertion). But have you ever really stopped to think about its meaning? It seems to be a law that people achieve great things by going through difficult, often painful processes. No one ever achieved greatness by sitting comfortably on their couch. No scientist ever discovered anything great without applying themselves to years of study. No athlete ever achieved any great feat without years of physical pain and discipline. No entrepreneur ever launched their business into success without hours upon hours of hard work. These examples are of chosen pain. Yet when it comes to pain and suffering that "happens" to people, many struggle with reconciling it with the existence of a "loving" God. Everyone experiences some degree of pain/loss/suffering in their lives. Some much more than others. Why? What do you believe is God's hand in it? Does He just passively permit the devil to do bad things to people? Well, let's look at the example of God's own suffering. Was it passive that Jesus suffered and died a painful death on our behalf? Certainly not! It was part of God's perfect redemptive design, which produced the salvation of mankind. This issue of The Intercessor will teach you to "see-through" to God in all things. What do we mean by "see-through"? To see past the outer earthly circumstances, to the God-Spirit reality.
Right off the bat, with our lead article, "Spirit is the Only Reality," Norman Grubb delves into the concept of there being only "One Person in the Universe." Meaning, all is God–so we learn to "see-through" appearances (even the devil) to Him–the All in All!
Our "Q & A" is also right on point, answering our headlining question, "How can I reconcile the love of God with the pain and suffering I'm going through?" And, "What is God's purpose in suffering?"
This issue's "Bible Bedrock" extrapolates on the meaning of Mark 11:20-24, "What things soever ye desire…." The key to this verse lies in the "not doubting" part. In this excerpt taken from the book Yes I Am, Norman Grubb again speaks of not trusting your human seeing, but having confidence and boldness to speak the word of faith in the unseen.
Tape Talk, in this issue, is a review of Page Prewitt's audio series "Alphabet Soup." If you are getting your soul/feelings confused with your spirit, this should help unscramble things for you. It will help you "see past" your feelings to the Spirit reality.
Then, in "A Letter From Norman," we see him giving his friend a practical look at our union with Christ. We can be so bold to trust ourselves to live life, because we know that it is really He. Again, we "see-through" the outer…it looks like me, but it is He.
Next, throw yourself into this fascinating account of C.T. Studd "From the Mission Field." One can't help but get lost in, as well as inspired by, the story of how Studd came to the Heart of Africa Mission. He endured much pain and hardship, but all to an end. And though Studd couldn't see it at the time, God was preparing His chosen vessel for a great mission for Christ.
"Intercession in Action," also gives account of the losses, hardships, and crises that Norman Grubb faced in the Worldwide Evangelization Crusade (WEC). In desperate circumstances, he and his peers, like C.T. Studd, were being prepared for greater things. They learned to see past their circumstances to wholly trust the Lord to provide their daily needs. And then, putting their "faith in action," applied what they'd learned to gain an intercession for a worldwide missionary outreach.
Also enjoy a reprint from our former youth magazine, Z-News, "Galatians 2:20: Not 'Just Me,' but 'Christ As Me.'" The simplicity of these illustrations capture so perfectly the glorious truth of our union with Christ that we hope readers young and old will benefit from this reprint.
Rebecca Jane Cooper brings it all home for us in her chapter review from Who Am I?, titled "God Determines, Not Permits." This really is a fabulous, thought-provoking article that tackles the hard questions on God's role in suffering. Since the Bible says that God is "all and in all" (Eph. 4:6), that includes suffering too, right? Nothing is outside of God and He has a purpose in everything. Again, we must "see-through" to God's purpose and to His solution.
Also, enjoy our Christmas version of "Cross Word," titled "A Savior is Born." And be sure to also check out a personal testimony in Kim Langley's "A New Beginning." Here she shares her revelation on idols in her life and the need for confession, repentance, and faith in a union life with Christ.
We hope that you all will apply what you've learned here–to see-through whatever hardships you face–to God and His redemptive purpose in your life. He is the only reality!
More Articles from The Intercessor, Vol 31 No 4