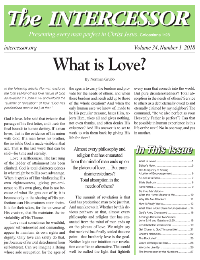 Christ's Nobodies

Believing that further delay would be sinful, some of God's insignificants and nobodies in
particular, but trusting in our Omnipotent God, we have decided on certain simple lines,
according to the Book of God, to make a definite attempt to render the evangelization of the
world an accomplished fact. For this purpose we have banded ourselves together under the
name of "Christ's nobodies," otherwise "Christ's Etceteras."
The Etcetera Evangelist must be a man of God and not a child of man. He is not the salaried
servant of the Etcetera Committee; he is a servant of Jesus Christ with Whom he has settled
terms of agreement already. He knows no other Master. He has not the ghost of a doubt about
God supplying his need; he carried his chequebook with him always, and has no fear of the
battlefield; he knows such to be a special mark of Christ's favour, Who has thus honoured and
promoted him sooner than he had any right to expect. As he looks to God to supply his needs,
so also shall he look to God for his guidance and shall obey Him.
Too long have we been waiting for one another to begin! The time for waiting is past! The hour
of God has struck! War is declared! In God's Holy Name let us arise and build! The God in
Heaven He will fight for us, as we for Him. We will not build on the sand, but on the bedrock of
the sayings of Christ, and the gates and minions of hell shall not prevail against us. Should such
men as we fear? Before the whole world, aye, before the sleepy, lukewarm, faithless, namby-pamby Christian world, we will dare to trust our God, with His joy unspeakable singing aloud in our hearts. We will a thousand times sooner die trusting only in our God, than live trusting in man. And when we come to this position the battle is already won, and the end of the glorious campaign in sight. We will have the real Holiness of God, not the sickly stuff of talk and dainty words and pretty thoughts; we will have a Masculine Holiness, one of daring faith and works for Jesus Christ.
–C.T. Studd: Cricketer and Pioneer
More Articles from The Intercessor, Vol 34 No 1