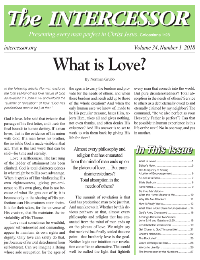 A Bridge Between Two Verses: John 3:16 and Galatians 2:20

John 3:16 and Galatians 2:20 are Bible verses that are extremely important to me, but for very different reasons. I'd like to take this opportunity to discuss them, to show how they are different but linked, and to express how knowing them has affected my life.
John 3:16 is probably one of the most recognizable verses in the Bible. It is a Sunday school classic! And for those of us who grew up in a Christian household, it may be one of the first Bible verses we memorize. It is one of those verses that pack a tremendous amount of meaning in a short sentence, said by Jesus Himself. Out of my New King James Bible it reads: "For God so loved the world that He gave His only begotten Son, that whoever believes in Him should not perish but have everlasting life (John 3:16)." This verse, of course, lays the basic foundation for salvation through Christ.
Giving it some context, let's look at the start of John chapter 3. A Pharisee named Nicodemus says to Jesus: "Rabbi, we know that You are a teacher come from God; for no one can do these signs that You do unless God is with him." Jesus answers and says to him, "Most assuredly, I say to you, unless one is born again, he cannot see the kingdom of God" (John 3:2-3). Nicodemus, confused by this, takes it too literally and asks Jesus how it would be possible to come from your mother again. He was missing the true meaning of what Jesus was telling him. I imagine Nicodemus must have had a puzzled look on his face because Jesus goes on to say in verse seven: "Do not marvel that I said to you, 'You must be born again.'" I love what Jesus goes on to say in verse eight: "The wind blows where it wishes, and you hear the sound of it, but cannot tell where it comes from and where it goes. So is everyone who is born of the Spirit (John 3:8)." This short interchange shows that Nicodemus was not getting it. Faith is not a thinking thing, it is a believing thing! John 3:16, says: "God so loved the world that He gave His only begotten Son"…What Jesus did by dying on that cross was save those who believe in Him from eternal damnation!
But Jesus's death and resurrection did more than save me from a future of damnation in Hell. It also saved me from hell on earth. This is where Galatians 2:20 comes in! Galatians 2:20 reads: "I have been crucified with Christ; it is no longer I who live, but Christ lives in me; and the life which I now live in the flesh I live by the faith of the Son of God, who loved me and gave Himself for me." This verse has a lot of meaning to it. It says we were crucified with Christ, which means that when we "died" our spirit union with Satan was broken. It then says that it is not I who live, but Christ lives in me. We were raised in His resurrection, with His spirit joined to ours. So Christ lives in/as me! I am not just saved from the penalty of my sins/eternal damnation, but I am freed from slavery to sin/Satan here on Earth and joined to Christ so He can live His life out through me. The life I was trying, and failing, to live right, can actually be lived right by Him doing it!
When I was first saved, I was six years old and prayed with a family friend in my family's living room. Of course, as a six year old I did not fully understand at the time. I knew I had done wrong things and had disobeyed my parents. I knew that God was not happy about those things, and I did not want to go to Hell. As the end of John 3:16 says: "Whoever believes in Him should not perish but have eternal life." So, at a basic level I knew if I believed in Jesus I would not go to Hell. As I have grown from childhood into adulthood and have grown in spiritual understanding, Galatians 2:20 has become ever-present in my life. The life that I now live is Christ living it! It is through faith in Jesus Christ that John 3:16 is a reality in my life. And now I know it is Christ's faith through me that makes Galatians 2:20 a reality too.
More Articles from The Intercessor, Vol 34 No 1