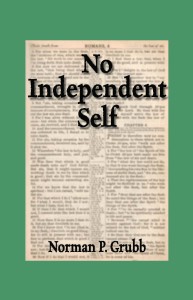 [
Download PDF Version
]
The basis of our total truth, which we are taking to the whole Church in the whole world, is that the human self has no nature of its own. It is the expresser of a deity nature, whether the nature of the false deity, the spirit of error, or the true Deity, the Spirit of Truth (1 John 4:6). Because we have all become accustomed to speaking of ourselves as having a "human nature," it may make it clearer if we speak of the self as never being an independent self. It has never been a self-operating self, and thus has never operated by expressing a nature of its own.
There is no independent, self-operating self in the universe, except the One who calls Himself the I AM (Ex. 3:14) and says, "I am the Lord and there is none else, there is no God beside Me" (Isa. 45:5).
But the Independent One has a limitation to His independence, for it is said of Him that He cannot lie (Tit. 1:2). In other words, His eternal self-independence is a fixed choice between two alternatives. (These alternatives are explained in the following paragraphs on the law of opposites.) Therefore, when we say that we created selves have no independent self, but express His eternal Deity Self, we are also saying that we express God's fixed nature, which has eternally discarded the possibility of expressing the liar, self-for-self nature. We are fixed as He (1 John 3:9).