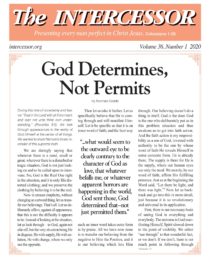 What are you up to God?

The following encouraging email, sent to local Intercessor readers by our friend Laura Hawley, challenges us to faith during these trying times.
Hi Intercessor Family,
These are trying times and PERFECT times for faith.
Today, I pulled out a previous Intercessor from Fall 2001. That was a time our country and the world were seeking answers in a time of tragedy. Now, we have a different reason to be concerned and reactionary.
In the past several months, I have begun to ask the question "What are You up to God?" instead of "Why are You doing this to me?" The reason for the change is based in part on the truths spelled out in the chapter "God Determines, Not Permits" in Norman Grubb's book Who Am I? (and an excerpt on Pg 2 and 3 of The Intercessor Fall 2001).
Here are some quotes from that chapter:
"We are daringly saying that whenever there is a need, small or great, where there is a disturbed or tragic situation, God is not just looking on and to be called upon to intervene, No, God is the Real One right in the situation, and it is only His distorted clothing; and we preserve the clothing by believing it to be real."
"Let us deliberately affirm, against all appearance, that this is not the difficulty that it appears to be. Instead of looking at the situation, let us look through, — to God, again not afar off, but the very situation being He in disguise. He with supply, He with solution, He with change, where we only see the opposite."
Your challenge:
Will you stand and believe what God says about the current state of affairs?
Will you praise God for the current circumstances,
NO MATTER WHAT THEY LOOK LIKE?
Can you dare to go against all the fear and panic by believing that everything is God's highest and best for all?
And finally, to quote the chapter again…..
"He meant us to have the problem to have practice in
not seeing the problem but only Himself at the inner
center. So we now transfer our believing from natural seeing to seeing in the Spirit. We are now believing Him and the problem (to us unreal) only His outer clothing."
More Articles from The Intercessor, Vol 36 No 1