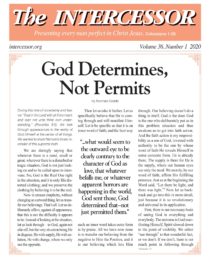 Further Soul-Spirit Clarification

Dear reader,
Thank you for your question about our teaching on soul and spirit and whether it lines up with what Norman Grubb taught. I think it does, and here is at least part of the reason I think I am qualified to say that. I am very blessed to have had the opportunity to spend a great deal of quality time with Norman in the some twenty-five years that I knew him. He used to laugh and say that I bothered him with more questions than anyone he ever knew. (I had to know the answers to life that Norman had found because I was desperate and had lost hope. I was not on some intellectual search that was fun.)
From my wonderful times with him I received the blessing of gaining a pretty good understanding of his marvelous teaching and discernment (given to him by revelation) on these points that are all part of the larger subject of our union with Christ. My testimony is that my life changed 100% as I took by faith what he showed me that the Bible said about who I am in Christ.
I believe that Norman's clearest and most comprehensive teaching on your soul/spirit question is located in Yes, I Am. Look at the first full paragraph on the second page of Chapter 3 (page 22 in my older copy). Here he spells out what we are in spirit. He writes, "So this brings us to the fundamental principle of opposites which condition a person." (We know when Norman talks about persons he is speaking of spirit because that is what a person is—spirit in a particular form.) Norman continues, "We know and we desire, and as we are forever confronted with opposites, we choose." So here it is—at our center (spirit) we know, we desire, and we choose. Again Norman—"Knowledge and desire lead to choice." Also from Yes, I Am—this time from the first page of Chapter 3, "What is a human person?" We have already said. "One who loves, and knows, and, therefore, makes choices."
We gain further understanding of ourselves as spirit persons from what Norman says in Chapter 30 of the same book. Here he is talking about our human expression of spirit when he talks about soul. "We have already seen that spirit is the basic self. Soul and body are the means by which we express ourself and live a fully active life."
A little further along in this same chapter, Norman gives a clear explanation of our soul. He writes that the activity of soul is emotion and reason. It is at this level that we have all our feelings and our thoughts. The choice we make as to what to do with them (how we react to them) is made at our spirit center.
Some of Norman's earlier books are not as clear on these issues as Who Am I? and Yes, I Am. The truth he saw became clearer and clearer to him, and as it did, he wrote about it. He gives us this explanation in the first chapter of Who Am I?: "I have dug around these vital questions in several former short books. They have been written over the past thirty years and were an attempt to share what understanding I had at the time. It is not a question of wanting to take back what I then wrote, no indeed not, but only of, to me, increasing clarification."
Thanks again for writing. Hope this helps clear things up. If not let me know and I'll make another try.
More Articles from The Intercessor, Vol 36 No 1