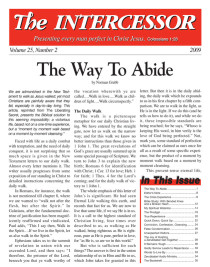 Unexpected Visitors

One day recently, I had been out and about doing various things and had just arrived home (God's timing). I heard a knock at the door and on opening it, was met by a very amiable gentleman. "Are you Meryl Langley?" he asked. Introductions were made and Ian (Harvie) informed me that he had been receiving The Intercessor magazine  for years. He was very grateful that the magazine just "kept on coming and kept on coming." Ian had a Christian brother with him, so they both came in to visit. They are both church leaders in Cumbria (a three hour drive from Northampton) and were at an International Christian meeting at a Christian Conference Centre within walking distance from our home. Ian did not know this at the time, however, so plugged our zip code into his GPS and could not believe we were "just round the corner," so to speak!
We chatted about Norman Grubb, since Ian noticed we had a photo of Norman in our home. We exchanged details about ourselves, our families and how I became part of the Zerubbabel Fellowship. It was such a wonderful surprise for me in the middle of the afternoon and we shared our experiences of knowing that we (Satan/us) had died and it was now Jesus Christ living His life by us. We had never even met each other at the beginning of the day and here we were chatting about Jesus Christ as if we had known each other a long time.
After about half an hour my visitors needed to leave to get back to their meeting, but not without Ian giving me a very generous check towards mailing the The Intercessor magazine.
You know, only recently we had our annual Easter gathering with folks from Ireland and we had been discussing reaching out to readers on our mailing list. The very next week, lo and behold, here was one of our readers contacting us! God sure has everything in His hands.
More Articles from The Intercessor, Vol 25 No 2