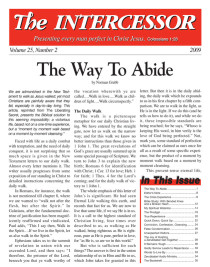 True Repentence: Testimonies of Young Lives Transformed

I grew up in a Christian home and knew about Christ, but I did not understand the personal relationship we as Christians have with him. I went on in life thinking I was a Christian because I asked Him into my heart at age five.
When I entered high school, I became involved with the wrong group of friends and started making wrong choices. I hung out with a guy who was taking me down the wrong path. My mother decided to send me to a Christian boarding school.
At first I was angry and did not want to change my life. But in the first six months I got to know my dorm dad, Scott. He started showing me the way a father is supposed to be. My father was never really involved in my life, but Scott was a good role model.
In February of 2007 the girls in my dorm went to a Christian concert, and I re-committed my life to Christ. I realized that He makes me whole, complete and lacking nothing. I did not need any guy to fulfill that part of my life. Only Christ could. My time at French Camp became the foundation for my relationship with Christ and although I've graduated and will be starting college in the fall, my dorm dad remains my "dad."
I am so grateful that my mom sent me to that school. God is teaching me something new every day, and I am thankful for the new life I have been given.
-Elizabeth
When I was a toddler I would always whine and lie and stuff to get my way. One day as my cousin and I were playing at my house I lied to him then lied about lying. So I was put in my room and my cousin my Mom talked to me about how they would forgive me but I also needed to ask for God's forgiveness. They told me how my heart was filled with sin but that God could give me salvation. So that day I became a Christian.
A few years later I was talking to my baby-sitter about being a Christian. She told me about how she had become a Christian at a young age too. But she said she was about 13 when she realized that she was still a sinner and had only become a Christian by going to church and believing that there was a God. So that night I asked God if I was still a sinner and then asked him to wash me clean of my sins (again).
And in 7th grade I had started lying and being a self centered brat. I was being mean to my parents and my church family and God helped me see it was wrong. (Helped me through my parents and grandmother). So I asked God to help me straighten up my life and help me resist temptations. And even though I still sometimes lie and fall into temptation, I can tell my life is changing through God and His grace.
-Stephanie
More Articles from The Intercessor, Vol 25 No 2